This week's Fashion Inspired by Art post brings you three outfits influenced by Piet Mondrian, one of the principal members of the Neoplasticism art movement.
Mondrian's combination of white backgrounds, grids of black lines, and the three primary colors has inspired the world of aesthetics for years. As many know, this artist's work has influenced design in a multitude of fields, ranging from fashion, to home decor, and even baked goods.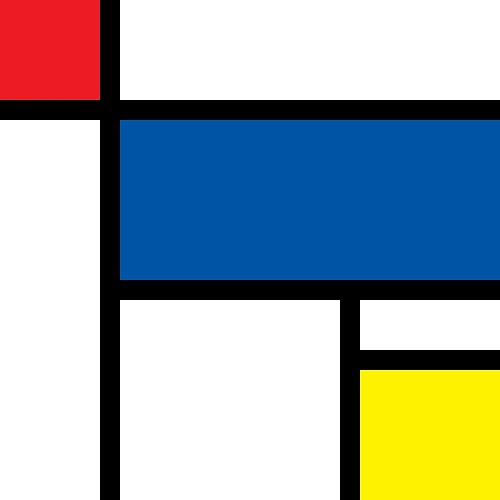 Hendrike's "Grid in Piet Mondrian Style" (2007) via Wikimedia Commons
Read on to learn more about this momentous artist, and to see how you can add Mondrian style to your wardrobe.
About Piet Mondrian
Piet Mondrian, born in the Netherlands in 1872, was a Dutch painter, theorist, and key contributor of the De Stijl art movement founded by Theo van Doesburg. Also known as Neoplasticism, De Stijl (Dutch for "The Style") addresses a range of pieces from 1917 to 1931.
Mondrian, noted for his use of the fundamental elements of color and line, is regarded as a key figure of modern art. His pieces were a major inspiration for Yves Saint Laurent back in the 1960s, leading to the creation of Laurent's famous "Mondrian Dresses".
It's no surprise that Mondrian's style continues to inspire the fashion realm. Garments incorporating his colorblocking techniques prove to be equally elegant and forward in their tribute to the artist's modern approach. The color blocking strategy is not new to the fashion industry, but due to its flexibility, the looks you can achieve with it are endless! Included below are three outfits that acknowledge Mondrian's manner.
Outfits Inspired by Piet Mondrian
Proper and Picturesque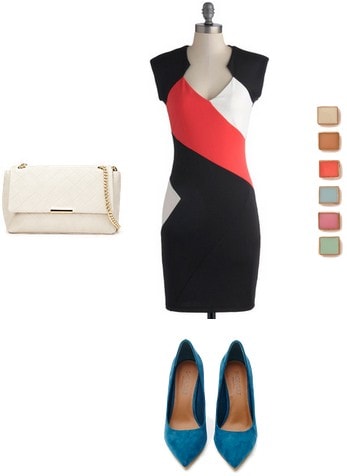 Bag, Dress, Shoes, Earring Set
Show everyone your artsy side by taking Mondrian's style with you for an evening out. This first outfit set is ideal for dinner events, fancy parties, or for the opening of that new exhibit the art department's been talking about. You'll be sure to steal the show with a color-blocked dress like this – the masterpieces on the walls might even start feeling jealous!
If part of the event takes place outdoors, stay warm with sheer black tights (try those with a French seam to reference the vertical lines in Mondian's work) and a bright coat in one of the primary colors.
The black on the dress and the white purse help to neutralize your outfit and prevent any colors from clashing. Meanwhile, the pastels of the earring set, which you can mix and match, provide a nice contrast to the sapphire shoes.
Casually Colorful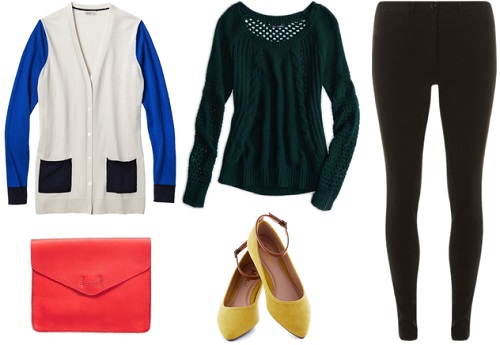 Cardigan, Sweater, Pants, Bag, Shoes
Bring some energy into the school day with this cheerful getup. The black and white in Mondrian's pieces is just as important as the use of color, and including those shades in an outfit makes it easier to balance your brights – especially when including all three primary colors. The cardigan sleeves, bag, and shoes add vibrant accents from top to bottom, while the dark pants help them pop.
Rather than settling for a black or white top, mix the primary colors with jewel tones – such as the dark emerald of the sweater in this set – if you're looking for a neat way to tie your ensemble together without having to worry about colors competing.
Variations of Vibrance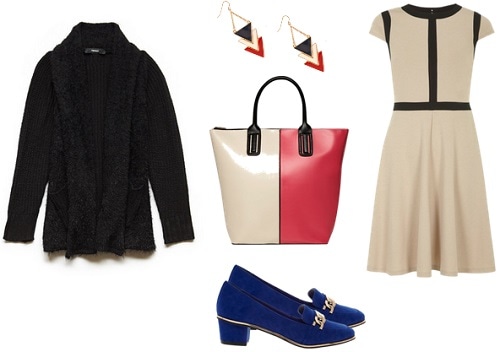 Cardigan, Earrings, Bag, Dress, Shoes
Not sure if you're ready for a super bright arrangement just yet? Consider sticking to colors within the same family of Mondrian's signature primaries: pinks instead of reds, darker blues, or mustard yellow as opposed to louder yellows.
If you find yourself wanting to sport at least some bright elements, keep it within your accessories, and balance the use of black and white in your outfit. That way, the colors on your accessories will still pop.
Bright yellow tends to be a difficult color to juggle and match, so if you can't find a way to implement it into your outfit's Mondrian makeover, give gold accessories or embellishments a try, such as the gold chain on the heels pictured above. Since white space already plays a major role in Mondrian's art, stick to gold jewelry rather than silver, since gold stands out more.
This last outfit is a great option for semi-formal occasions. The cozy cardigan helps tone down the structured design of the dress and bag, and the shoes have just the right amount of heel to balance both formal and fun.
Final Thoughts:
Sure, color blocking might require some practice, but unexpected combinations don't have to be ruled out as failures. Even Mondrian himself engaged in some variety in which he opted for more white space, or favored a particular primary color over another.
Experimenting with color blocking helps give you an idea of what color combinations work best for you, and can help expand your plane of personal style.
Channeling Mondrian's bold artistry is a great way to transition your wardrobe into spring. But who's waiting? You don't have to stick with colors like plum and oxblood during winter.
You're the artist here – show the world what you can do with your palette! As Mondrian said himself:
"Art is not made for anybody and is, at the same time, for everybody".
What do you think?
Are you a fan of the color-block trend? Has Piet Mondrian's style inspired you to try out a new look? Which of these outfits do you like the most? I'd love to hear your input in the comments below!