This week's Fashion Inspired by Art features one of Edgar Degas's depictions of a ballet practice. Accompanying two previous College Fashion articles about Degas's "Ballet Rehearsal on Stage" and "Swaying Dancer," the following is my take on one of his acclaimed ballet works.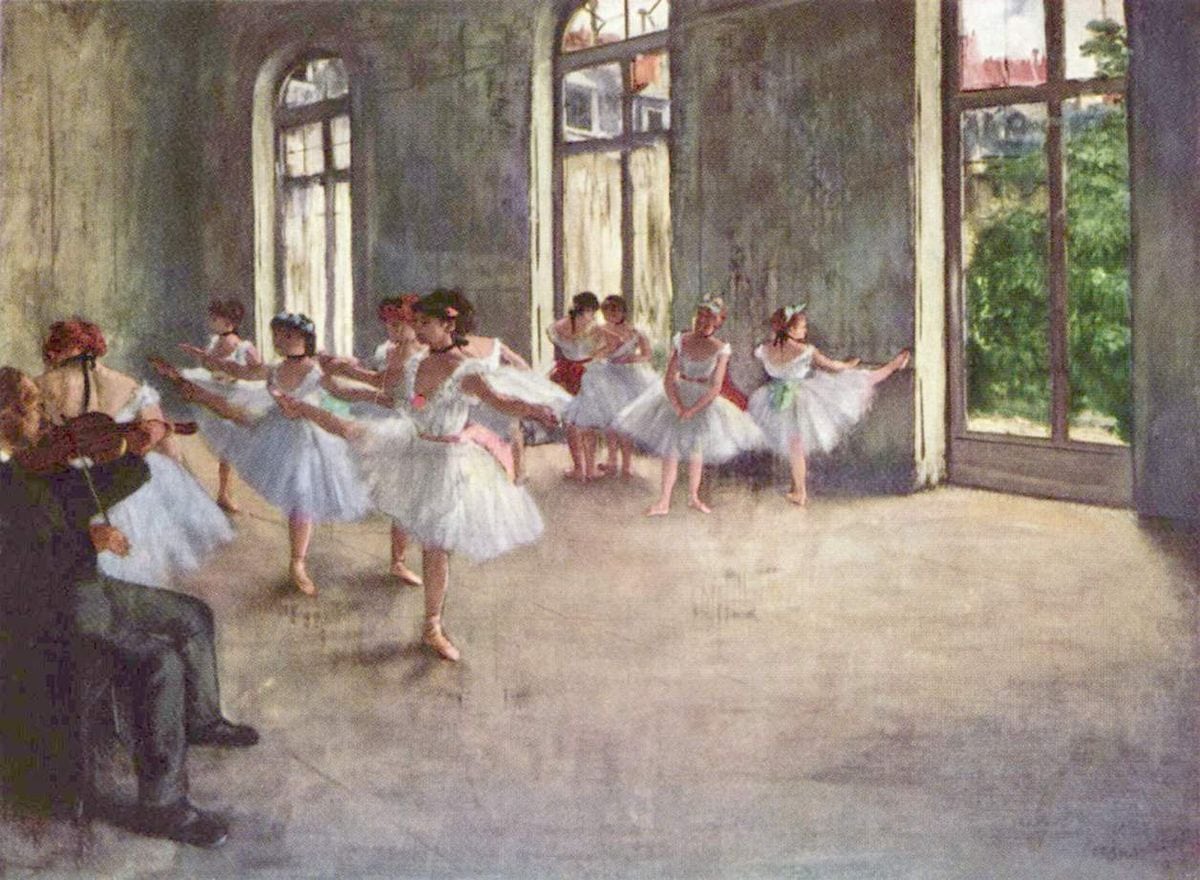 About Edgar Degas and "Ballet Rehearsal"
Edgar Degas (1834-1917) spearheaded the French Impressionist movement, along with Edouard Manet, Claude Monet, and Camille Pissarro. Contrary to his whimsical contemporaries, Degas remarked,
"of inspiration, spontaneity, temperament, I know nothing" (source).
Though Degas rejected the term "Impressionist," preferring the term "realist," his works are regarded as some of the most influential in the Impressionist period. Scenes from contemporary life dominated his early artistic career, but most popular were his paintings of young female dancers – we see a large collection of these ballet works because they sold well during his time.
Degas created this oil-on-canvas painting around 1873. Like Renoir, Degas had a fascination with photography that influenced his work. Paintings as snapshots in time, capturing movement from the perspective of an unnoticed spectator, defined Degas's work. A musician plays in the foreground of the piece, part of his body cropped out of view.
Outfit 1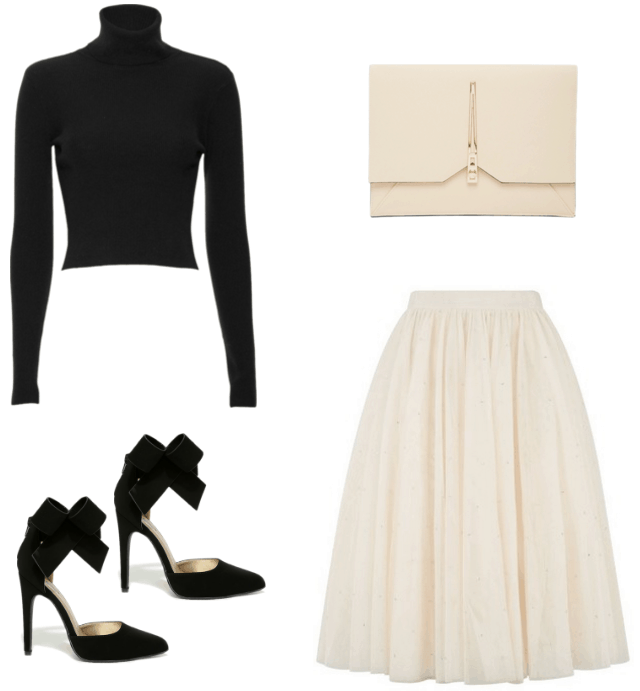 Products: Turtleneck, Tulle skirt (Cheaper version), Bag, Heels
This first outfit is a sophisticated take on the dancers' ballet uniform. Despite the ensemble's simplicity, its waist-defining, striking proportions make the outfit dynamic. A dark, form-fitting turtleneck contrasts well against a full, tulle skirt. Bow-attached heels and a sleek evening clutch complete the simple, feminine look. This outfit is perfect for going out to town to see a ballet, but would be equally great for any fancy event.
Outfit 2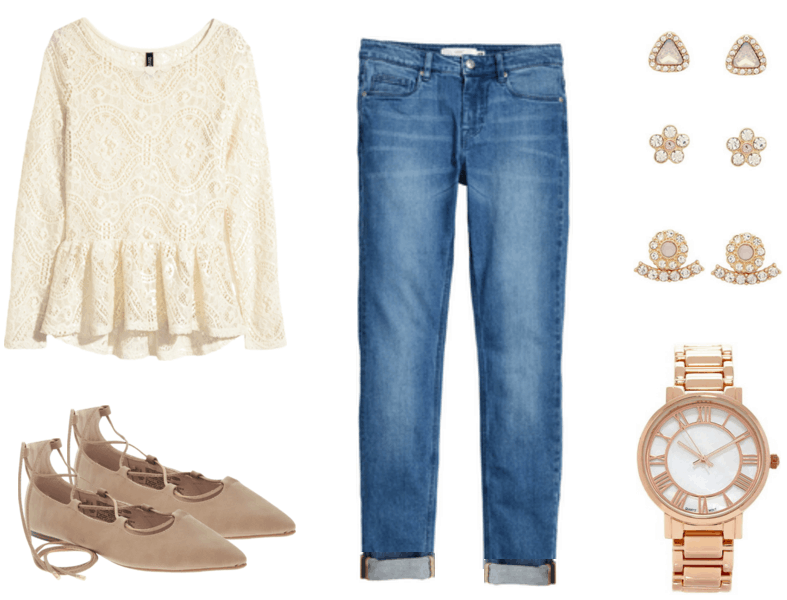 Products: Top, Jeans, Flats, Earrings, Watch
This second outfit is more fit for a casual day studying at a café or taking a light stroll around down. Inspired by the dancers' delicate footwear and the lace-up ballet flat trend, I found these inexpensive flats from Old Navy. Cuffed blue jeans make the outfit comfortable and homey, pairing nicely with the tutu-inspired peplum blouse. I picked out rose gold accessories to channel the painting's pink accents.
Outfit 3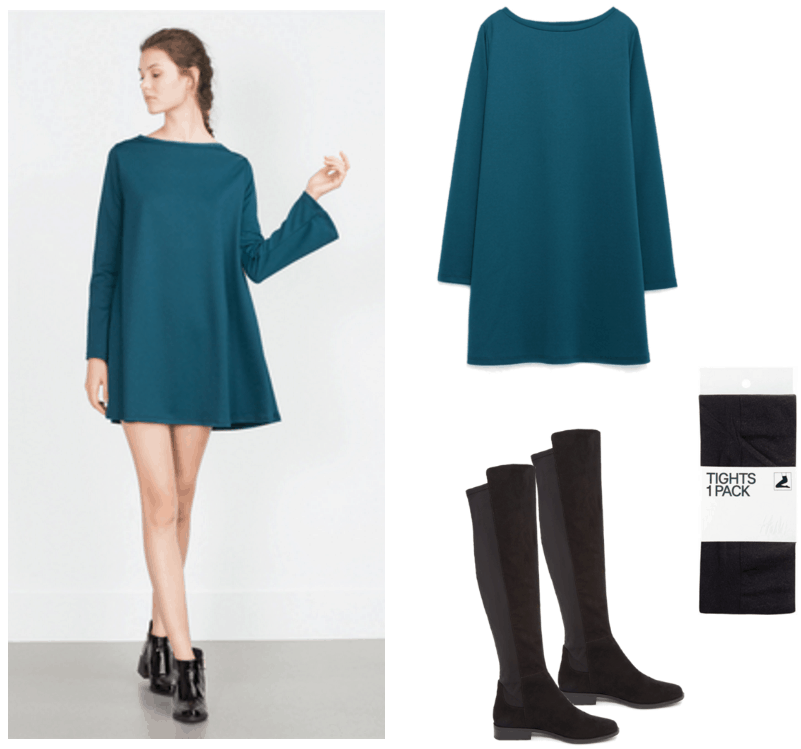 Products: Dress, Boots, Tights
This last outfit is inspired by the flow and movement that the painting conveys. The dancers are spread throughout the rehearsal space, all doing their own activity. This loose shift dress takes inspiration from the painting's flow and blue-green accents. The over-the-knee suede boots are inspired by the dark, static musician in the foreground. Layer black tights underneath the boots to tie the pieces together.
What do you think?
Do you have any style tips for channeling Degas without being too feminine? I'd love to know the possibilities – let me know in the comments below!