This week's Fashion Inspired by Art post centers around a lively work from the Impressionist period: Pierre-Auguste Renoir's Le Moulin de la Galette. Keep reading to see three refreshing looks inspired by the famous painting.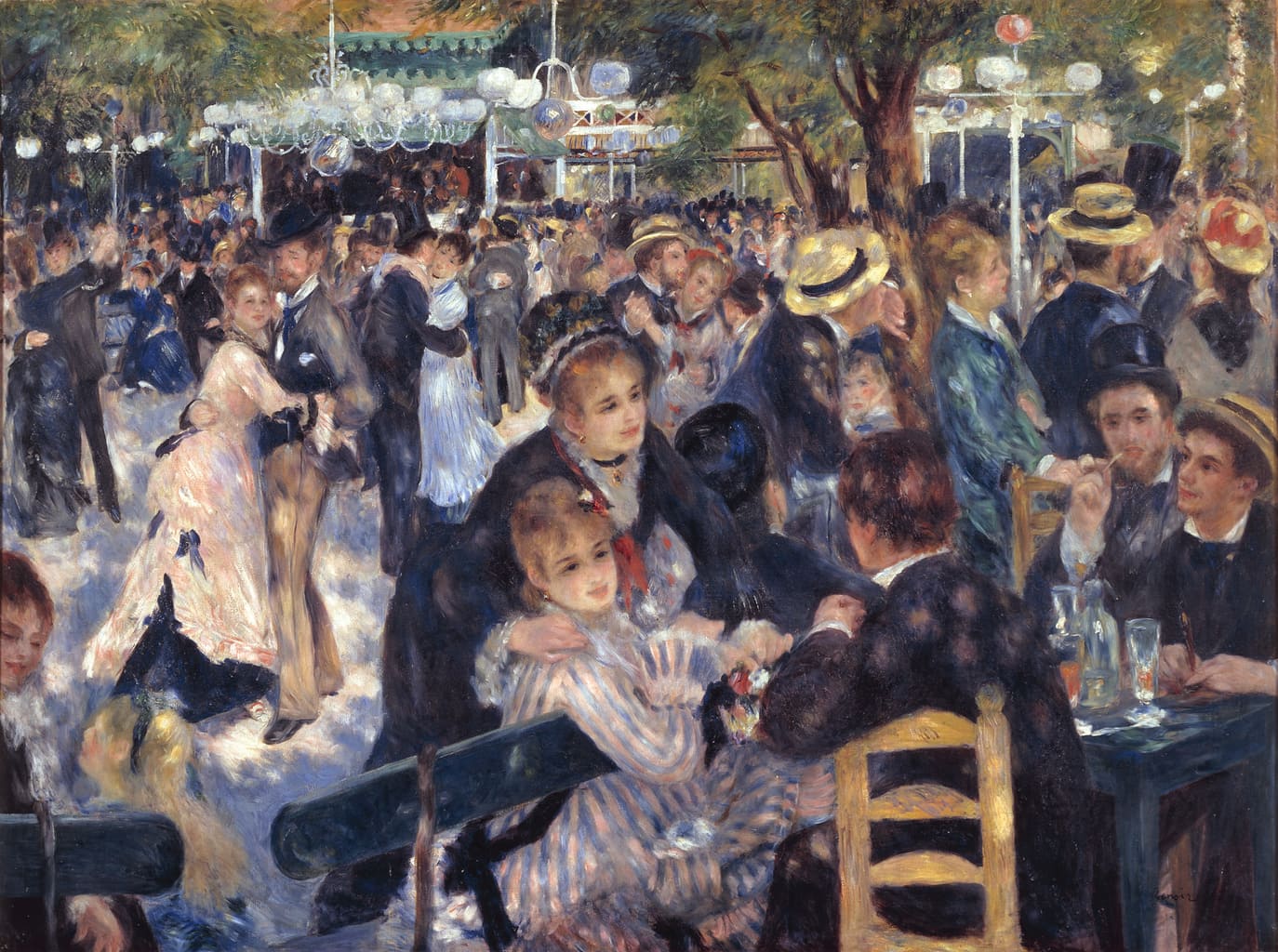 About the Artist
Pierre-Auguste Renoir (1841-1919) was a French artist who helped shape the Impressionist period.
True to the observation that "Renoir is perhaps the only painter who never produced a sad painting," Renoir's works always featured happy, lively subjects. Cheerful women, flowers, sunny leisure portraits, and other traditional subjects of "prettiness" and "beauty" dominate Renoir's many paintings. It's no wonder so many others have taken inspiration from his works.
About the Painting
Le Moulin de la Galette, painted in 1876, remains one of the most loved art pieces of the Impressionist period. Also known as Bal du Moulin de la Galette, the title originates from the name of a popular outdoor café at the time.
The painting lacks clear-cut outlines, only distinct patches of color to distinguish separate subjects. This unstructured form follows closely to the typical Impressionist style. Mimicking a photograph, Renoir cut figures off from the frame as if the scene extends beyond the painting.
Most interestingly of all, Renoir did not use black paint in his works. He did not believe it was a color, and used only very dark blue for shadows.
Café Ensoleillé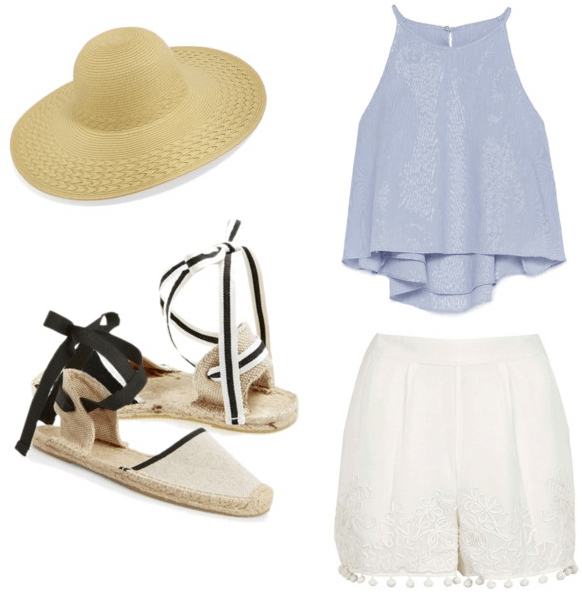 Hat- Rent the Runway, Tank Top- Zara, Shorts- Topshop, Espadrilles- Nordstrom
I put together this look with the sunny café in mind. The loose, flowing fabrics and soft textures are as breezy and fun as the subjects in the painting. If Renoir's café-goers lived in 2015, I would imagine them wearing something along the lines of this outfit.
This periwinkle Zara tank top (now on sale!) adds a fresh vibrancy to the color palette. Billowing shorts and simple espadrilles add a resort feel to the café vibe. I topped the outfit off with a classic sunhat– this Rent the Runway hat matches the subjects' straw hats and is perfect for a casual summer day.
Avec du Livres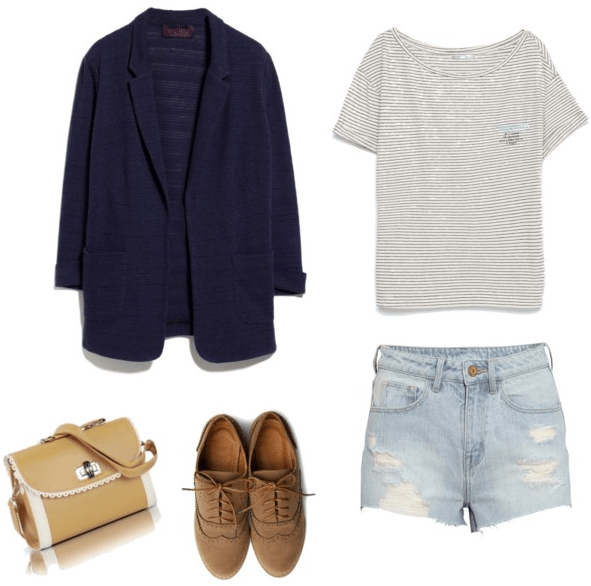 Blazer- Zara, T-Shirt- Zara, Oxfords- Amazon, Shorts- H&M, Bag- Sincerely Sweet Boutique
I imagine the person wearing this look reading a weathered paperback while sipping on a no-nonsense coffee in a cozy local coffee shop. In this outfit, I took inspiration from Renoir's painting technique. His deconstructed, fragmented communication of form lends to a hazy narrative.
As such, I loved the idea of destroyed denim shorts and an uncommonly shapeless jacket. In line with Renoir's preference of navy instead of black, I picked a dark navy blazer. (Here's a less expensive option from Forever 21.) A simple tee keeps the look casual, while this adorable scallop trim bag and these classic oxfords are the perfect accessories to transition into fall.
Galette en Plein Air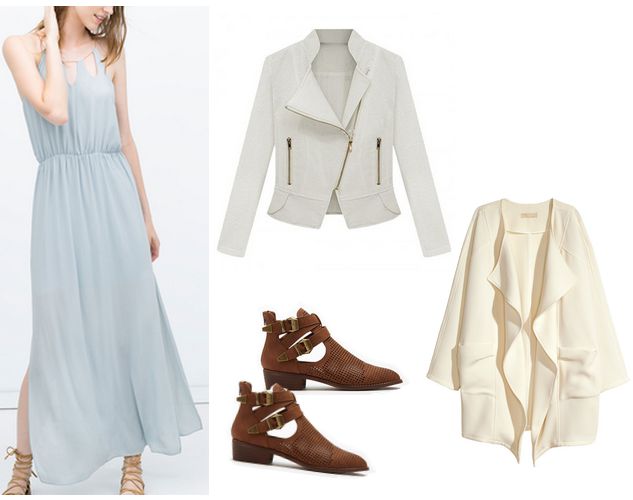 Dress- Zara, Zip-Up Jacket- StyleMoi, Draped Jacket- H&M, Shoes- Forever 21
For this last look, I took inspiration from the billowing dresses the women in the painting wore. I opted for a pastel maxi, pairing it with a structured jacket to give the look some formality. For a less structured option, the draped jacket, from H&M, is fluttery enough to capture the whimsy in Renoir's works.
While you can finish the outfit with a pair of elaborately-strung sandals (like the model, pictured left), I thought a pair of neutral-colored cutout booties would give the look some added interest. This look would be a quaint option for a night out.
Final Thoughts
I find the idea of a café very romantic. The smell of freshly brewed and baked somethings, many people together in one place yet in their own worlds, or maybe just years of listening to "Falling in Love at a Coffee Shop"… When cafés are not pretentious Starbucks franchises or $10 pretty latté designs (or even when they are!), they can be breeding grounds for every kind of inspiration.
Renoir beautifully captures the vivacity of the moment in his French town: a joyous venue to dine, laugh, and dance.
What do you think?
Is Renoir also your favorite Impressionist artist? Do you love to study in cafés? Do cafés also inspire you? What is the most you've ever paid for a coffee? Let me know in the comments below!