This week's Fashion Inspired by Art article features Claude Monet's The Artist's Garden at Vétheuil. Keep on reading for details about and three outfits inspired by the bright Impressionist painting!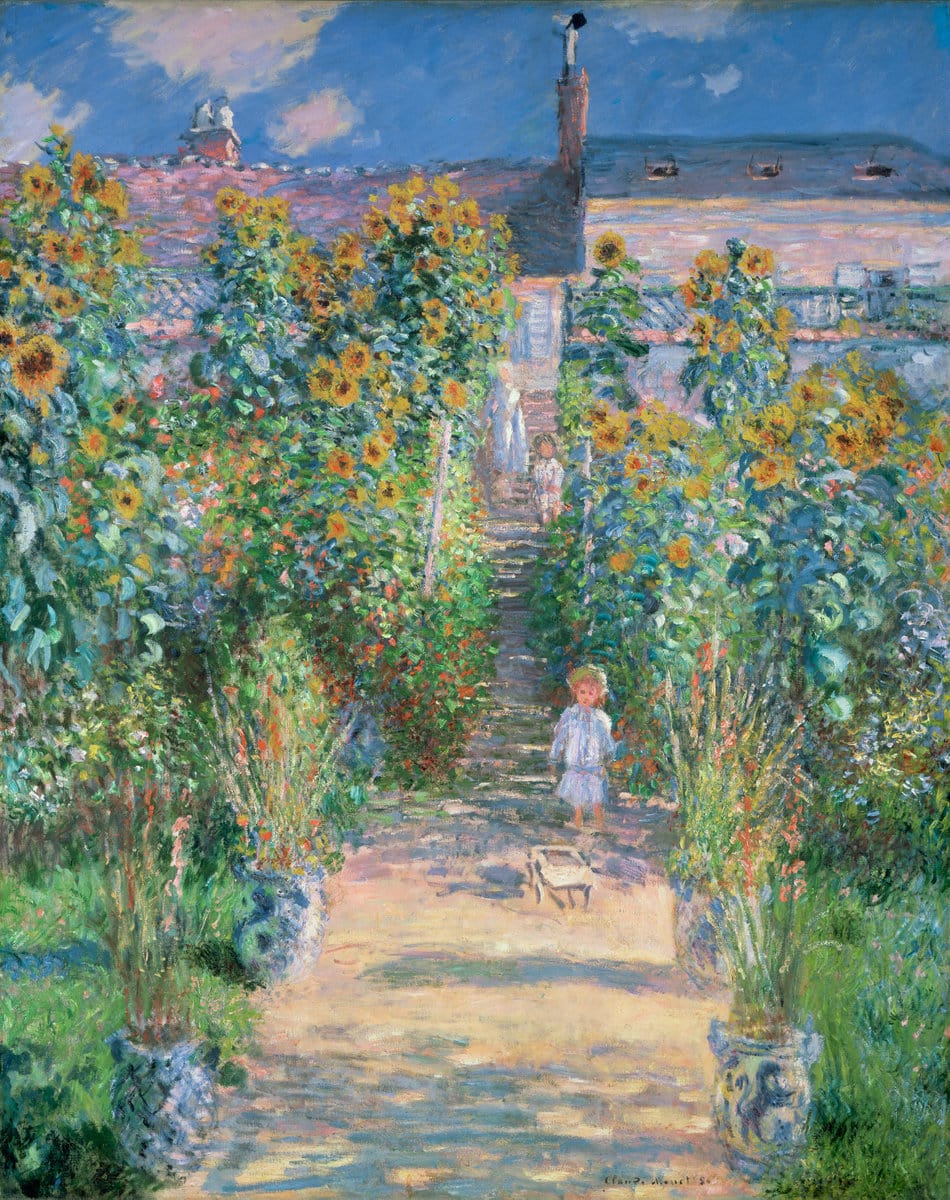 About the Painting
Monet painted The Artist's Garden at Vétheuil around the early 1880's, around the prime of Impressionism. The vibrant garden depicted, located in Vétheuil, France, belongs to none other than Monet himself. Enchanted with flowered-terraces and otherwise plant-saturated yards, Monet took care to capture his yards in his paintings.
Strangely, Monet began to paint such rich, bright paintings following the death of his wife. In this particular work, the green of shrubbery contrasts almost starkly (at least for a Monet!) against the muted beige and lilac tones of the pathway. Pops of yellow sunflowers remain just as vibrant as the pink accenting Monet's home in the background.
Outfit 1: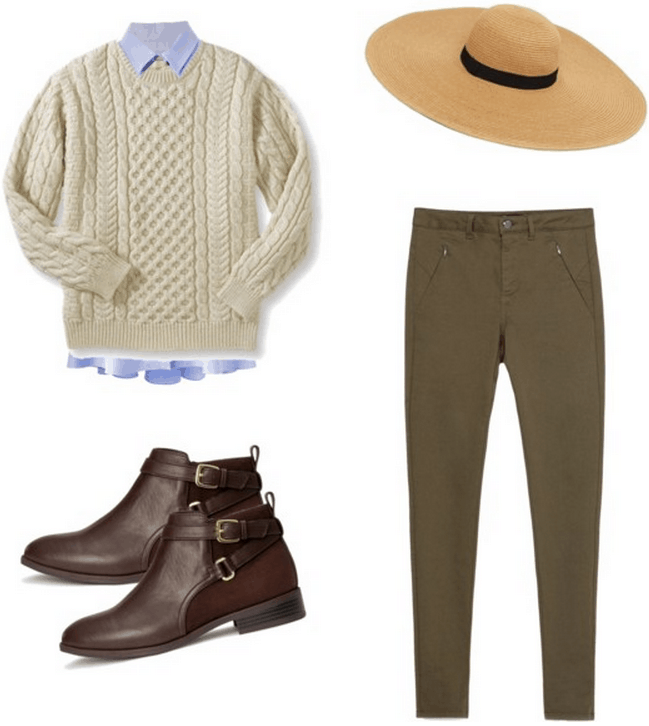 Products: Collared Shirt, Sweater, Pants, Boots, Hat
This first outfit is inspired by the child at the base of the stairs, supposedly Monet's young son. The boy's high-necked blue garment translates well as a polished layering piece underneath a cozy fall sweater. Paired with olive-colored pants, the look maintains a connection to the warm nature depicted in Artist's Garden.
The child's adorable sun hat, customary for many French children at that time period, matches well with his breezy blue outfit. Though straw hats tend to lean more summery than fall, opting for a more golden shade of straw can help an outfit transition to the colder months. A pair of neutral-colored boots ties the earthy look together.
Outfit 2: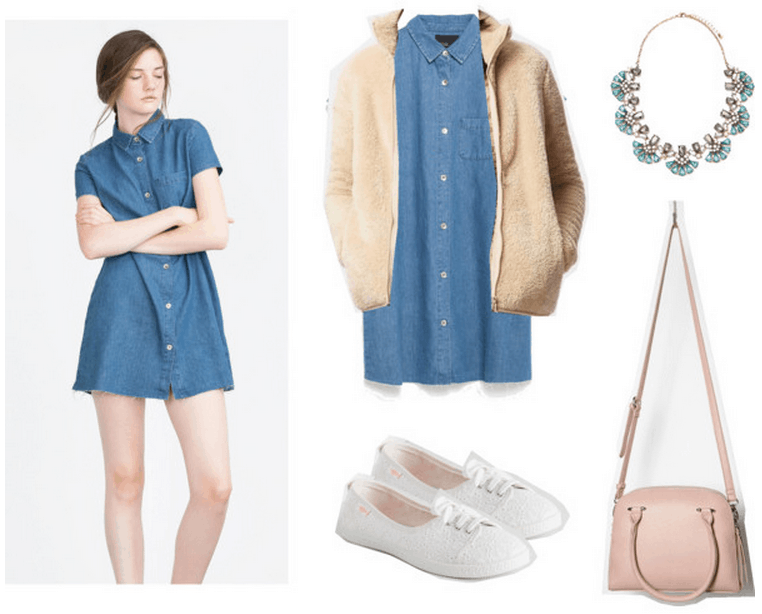 Products: Denim Dress, Fleece Jacket, White Sneakers, Bag, Necklace
This second outfit is based on Monet's use of texture to render form. Around the time that Monet painted Artist's Garden, he became more interested in the composition of a piece to generate interest, rather than focusing on the effect of light on objects. Monet layers multiple tiers of hazy vases and humans leading up to dense clusters of flowers.
A clean-cut denim dress draws inspiration from both Monet's tendency toward structure as well as the dominating blue of the painting. This fluffy jacket from Uniqlo (on sale now!) softens the look. When topped off with a pair of lacy sneakers, the outfit becomes very campus-friendly. The pink bag and aqua-colored necklace tie in the color palette toward the top of the painting, at the same time making the outfit more sophisticated.
Outfit 3: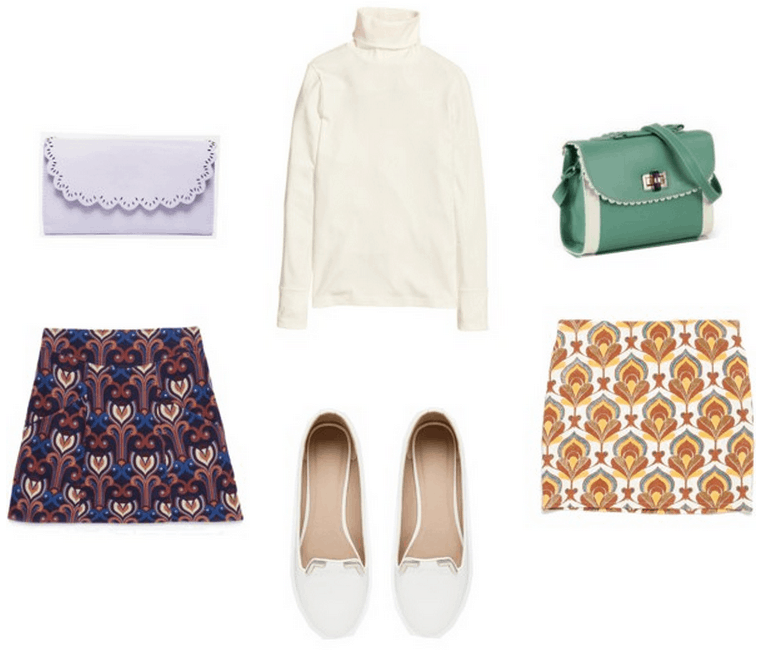 Products: Top, Skirt (left, right), Bag (left, right), Shoes
This last outfit takes inspiration from the dense pattern of flowers toward the top of the painting. Depending on your preference, this outfit can either swing warm-toned or cool-toned. A simple white turtleneck creates the perfect base for these loud, patterned skirts from Zara. Opt for white loafers instead of white ballerina flats for a more trendy vibe.
Monet painted large, bright sunflowers as light meant to break up an otherwise muddled green-blue setting. The lavender purse on the left matches the purple undertones that Monet used to capture a setting sun. The muted teal-green purse on the right draws out the green in the sunflower-like orange and white body-con skirt.
Final Thoughts
Drawing fall fashion inspiration from Monet's paintings is a recipe of quaint pastel colors and earthy tones that evoke nature. Playing with texture and off-season trends (straw hats in autumn!) can help transition your outfits to the cooler months while still channeling Monet, whose paintings always seem to be in eternal spring-summer.
What do you think?
What's your favorite Monet painting? What's your favorite way to hang on to summer trends into autumn? Does it still feel like summer where you live, too? (We're breaking 90 degrees in Northern California! Where are you, Fall?) Let me know in the comments below!