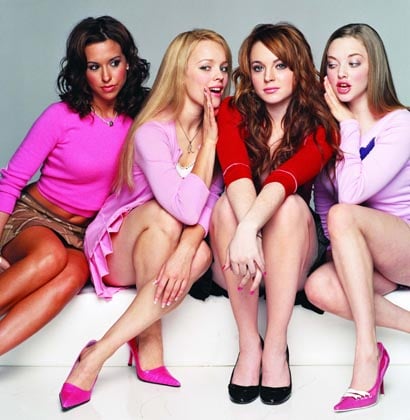 Quite possibly the most-quoted movie of our generation, Mean Girls(2004) has quickly become a gen-Y classic. Seeing North Shore High through the eyes of Cady Heron has taught us valuable life lessons: joining the Mathletes is social suicide, butter is a carb, and the Plastics? They are teen royalty.
Mean Girls also can teach us a few things about style. While it may be impractical for us college students to sport mini skirts and pumps to class, you can use Regina George and her loyal followers as a source of fashion inspiration for your own everyday looks.
Below, I've created a few outfits inspired by Mean Girls. Get in, loser – we're going shopping!
Outfits Inspired By Mean Girls
Regulation Hottie
Product:
While you may have not been homeschooled in Africa, you can steal Cady's "regulation hottie" style with a few key pieces. Wear a plaid shirt with a pair of high-waisted denim shorts. Then slip on a pair of classic Converse sneakers, grab a trendy wrap bracelet, and wear a varsity-style jacket, similar to the one Cady wears as a Mathlete!
The Back Building
Product:
Skipping class just got a little more fashionable! Pair a muscle tee with high-waisted jeans for a simple and chic look. Wear a utility jacket and combat boots for an edgy twist. Complete the look with an eclectic triangle charm necklace.
The Plastics
Product:
I saw Regina George wearing a pink skirt and bow pumps, so I bought a pink skirt and bow pumps. Steal the Plastics' girly style with a graphic tee and a bright pink mini skirt. A cardigan adds a preppy twist, and pumps with bow detailing have some serious cute appeal. Grab a quilted bag to store the essentials (hello, Kalteen bars!), and wear an initial necklace just like Regina's to complete the ensemble.
What do you think?
Are you a fan of Mean Girls? (If not, do you even go here?) Are you inspired by movie fashion? Would you wear any of the looks above? Which one is your favorite? Would you like to see more posts like these in the future? Let me know in the comment below! 
If you liked these Mean Girls outfits, you might want to consider the related posts below –