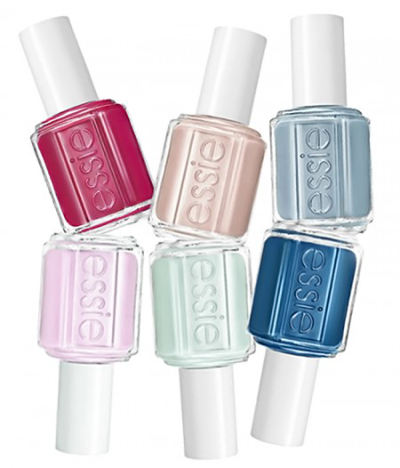 If you're looking for spring color inspiration, look no further than Essie nail polishes – their new Spring 2014 collection is the perfect mix of light pastels and bold brights, featuring six polishes in various shades of blue and pink. You can get them individually or in a mini set of four colors.
I covered Essie's lovely Resort 2014 collection back in February, but I have to say, I think I love these new colors even more. Read on to see outfits inspired by three of my favorite nail polish colors from Essie's Spring 2014 collection:
Truth or Flare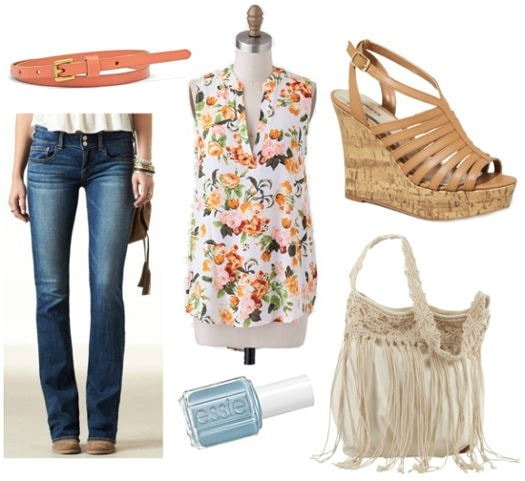 Product Info: Jeans – American Eagle, Top – Ruche, Bag – Roxy, Shoes – Express, Belt – Fossil, Nail Polish – Essie in "Truth or Flare"
"Truth or Flare," the collection's light blue shade, instantly made me think of distressed denim, so try it with a pair of worn-in flared jeans and a tucked-in floral blouse. A peachy belt adds emphasis to your waist, and a pair of wedge sandals will elongate your legs while adding some warm-weather flair. Lastly, grab a fringed bag for a casual boho touch.
Style Hunter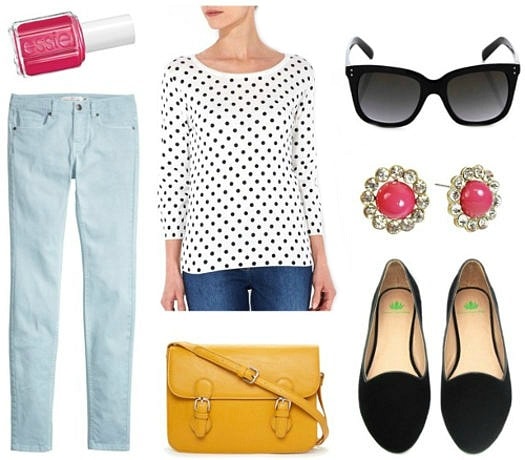 Product Info: Pants – H&M, Sweater – Wallis, Shoes – Bluefly, Bag – Forever 21, Earrings – JCPenney, Sunglasses – Debenhams, Nail Polish – Essie in "Style Hunter"
This fun and colorful look, which features the collection's bright pink shade, is perfect for a bit of window shopping on a sunny afternoon. Pair a polka dot sweater with pastel blue pants, and grab a mustard yellow bag for a cheerful pop of color. Cuff your pants and slip on a pair of comfy black loafers, then accessorize the look with a pair of chic sunglasses and some cute pink earrings.
Romper Room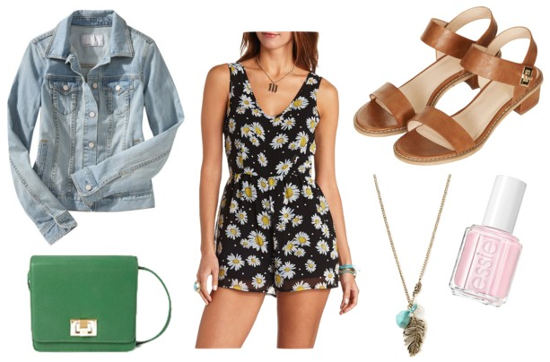 Product Info: Romper – Charlotte Russe, Jacket – Old Navy, Bag – Forever 21, Shoes – Topshop, Necklace – Forever 21, Nail Polish – Essie in "Romper Room"
This last look, inspired by "Romper Room" (a soft, delicate pink), is an updated version of your elementary-school favorites. Pair a comfy printed romper with a faded denim jacket, then slip on a pair of simple brown sandals. Accessorize with your favorite charm necklace and a cute green cross-body bag to finish the ensemble.
Thoughts?
Which Essie Spring shade is your favorite? Which look would you wear? What's your signature spring nail polish? Let us know in the comments!