The charm of New England is brought to Walt Disney World in the form of Disney's Yacht Club Resort. The resort boasts views of Crescent Lake, plus it's within walking distance from Disney's BoardWalk and Epcot. It also features one of Walt Disney World's best pools – a sand-bottom pool known as Stormalong Bay, complete with a lazy river and waterslide. There's even a beach!
(For more posts in this series, see fashion inspired by Disney's Contemporary Resort, fashion inspired by Disney's Gland Floridian Resort, and fashion inspired by Disney's Polynesian Resort.)
Even if you're nowhere near Central Florida this summer, you can snag some nautical notes from this beachside resort as inspiration for your own summer looks! Below, I've created two outfits inspired by Disney's Yacht Club Resort. Scroll down to see them both:
Yachts of Fun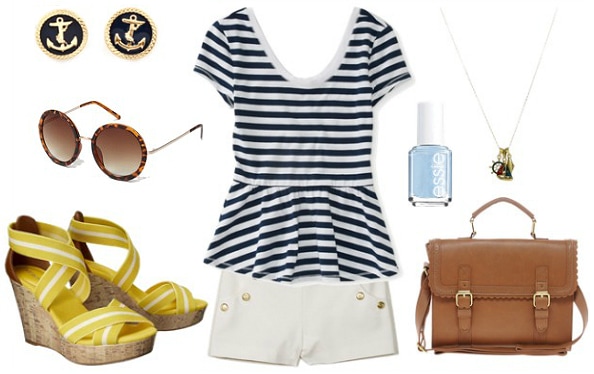 Top, Shorts, Shoes, Bag, Sunglasses, Necklace, Earrings, Nail Polish
You'll be sure to have yachts of fun (pardon the pun – couldn't resist) when you sport this warm weather look! Wear a striped peplum top with a pair of sailor shorts for a nautical vibe. Add brightly-colored wedges and a tan satchel bag for a classic appeal. Finish the outfit with summery accessories, like round sunglasses, a nautical charm necklace and earrings, as well as a swipe of pale blue polish.
Whatever Floats Your Sailboat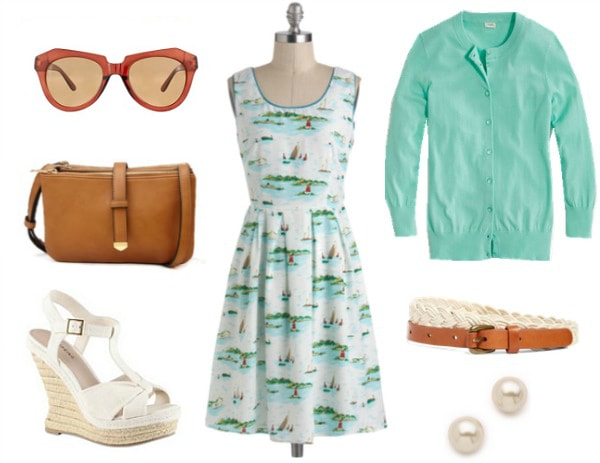 Dress, Cardigan, Shoes, Bag, Belt, Sunglasses, Earrings
Get ready to set sail on a summer adventure in this outfit! Wear a sailboat-printed dress under a mint cardigan with wedge sandals. Accent the dress with a braided rope belt, then grab a crossbody bag to store the essentials. Complete the ensemble with a pair of oversized sunglasses and pearl earrings.
What do you think?
Are you inspired by nautical trends? Would you wear any of the looks above? Which outfit is your favorite? Would you like to see more posts like these in the future? Let me know in a comment below!