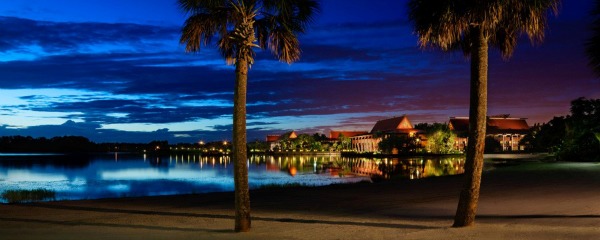 Click to enlarge. | Photo Credit
Continuing my series on fashion inspired by Walt Disney World, today we're taking a trip to a tropical getaway with South Pacific flair. Disney's Polynesian Resort sits directly across from the Magic Kingdom on the Seven Seas Lagoon. From the minute guests step into the lobby, they are welcomed with a large fountain and Pacific island-themed decor.
(For more posts in this series, see fashion inspired by Disney's Contemporary Resort and fashion inspired by Disney's Gland Floridian Resort.)
Although a trip to the Polynesian may not be in your summer plans, you can be inspired by the tropical aesthetic the resort provides. Below, I've created two different looks inspired by Disney's Polynesian Resort in Walt Disney World. Scroll down to see them both!
Spirit of Aloha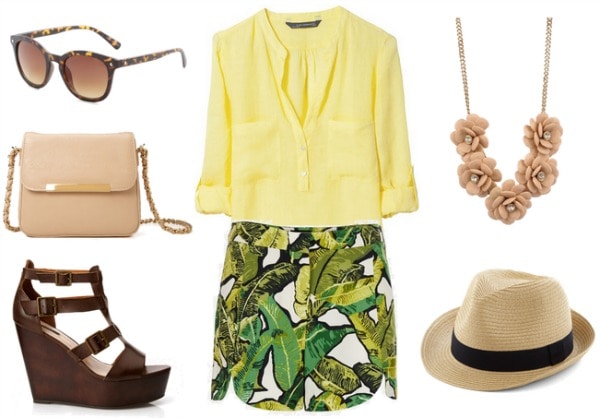 Top, Shorts, Shoes, Hat, Bag, Necklace, Sunglasses
Get an island appeal with ease when you step out in this fun outfit. Tuck a yellow shirt into banana leaf print shorts. Slip on a pair of wedges and throw on a fedora for an extra-tropical vibe. Complete the ensemble with a floral statement necklace, a neutral-tone crossbody bag, and a pair of retro shades. Perfect for a day spent next to the shore!
Tropical State of Mind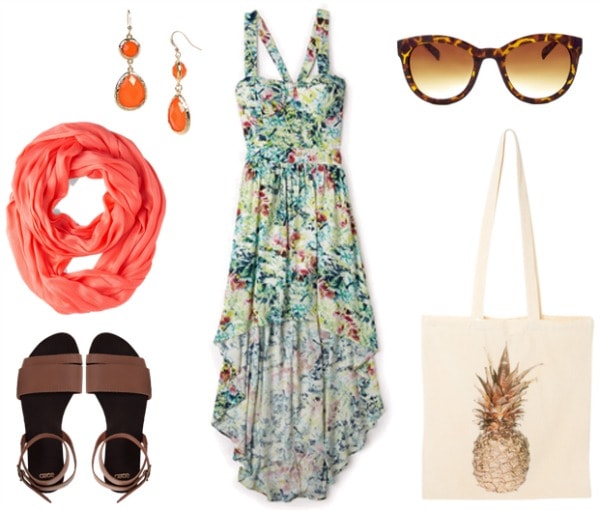 Dress, Shoes, Bag, Scarf, Sunglasses, Earrings
Get into a tropical state of mind wherever you are this summer with these few key pieces. Start with a high-low tropical flower print dress and strappy flat sandals. Next, add a brightly-colored circle scarf for a pop of color and teardrop earrings for a trendy twist. Finish the outfit with a pineapple print shopper tote and tortoiseshell sunnies and you're ready to go!
What do you think?
Are you inspired by Walt Disney World resorts? Would you wear any of the looks above? Which outfit is your favorite? What Disney resort would you like to see next? Would you like to see more posts like these in the future? Let me know in a comment below!