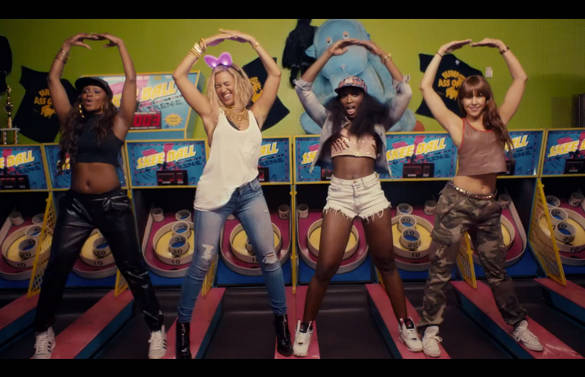 Photo Credit- Screenshot
Here it is – the third and final edition of our series on outfits inspired by Beyoncé's visual album.
As characteristic of Ms. Knowles, these concluding five songs are still about breaking the mold (Part 1) via female empowerment (Part 2), but they're also concerned with exuding positivity and living each moment to the fullest. Daughter Blue Ivy's giggles echo as the final song fades, a fitting and joyous end to Bey's stellar album.
Check out these looks below: they're all about freedom in fashion and freedom in love, sentiments Queen B herself would most definitely encourage!
11. XO
"XO" is probably the most whimsical and magical song off of Bey's eponymous album, brimming with optimism at having a glowing heart "before time is run out." The video follows suit, taking place at a pier amusement park, with bumper cars, neon lights and roller coasters.
Below, we channel Beyoncé's fun-loving outfit: she wears a flashing bow headband, a snake bracelet, an easy racer-back tank, light wash jeans, layered gold necklaces, and black stilettos. You're sure to shine with this look – even with the lights out!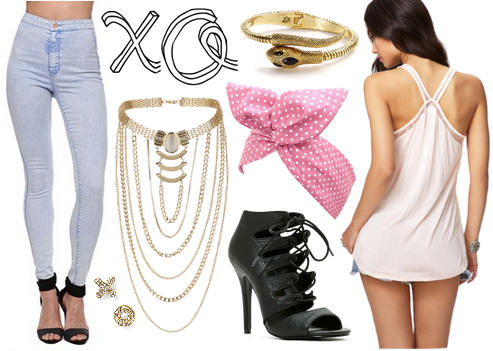 Product Information: Tank- Forever 21, Bracelet- Bloomingdale's, Headband- Etsy, Shoes- Nasty Gal, Necklace- Topshop, Earrings- Bloomingdale's , Pants- PacSun
12. ***Flawless feat. Chimamanda Ngozi Adiche
This is one of the Queen's fiercest hip-hop tracks on the album. "***Flawless" discusses the importance of female solidarity in the face of twisted societal limitations. Bey's ideas are exemplified by Nigerian author Adichie, quoted midway through the song, from her TED Talk "We Should All Be Feminists". (If you haven't seen this talk, it's a must-watch!)
Bey's outfit is H-town vicious for sure: she looks aggressive and powerful in a red flannel, rugged cut-offs, a chain collar necklace and belt, and combat boots. Look flawless and fight the power with our take on this ensemble below.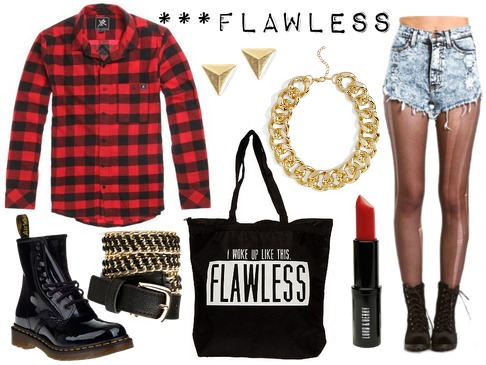 Product Information: Flannel- PacSun, Earrings- Body Central, Necklace- Nasty Gal, Belt- Forever 21, Lipstick- ASOS, Tote- Karmaloop, Shorts- Love Culture, Boots- Dr. Marten's
13. Superpower feat. Frank Ocean
Beyoncé "Superpower" featuring Frank Ocean :30 Preview
One of the most musically stunning tracks on the album, "Superpower" was the product of a Frank Ocean-Pharrell Williams collaboration and gives a futuristic edge to the R&B foundation. In the video, Bey's eye-makeup is striking, consisting of a dramatically winged cat-eye with a sharp flick on the inner corners. To emulate this, get precise with a marker-tipped liquid eyeliner tool.
Video Beyoncé walks through a post-apocalyptic world in a wild Destiny's Child-esque ensemble: adorned in fishnets, a shimmery scarf, an underboob-baring crop top, a camo jacket, an army green mini skirt, and thigh-high boots. Casual-ize this look with green cargo pants, tall lace-up boots, a basic black top, and a tassel necklace. Have fun by adding a camo-print scarf and green hair chalk!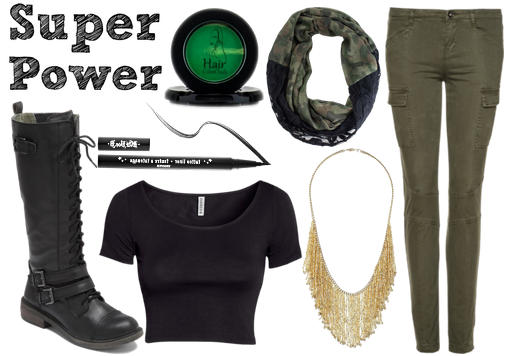 Product Information: Boots- Lucky Brand, Top- H&M, Necklace- Topshop, Pants- Benetton , Scarf- Body Central, Hair Chalk- Sleek Hair, Eyeliner- Sephora
14. Heaven
Beyoncé "Heaven" :30 Preview
"Heaven" is a poignant and poetic tune that the songstress wrote in reflection of her heartbreaking miscarriage. The line "heaven couldn't wait for you" perfectly fits into her message of relishing each and every day you get. The video juxtaposes a jubilant wedding with a funeral, where we draw our inspiration.
Bey keeps it classy with a dazzling Dolce & Gabbana black lace dress, rosary, heavy eyebrow makeup and wide-brimmed hat. Lighten up this Gothic-inspired wardrobe with a shorter-hemmed romper, natural lips and brows, as well as closed-toed shoes.
Product Information: Romper- Miss Guided, Lipstick- Bobbi Brown, Shoes- Forever 21, Necklace- Forever 21, Hat- Topshop, Brow Pencil- Target
15. Blue feat. Blue Ivy Carter
Beyoncé "Blue" featuring Blue Ivy :30 Preview
In fitting fashion, Mrs.Carter closes her album with a song dedicated to, and featuring, toddler Blue Ivy. The video for "Blue" is all about crochet and colors as Beyoncé sways along the beaches of Brazil, plays soccer with children, and gloriously dances the Samba.
This outfit channels Bey's gorgeous crochet cover-up and double-layered necklace. The colors of Brazil are represented with comfy TOMS, while we interpreted the carnival costume with a fringe bikini and feather headband. For the finishing touch, don't forget to mimic the wavy Brazilian blowout hairstyle. Look like a free-flying, boho beauty when the sun finally comes out with the ensemble below!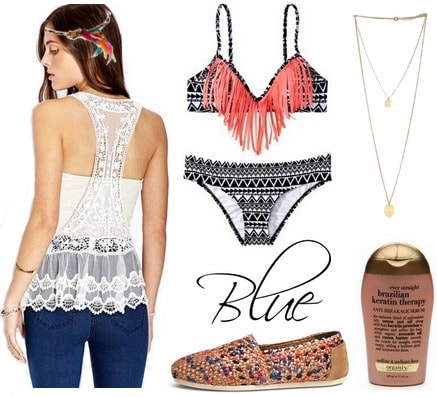 Product Information: Tank- Forever 21, Shoes- TOMS, Hair- Ulta, Headband- Forever 21, Bikini- Target, Necklace- Urban Outfitters
What do you think?
How did you like this survey of Beyoncé's visual album? Did you enjoy her videos? What would you have done differently? Which look was your favorite? Let me know in the comments!