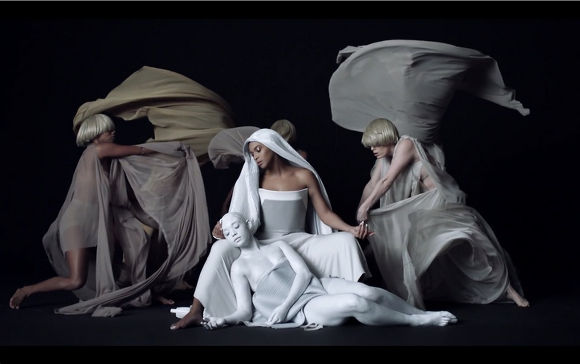 Photo Credit- Screenshot
Last week, we dove headfirst into Beyoncé's surprise Visual Album, with outfits inspired by the girl power-infused first five songs. It's evident that this time around, her tunes and videos are all about what it is to be a grown woman, to love, and be comfortable with yourself and your own body. Mrs. Carter loves showing hers off, and we like to think of her fifth album as perfect "daily-affirmation" music to get ready to.
Take a note from Queen B and empower yourself with a healthy dose of body love with these looks below:
6. Yonce
Beyoncé "Yoncé" :30 Preview
Even though "Yonce" isn't technically a song, but rather a segue for the next track, it has quickly become one of the most popular video segments from Beyoncé's latest album. The clip above left the fashion world floored, as it showcases some of the top models in the world: Joan Smalls, Jourdan Dunn, and Chanel Iman.
"Yonce" is a celebration of fashion and the female body, set against the gritty streets of Brooklyn. Tone down B's strappy red bodysuit by pairing it with high-waisted peplum pants (inspired by Small's shirt), and a leopard varsity jacket similar to the singer's. Finish off this fierce getup with geometric jewelry and red pouty lips – grill optional.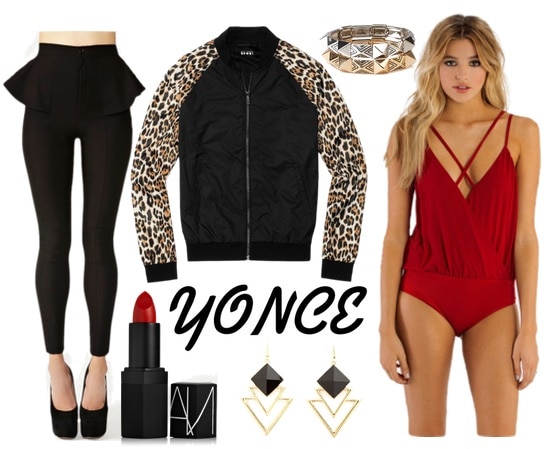 Product Information: Pants- Nasty Gal, Lips- NARS, Earrings- Charlotte Russe, Bodysuit- Tobi, Jacket- Juicy Couture, Bracelet- Forever 21
7. Partition
https://www.youtube.com/watch?v=COHXL4bIhBE
"Partition" is probably the sultriest of all the videos off of the singer's eponymous release. Beyoncé is stunning in a Christian Lacroix corset and later when she performs a scantily clad burlesque dance for her hubby. Bustiers, embroidery, fringe, fishnets and velour abound in "Partition," while a leopard-print projection essentially serves as B's wardrobe for a majority of the video.
Channel this cabaret style for a wild night out with a statement crystal necklace, fitted bustier, Beyoncé's own "Heat" perfume, false lashes, and a 1920s-inspired beaded fringe skirt. Also, instead of wearing a hat/chandelier on your head, why not try a beaded hair crown? Whatever you do, have fun!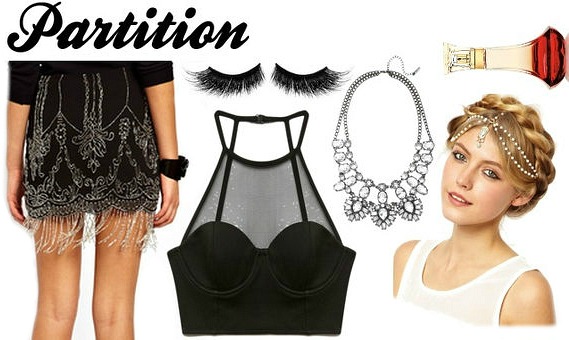 Product Information: Bustier- Forever 21, Skirt- ASOS, Lashes- ASOS, Necklace- Baublebar, Perfume- Beyonce, Hair Crown- ASOS
8. Jealous
Beyoncé "Jealous" :30 Preview
Beyoncé opens up "Jealous" looking positively fabulous — and reminiscent of Disney villain Maleficent – in a Victorian-inspired black lace ensemble highlighted by a high collar. Bey brings it to the current century with a burgundy coat and dark plum lips.
Her apparel and attitude sends a clear message: no one ought to mess with the Queen, or any jilted girl for that matter! Here is a mix of both knockout styles that will have everyone jealous of you on your next night out!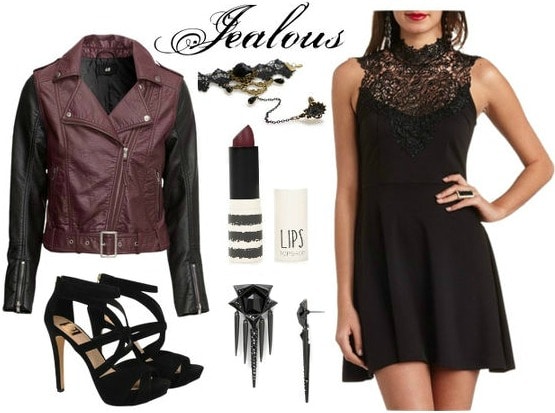 Product Information: Bracelet- Etsy, Lips- TOPSHOP, Dress- Charlotte Russe, Shoes- Dolce Vita, Jacket- H&M, Earrings- Sam Edelman
9. Rocket
Beyoncé "Rocket" :30 Preview
"Rocket" is one of the most sexually explicit and lusty songs off of the album, but the video turns the topic sweet instead of erotic. The black-and-white shots suitably feature a beautifully natural Beyoncé curled up in blankets, wearing nothing but black lace underwear and a button-down boyfriend shirt.
Take it out of the bedroom and this idea translates into a perfect everyday outfit that gives off both sexy and casual grace. Achieve this slightly undone look with boyfriend jeans, a button-up (borrowed from your boo, perhaps?), cognac booties, chocolate (a natural aphrodisiac, *wink wink*) "love" earrings, a slouchy black tank, and glossy nude lips.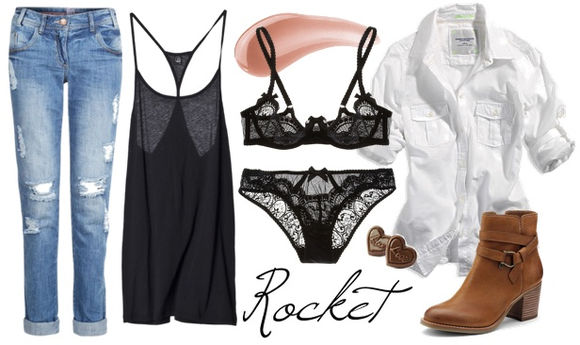 Product Information: Jeans- Lulus, Tank- Revolve, Underwear- Net-a-Porter, Booties- Sperry, Earrings- Etsy, Lips- Sephora, Shirt- American Eagle
10. Mine (feat. Drake)
Beyoncé "Mine" featuring Drake :30 Preview
"Mine" feels most like a piece of art compared to B's other videos on the list. Evoking a kind of Martha Graham influence, the video opens up with billowing silk and satin fabrics. Beyoncé is later seen in a metallic ensemble with a striking teal smoky eye. The rest of the video takes place on the sand, where dancers draped in taupes and creams flow to the music.
Our look mimics this sense of movement with scarf-print silk pants, a satin head-wrap, and a double layered tank top worn over a crop top with plenty of sheen. Pull it all together with awesome eye shadow in shades of teal and grey, then top it off with a cool magnetic nail polish.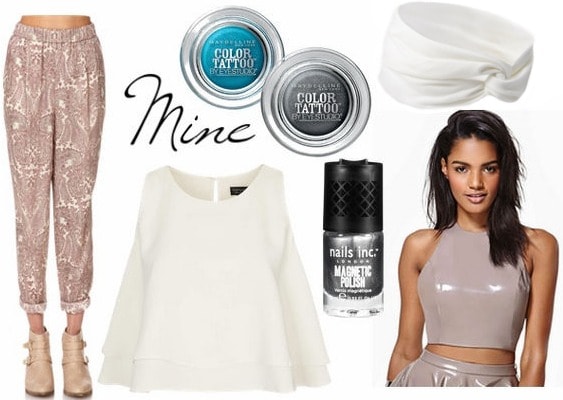 Product Information: Pants- Forever 21, Crop Top- Nasty Gal, Headwrap- Forever 21, Nails- Sephora, Top- TOPSHOP, Eyeshadow- Maybelline
What Do You Think?
How do you like Part 2? Do you like these songs and outfits better than the first five? What do you think of these videos? What do you think Beyoncé's message is to her fans? Let us know your thoughts by leaving a comment below!