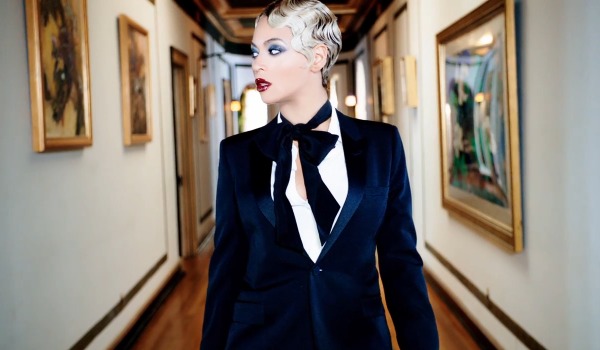 Photo Credit – Screenshot
Is it really Queen B's world and we're all just living in it? Yes, Mrs. Knowles-Carter proved that herself when she shocked fans everywhere on December 13, releasing an unannounced "Visual Album" at midnight. Sold exclusively on iTunes, the bombshell fifth studio album, "Beyoncé," includes 14 songs and 17 videos, all kept secret until the album drop heard 'round the world nearly imploded social media.
Girl power abounds with each and every song, and now that you've already had a good listen to the album – perhaps mind-numbingly played it on repeat – let's get on with some awesome outfits inspired by Beyoncé and her latest album! Scroll down to see part one in our series on fashion inspired by "Beyoncé":
1. Pretty Hurts
Beyoncé "Pretty Hurts" :30 Preview
Queen B explained that her overall message for this latest work was "finding the beauty in imperfection," a sentiment purely expressed in her first track. "Pretty Hurts" explores the dark side of what society deems pretty, as Beyoncé struggles with pageant competitions and the pressures women feel to conform to the status quo.
In the video, Bey is dazzling in 1950s-inspired looks: low-cut necklines with structured bodices, bold and bright colors highlighted by carefully groomed hair and makeup. This slimming style is highly feminized and can be tailored for any shape or size! Here is our modern twist on on the beauty pageant look, with a matching printed crop top and midi pencil skirt. Add your splash of spontaneity, whether it's edgy ear cuffs, a statement beanie or wedged sneakers.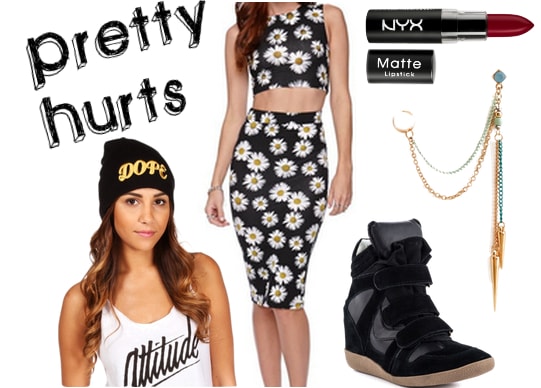 Product Information: Beanie- Windsor, Crop Top & Skirt- Pacsun, Sneakers- Steve Madden Ear Cuff- Forever 21, Lipstick- Target
2. Haunted
Beyoncé "Haunted" :30 Preview
"Haunted" opens up with Beyoncé walking through a nightmarish mansion, riddled with freak-show scenarios as she passes each room. Echoing Madonna, Knowles relates that society is truly frightened of overt female sexuality and gender crossover.
Queen B herself manipulates gender in the video, donning a menswear-inspired get-up: a tuxedo, short 1920s blonde hairdo, dark lipstick, and black lace/leather trim undergarments. The outfit below channels this ambiguity with feminine delicates. Check it out and suit up!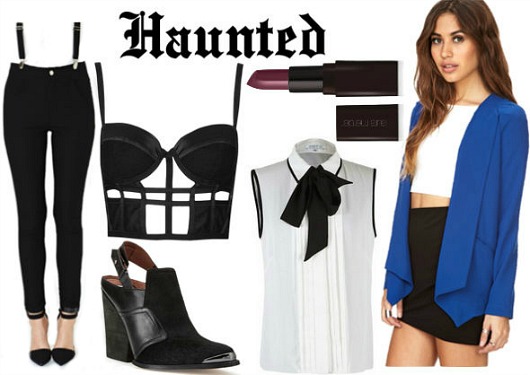 Product Information: Blazer- Forever 21, Slingback Booties- Forever 21, Blouse- Mode Walk, Lipstick- Laura Mercier, Bralet- Topshop, Pants- NastyGal
3. Drunk In Love
Beyoncé - Drunk in Love (Explicit) ft. JAY Z
Black and white waves crash softly upon the shore, while Beyoncé seductively purrs perhaps the most memorable words off the album: "Surfboard, surfboard." We can all safely assume what the metaphor is here. "Drunk in Love" explicitly accounts the intimate and infection love Mr. & Mrs. Carter share for each other.
The songstress doesn't wear much in the video, strolling down the beach in a sheer black tulle overlay and simple bikini – her jewelry is probably the heaviest item on her. Keeping with the monochromatic theme, our outfit features tousled waves, a tank with lyrics from a later song ("Flawless"), a sheer maxi skirt, and a shout-out to Jay-Z with a Brooklyn Nets beanie. Beyoncé stated this was her most "organic" video shoot, so keep it natural with this beautiful look on your next tropical getaway!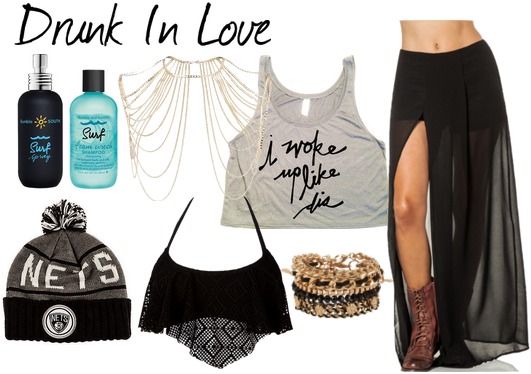 Product Information: Body Chain- River Island , Beanie- Karmaloop, Bikini top- Forever 21, Bracelets- Aldo, Skirt- Daily Look , Tank- Etsy, Hair- Bumble & Bumble
4. Blow
Beyoncé "Blow" :30 Preview
One of the most fun videos/songs on the album, "Blow," is a perfect girls' night out jam. Though a 1970s roller-rink characterizes the costume and set, luckily you can groove Beyoncé instead of disco.
All the flirty girls are outfitted in neon and spandex this time, while Bey wears a vibrant patterned top, matching booty shorts, a pink cardigan and roller skates. Channel the same Rainbow Brite energy and you and your BFFs are sure to shine when you hit the dance floor. Here are some essentials to kick it up a notch: a glow in the dark nail polish and lipstick, a printed bustier, a skater skirt and jelly bracelet.
P.S. – Try crimping your hair like Queen B does in the video… if she can rock it, so can you!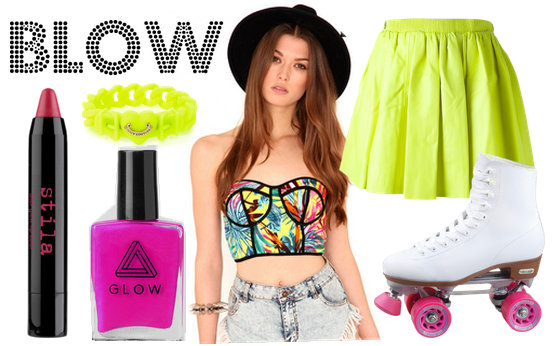 Product Information: Bustier- MissGuided, Roller Skates- Target, Nail Polish- Urban Outfitters, Lipstick- Stila, Skirt- Far Fetch, Bracelet- Juicy Couture
5. No Angel
Beyoncé "No Angel" :30 Preview
Beyoncé certainly looks like and urban angel in the midst of her hometown of Houston in "No Angel." Done up in a white onesie and white fur coat, B gives off the impression that she wants girls everywhere to stand out amongst the scenery.
Her next outfit in the video is a mainstay everyone should have in their closet: distressed denim shorts, a pair of Converse, and a muscle tee with a cute bandeau peeking out from underneath. Rep your state with a charm bracelet – we paid homage to Beyoncé with the state of Texas. This outfit is a surefire way to standout on campus in a nonchalant way, so rock it!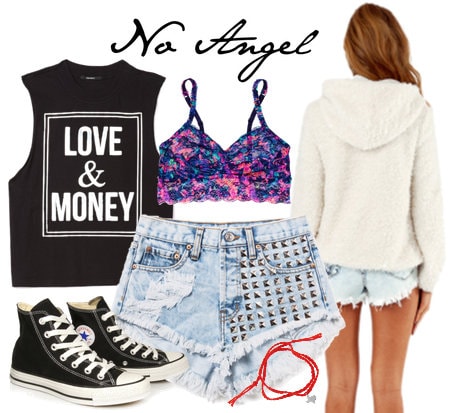 Product Information- Shoes- Converse, Bralette- PINK, Shorts- Runway Dreamz, Bracelet- Ylang 23, Jacket- Tobi , Muscle Tee- Forever 21
What do you think?
Do you like Beyoncé's visual album? Would you wear these outfits? Which is your favorite? Let me know in the comments!