This post may contain affiliate links, which means we may receive a commission if you purchase through our links. Please
read our full disclosure here
.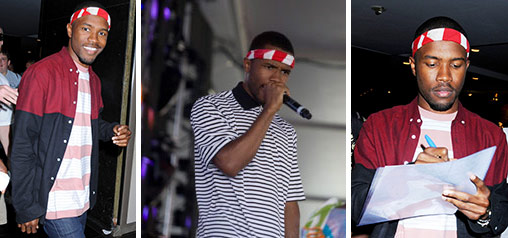 Photos: 1. Pacific Coast News, 2. ELLE, 3. Pacific Coast News
In my inaugural Style Notes post, you all left tons of fantastic song suggestions for me to cover. I was fully prepared to follow up on a reader suggestion when some big news hit – one of my favorite artists, Frank Ocean, took the hip hop and R&B worlds by surprise when he came out to his fans via Tumblr, revealing that his first love had been another man.
An R&B artist, Frank Ocean (aka Christopher Francis William Ocean) worked as a songwriter for several years, then released his first mixtape, Nostalgia Ultra, in 2011. He is also a member of the hip-hop collective OFWGKTA (which includes Earl Sweatshirt, Hodgy Beats and Left Brain and, of course, Tyler, the Creator). He co-wrote and sang the hook on Jay-Z and Kanye West's hit "No Church in the Wild."
Personally, I'm a huge fan of Frank Ocean's, for both his music and his outlook on life. On songwriting, he told the BBC:
"What inspires me to make music is… I guess I'm just inspired to tell stories. You've got to make sure the listener is listening to you, so if you put it in the form of a song, oftentimes, if the song is striking enough, then you can really deliver the story effectively (…) I guess it all starts with the stories for me."
In many ways, I feel the same way about fashion. To me, fashion is more than a tool for making you look good, it's a method of telling a story, whether you're doing so intentionally or not. Everything you wear sends subtle (or not-so-subtle) messages about you – your personality, sense of aesthetic, and your history – to everyone around you. For the outfits below, I tried to channel Frank Ocean's personal style, and the look of his music videos, into outfits for the style-conscious girl.
Swim Good
Product Information: Tee, Cuff, Bracelet, Shorts | Bun photo: ELLE
In the music video for "Swim Good," Frank is dressed as a kind of anime warrior. This wave tee shirt takes into account the seaside setting, riffing on both the artist's name and the lyrics of the song, as well as channeling an aesthetic similar to heavily stylized Japanese art. The cuff bracelet references Frank's debut studio album channel ORANGE while the childlike friendship bracelet touches on the name of the mixtape that included "Swim Good," Nostalgia Ultra.
Pyramids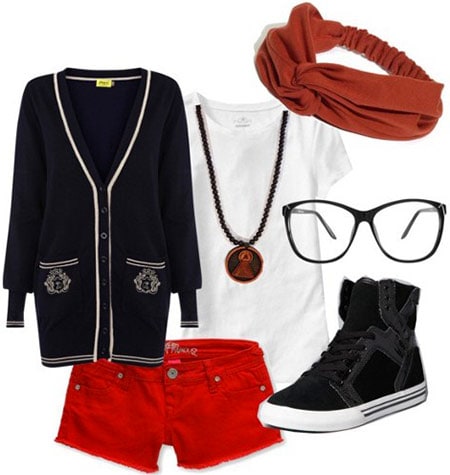 Product Information: Cardigan, Tee, Shorts, Necklace, Head-Wrap, Sneakers, Glasses
This look mixes classic and urban elements, contrasting the more traditional color scheme and the preppy cardigan with a cool wooden necklace and streetwise sneakers. This juxtaposition perfectly represents Frank's classic style, which bucks the stereotypes for what an R&B artist "should" wear, and sets him apart from his fellow Odd Future members.
This preppy cardigan pairs perfectly with cherry shorts and a simple white tee, while the head-wrap echoes the headband Frank often wears on stage. The necklace's pyramid emblem references the single "Pyramids" from channel ORANGE, and the glasses are similar to a pair Frank is sometimes seen wearing.
Sweet Life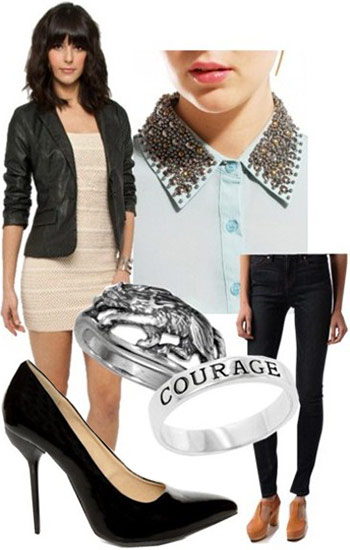 Product Information: Blazer, Shirt, Jeans, Wolf Ring, Courage Ring, Heels
This look, inspired by Frank's outfit during his interview with GQ, is more slick than the other two, and more suited for a fashion-forward workplace or a night out.
To start, rock a great leather blazer with a gorgeous embellished mint button-up tucked into dark skinny jeans for an outfit that's crisp, polished and extremely flattering. Finally, add classic black pumps and silver rings – the wolf represents Frank's "Wolf Gang," and "courage" represents the bravery he has shown in sharing his same-sex relationship, as well as his willingness to cover difficult topics in his songs.
One final quote from Frank:
Again, this quote was taken from Frank's interview with BBC for the Sound of 2012 competition:
"I've been feeling really mortal lately, and if I could do anything from today – not even really looking at it in years, but today on – it's just really about trying to do whatever it is I do at a level of excellence, and that's really all I'm trying to do while I'm here."
Words to live by.
What do you think?
Hopefully, my lovely readers, you understand why I didn't pick a reader-suggested song for this week. But don't worry: I promise the next Style Notes post will cover a reader suggestion!
Are you a fan of Frank Ocean and/or Odd Future? What kind of impact do you think his announcement will have on the sometimes-homophobic hip hop industry? Would you wear any of these looks? As always, let me know any thoughts or song ideas in the comments below!