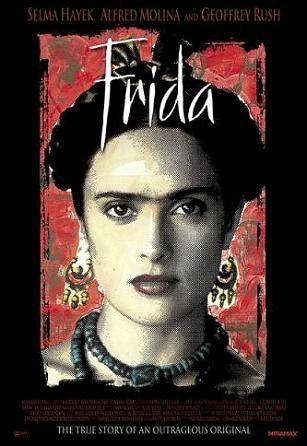 When I'm not knee-deep in design at my new job, I'm either reading, writing, or making art. When I'm too exhausted to do any of that, (which, by the way, is most of the time: adulthood is a trap you guys) I'm vegging out in front of Netflix. While I will binge-watch Gossip Girl, PLL, and Parks and Rec like any other girl, I generally prefer to watch artsy, indie films or documentaries. (I'm a Vanessa. Or half Vanessa, half Blair. It's a rough life.)
So when Netflix started showing Frida about a month ago, it popped into my queue and I clicked it without really knowing what I was getting into. Guys, this is one of my new favorite movies. It's so good. So, so good. WATCH IT NOW.
About Frida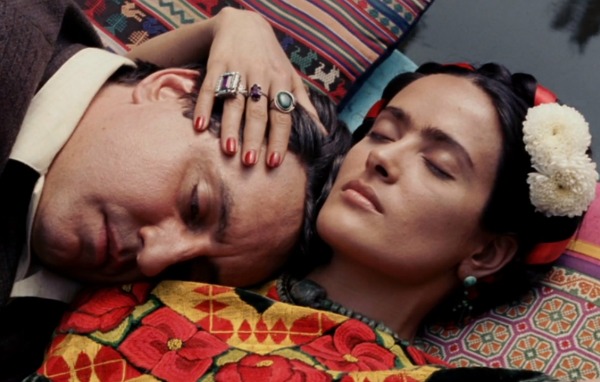 Frida is an Oscar-winning biopic about the life of the 20th century painter Frida Kahlo, and stars Salma Hayek as Kahlo (she also produced the film) and Alfred Molina as her husband, muralist Diego Rivera. The movie beautifully chronicles their tumultuous relationship (Kahlo and Rivera, both wildly passionate and jealous people, had an open relationship) and Kahlo's life as an artist, as well as her medical issues, infertility, and her political life.
The movie was widely acclaimed and was selected as a movie of the year by the American Film Institute in 2002. Hayek was nominated for an Oscar for her role, but ultimately lost to Nicole Kidman for her role as Virginia Woolf in The Hours. (It was a good year for movie adaptions about 20th century ladies, yo.) The movie went on to win Oscars for Best Makeup and Best Original Score.
There are so many things to love about this movie. Firstly, it's about Frida freaking Kahlo, a smoking, drinking, swearing Communist feminist who was both a fiercely independent artist and a woman who lived her life for love and her family. Secondly, Hayek slays as Kahlo, and her chemistry with Molina on-screen is both sizzling and tender. Finally, everything about this movie is gorgeous – the soundtrack is gorgeous, the costumes are gorgeous, and the settings – Mexico City, Paris, New York City – are gorgeous. But what I love most about this movie is the treatment of Kahlo's artwork.
Kahlo created deeply personal art, and many of her most-beloved paintings were direct responses to events in her life. The movie reflects this beautifully – during pivotal scenes, the actors are posed to exactly match the paintings Kahlo made at these points in her life. The paintings aren't just part of the background, nor are there frantic montages of Kahlo working at the easel. The paintings are intrinsic to the movie, just as they were in Kahlo's life.
Outfits Inspired by Frida
Frida and Diego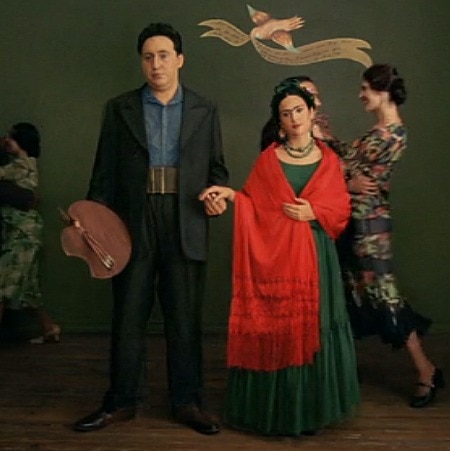 While she was a student of medicine at the esteemed National Preparatory School, Frida was involved in a terrible bus accident that left her in a body cast for three months. During this period, she took up painting, and sought out the professional opinion of an artist she admired very much – Diego Rivera. The rest, as they say, is history.
The above still, inspired by the painting "Frida and Diego Rivera," marks the couple's wedding in 1929, of which Frida's mother did not approve, due to Rivera's reputation as a prominent member of the Communist party and a twice-divorced serial philanderer. Though the scene is joyful and beautiful, it foreshadows both the political and personal obstacles the couple would face in the future.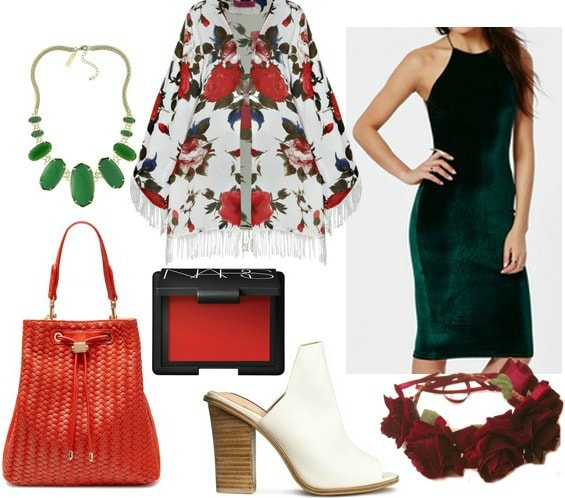 Necklace, Kimono, Dress, Bag, Blush, Mules, Flower Crown
In the movie, Frida decides not to don a western-style white wedding gown, instead opting for a more traditional Mexican getup that she feels better suits her style and relationship. To put a contemporary spin on this striking green and red outfit (and to keep it from looking too Christmas-y), pair textured pieces together in unexpected ways. For example, mix a green velvet midi-dress with a woven red bag.
A rose-printed white kimono nods both to Frida's red shawl and to one of her favorite prints, while a luxurious flower crown adds to the red rose motif. Throw on a green statement necklace, white peep-toe mules, and bright red blush to finish the look.
Black Dove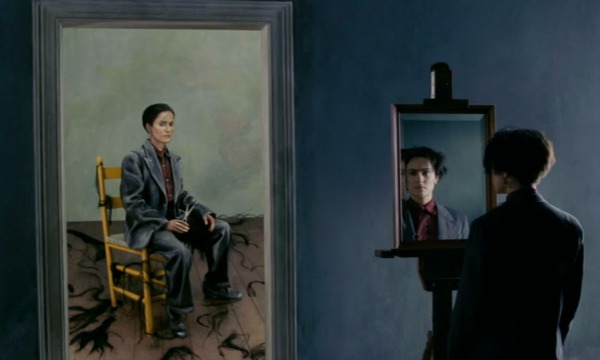 This is one of my favorite scenes in the movie, and not just because it features one of my favorite Kahlo paintings. Frida finally becomes fed up of her husband's disloyalty and leaves him, only to be crippled by depression, ennui, and poverty.
She cuts her hair and paints herself in a men's suit (believed by some art historians to be Diego's, due to its poor fit) in her empty apartment, a statement that reflects both on her stubborn independence and the heartbreak she feels without her beloved husband.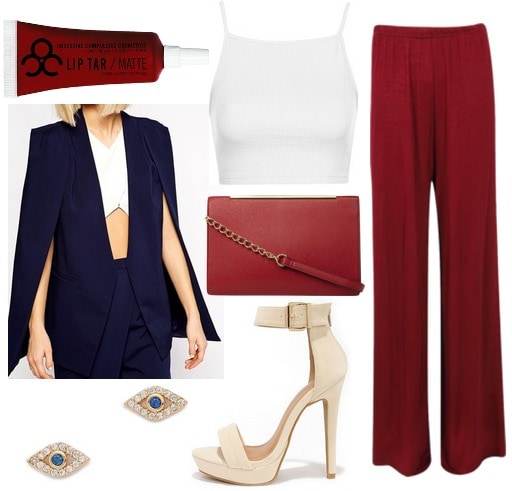 Lip Tar, Cape, Earrings, Crop Top, Bag, Heels, Pants
Though Kahlo was well-known for wearing colorful skirts and dresses, several scenes in the movie portray her wearing men's pants and suits – not surprising, considering her fierce independence and rebellious heart.
Start with a pair of burgundy palazzo pants and a crop top for a slightly bohemian vibe, then add highly structured pieces to polish the look, like a menswear-inspired cape in the same color as Frida's suit, and a boxy shoulder-strap bag. Finish with dainty earrings, neutral but girly heels, and a deep red lip for a fierce but feminine look.
The Two Fridas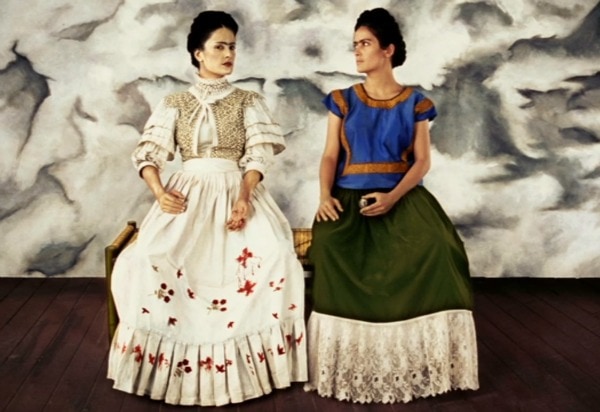 Painted in 1940, "The Two Fridas" is one of Kahlo's most recognizable works, and it's also one of her biggest, as one of the only large paintings she ever did. In the movie, this painting comes at a pivotal scene (***spoilers***, seriously) where Frida contemplates the two possible lives ahead of her: a life with Diego and a life without him.
As depicted in the work, the life without Diego is bloodied, but polished and composed, staring brashly at the viewer. The life with Diego looks longingly at the other Frida, holding a broken portrait of Diego, which suggests that their relationship is already too broken to fix.
Art historians also speculate that this painting shows Kahlo, a nationalist, ruminating on the duality of her origins – her father was a German Jew, and her mother was of Spanish and Amerindian descent. The Frida on the left wears European garb and makeup, while the Frida on the right wears a traditional Tehuana dress.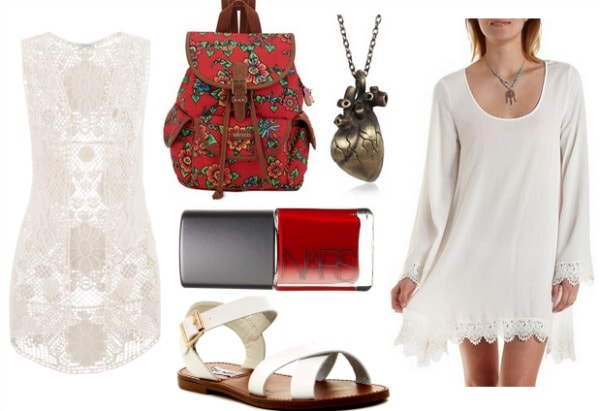 Vest, Backpack, Necklace, Dress, Nail Polish, Sandals
A lacy, all-white ensemble with pops of red is a beautiful homage to left Frida (not to be confused with left shark).
Start with a basic, bell-sleeved white dress, then add strappy white sandals and a creamy crocheted vest. A floral backpack adds a colorful, playful vibe, while a brassy anatomical heart necklace adds a tough, visceral edge. Finish with two of Kahlo's beauty favorites – a swipe of red nail polish and intricate milkmaid braids.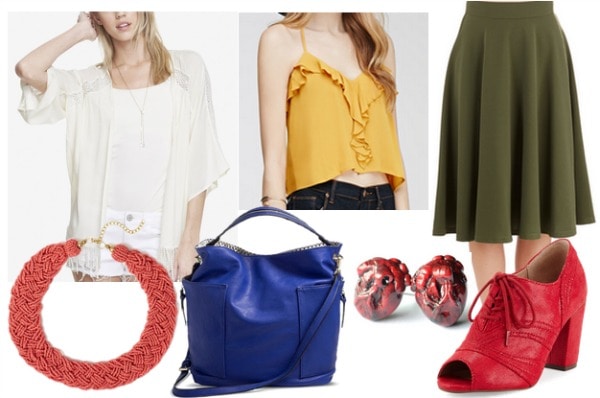 Cardigan, Blouse, Midi Skirt, Necklace, Bag, Earrings, Heels
Unlike left Frida, right Frida's outfit is all about combining unexpected primary colors for a surprising yet comfortable look. Start with pieces in familiar silhouettes, like a boxy mustard top and an olive midi skirt; then add bright primary accessories, like a cobalt blue handbag and bright red peep-toe oxfords.
A few more red accents, like a coral bib necklace and anatomical heart stud earrings, bring a little unity to a very colorful outfit. (Also, Kahlo would approve of your use of multiple attention-grabbing accessories!) Finish the look with a dainty lace cardigan for a final, free-spirited element.
What do you think?
Which of these outfits is your favorite? Have you ever seen Frida? What is your favorite documentary or biopic?Let me know in the comments below!