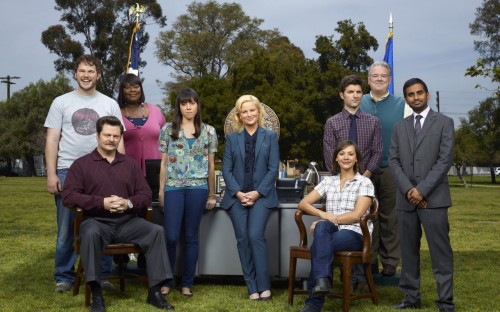 Welcome to Part II of our series on "Parks and Recreation" fashion. If you're as obsessed with the people of Pawnee as I am, you're in luck. Keep reading for looks inspired by Ben Wyatt, Andy Dwyer, Donna Meagle, Chris Traeger and, of course, Ron Swanson. Let's get started!
Ben Wyatt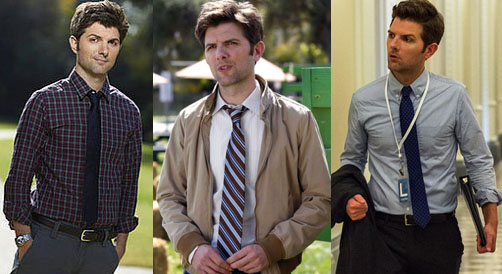 Leslie's boyfriend (spoiler: now husband) Ben is pretty much every girl's dream guy. He's smart, attractive and a total nerd. Though he first came to Pawnee to shut down the Parks department due to serious budget cuts, Ben (with a lot of help from Leslie) eventually softened up and made Pawnee his permanent home.
Though they butted heads at first, Ben is Leslie's rock. His highly organized, slightly neurotic personality blends perfectly with Leslie's nonstop perfectionism and relentless work ethic. His excellent campaign management skills helped get Leslie elected to City Council, so we'll almost forgive him for not understanding the importance of Lil Sebastian. Almost.
Outfit Inspired by Ben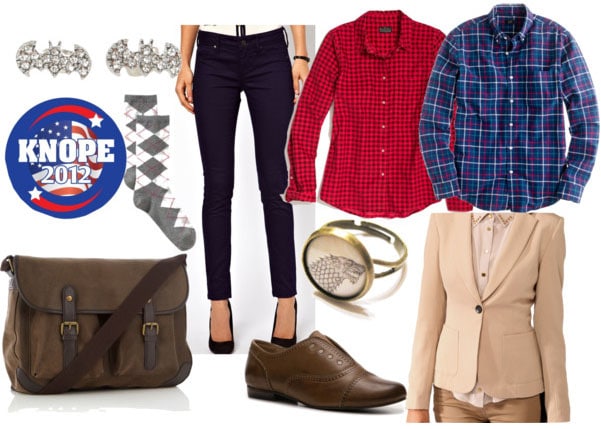 Red Plaid Shirt, Blue Plaid Shirt, Jeans, Blazer, Satchel, Oxfords, Socks, Earrings, Ring, Campaign Button
Ben Wyatt's number one fashion rule: You can never have too much plaid. Well-tailored plaid oxford shirts are Ben's signature pieces, so I couldn't pick just one! Have fun with color combinations and maybe throw in a tie if you're feeling daring.
Once you've selected your shirt, layer a well-fitting taupe blazer over it, and add a pair of chic, tailored, ankle-length skinny jeans for a polished, slightly nerdy look. Really geek it up with a pair of menswear-inspired oxfords, some argyle socks, and a "Game of Thrones" ring. (House Stark represent.) The only thing Ben loves more than "Game of Thrones" is Batman, so show some love for the caped crusader with a pair of bat signal earrings.
Of course, no outfit of Ben's is complete without showing support for his lady, so finish the look with a Knope campaign button.
Andy Dwyer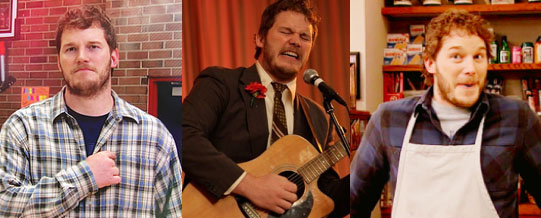 The show's resident lovable doofus, Andy started off as Ann's slobbish, slacker ex-boyfriend who only cared about his unsuccessful rock band. (Isn't that weird to think about now?) But once he found April, Andy turned his life around and became the goofy sweetheart we know and love today.
Formerly homeless and sleeping in the infamous pit behind Ann's house, Andy's worked a variety of odd jobs around City Hall, from shoe shine extraordinaire to Leslie's primary campaign assistant. Now that he has April (and Champion) by his side, we know Andy's got much greater things in store.
Outfit Inspired by Andy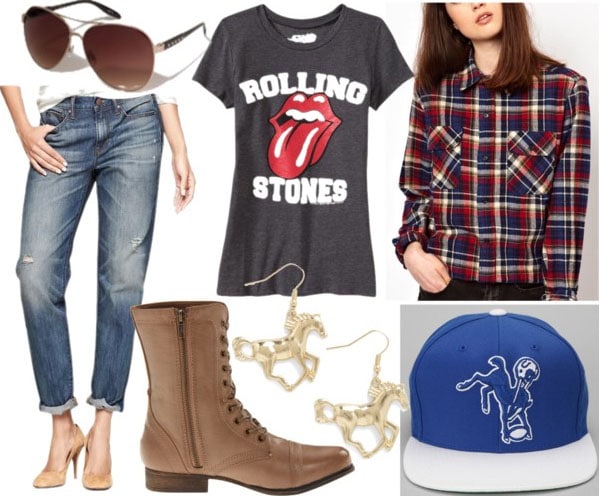 Flannel, T-Shirt, Boyfriend Jeans, Boots, Cap, Earrings, Sunglasses
Like Ben, Andy also has a penchant for plaid, but with a rugged, outdoorsy twist. This manly man lives in flannel, so layer a plaid flannel top over a band T-Shirt. (Any band will do, considering Andy doesn't know who Fleetwood Mac is, but a Mouse Rat tee would add extra authenticity.) A pair of semi-distressed boyfriend jeans and some well-loved combat boots will add a grunge-inspired flair that's 100 percent Andy approved.
Really get into character with your accessories. Andy loves the Colts, so an Indianapolis snapback hat is a must. A Reggie Wayne jersey is optional, but encouraged. Horse pendant earrings serve as a tribute to Lil Sebastian that's almost as touching as "5000 Candles in the Wind." And, of course, you'll have to keep a pair of aviator sunglasses on hand just in case Bert Macklin's services are required.
Donna Meagle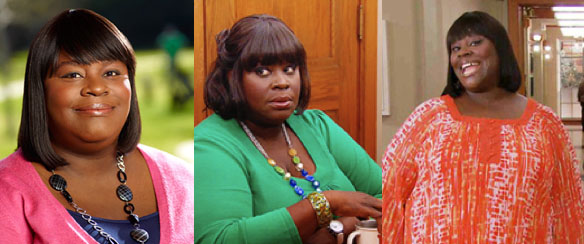 Played by the incomparable Retta, Donna Meagle is the show's most consistently funny character. She's basically the smartest person in the office, and she has no tolerance for her co-workers' mistakes. Especially Jerry's.
Donna loves "Twilight," live-tweeting, and fine leather goods, and while she's very close with Tom, his best friend Jean-Ralphio is her greatest enemy. Her life outside of City Hall is also pretty fabulous – she's a total man-eater and Ginuwine is her cousin. Get it, girl.
Outfit Inspired by Donna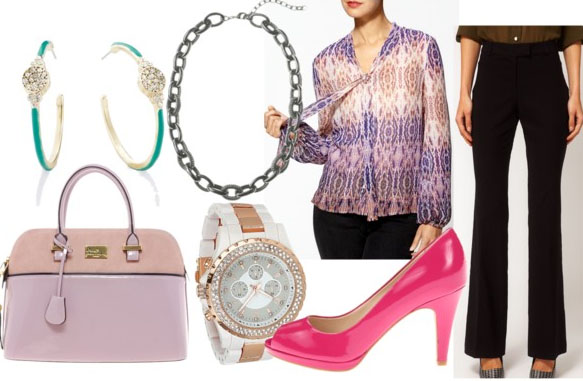 Blouse, Pants, Pumps, Bag, Watch, Necklace, Earrings
The queen of treating yo'self, Donna's style is bold and glamorous, whether she's at the office or down at the Snakehole Lounge. Try a colorful, ornate snake print blouse paired with tailored black pants to steal her decadent style. Pops of trendy color are an absolute must, so grab some bold pink heels and a lavender satchel.
Though Donna's most prized possession is her beloved Mercedes, she also loves showing off her bling, so don't be afraid to go all out with your jewelry. A chunky silver chain link necklace paired with bedazzled aqua hoops and a trendy crystal-embellished watch encapsulate her queenly style.
Chris Traeger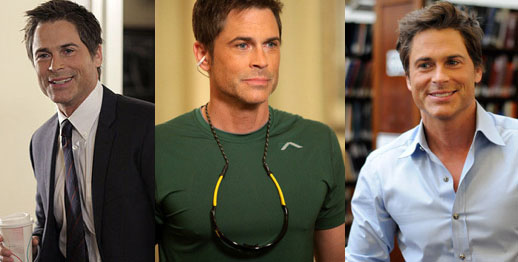 Chris Traeger is literally the happiest person alive. His cheerfulness and zest for life puts even Leslie's optimism to shame. A former Indiana State Auditor, Chris came to Pawnee (with Ben in tow) to slash the city government's budget, but eventually became Pawnee's city manager.
The polar opposite of Ron Swanson, Chris is a fitness junkie who runs at least 10 miles per day. He loves absolutely everyone he meets and his unwavering joy would be a little creepy if he wasn't so darn cute. Blame Rob Lowe for that one.
Outfit Inspired by Chris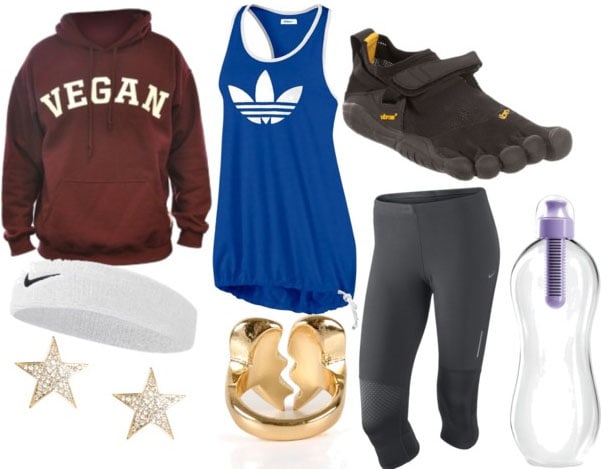 Tank, Running Capris, Hoodie, Athletic Shoes, Sweatband, Water Bottle, Earrings, Ring
Calling Chris a health nut is a huge understatement. Steal his workout look by pairing a royal blue workout tank with cropped running pants for an athletic silhouette. Add a sweatband and a "vegan" sweatshirt for extra health points. Chris is always up with the latest and greatest in athletic equipment, so try out a water bottle with a built-in filter and a pair of crazy five finger running shoes.
Capture Chris' inner qualities through your accessories. A broken heart ring symbolizes his romantic troubles (Oh, Millicent), while star-shaped earrings embody his ever-optimistic, winning personality.
Ron Swanson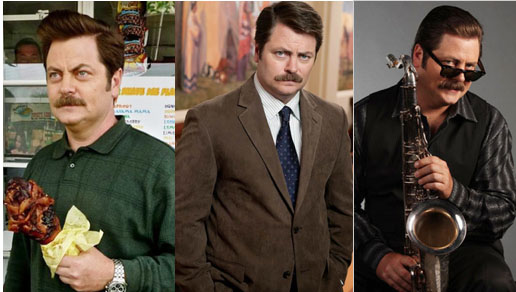 Ron Swanson is a simple man. He likes pretty, dark-haired women and breakfast food. As the director of the Parks department, Ron is technically Leslie's boss, but he basically lets her do whatever she wants as long as she keeps him far away from the general public. A hardcore libertarian, Ron doesn't see the point in government, but he does have a passion for landmines.
Deep down, though, Ron is a total softie. When he's not moonlighting as a jazz musician (what up, Duke Silver) Ron enjoys eating steaks and creating elaborate wood carvings. Oh, and don't mess with his friends. Not that he'd admit he has any.
Outfit Inspired by Ron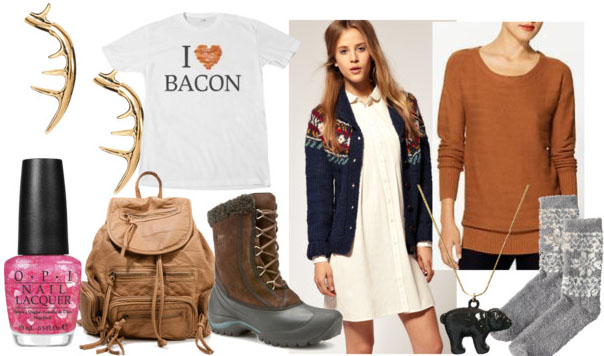 Dress, Pullover, T-Shirt, Boots, Socks, Backpack, Necklace, Earrings, Nail Polish
If you peeked into Ron Swanson's closet, you'd probably be able to count the number of outfit possibilities on one hand. Unlike Tom and Ben, Ron's not exactly a style icon. But that doesn't mean we can't find fashion inspiration from his simple, hands-on approach to life.
Throw a warm brown pullover (or a T-shirt proclaiming your love for Ron's favorite food) over a classic white shirt dress for a cozy, nature-inspired look. Add sturdy hiking boots and fair isle socks if you're in the mood for camping. A bear pendant necklace and antler shaped earrings capture Ron's passion for the outdoors. And don't forget to add some sparkly pink nail polish. What? He loves babysitting his girlfriend's daughters… even if it does involve playing princess.
Your thoughts?
Which "Parks and Rec" character is your style icon? What do you think of the outfits? Be sure to let me know what you think in the comments – I love hearing your thoughts!