Here at CF, you've learned how to dress like designers, celebrities, and even interns. But what about those behind-the-scenes gears in the machine that is the fashion industry? The editors, photographers, PR managers, buyers, art directors, and the slew of other people that keep this business up and running?
In this column, we look at the styles of those front-row it-girls with jobs that "a million girls would kill for."
Who is Jenna Lyons?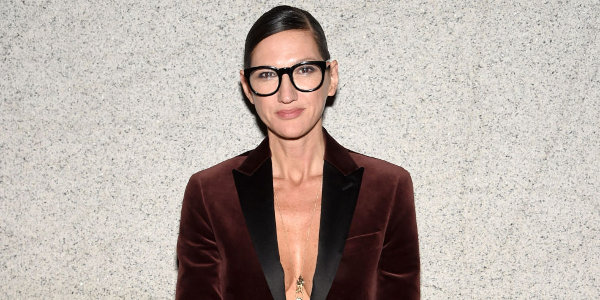 Jenna Lyons spends her days as creative director for J.Crew. Another fresh-off-the-presses style star, Jenna began her career at age 21. Fresh out of Parsons School of Design, the alma mater of many famous designers, Jenna started as an assistant designer and worked her way up the ranks. In 2008, she was named Creative Director. For the last five years she has been President as well.
Jenna's job consists of brainstorming, creating an overarching idea, collaborating, and overseeing the design process at J.Crew. For more on Jenna, see our biography post about her.
Jenna's style is preppy with an edge. She likes to take chances and make statements. She wears tailored classics and matching opposites – think shiny with matte, hard with soft. She likes to focus on layers and perfect proportions. If you like her style, keep reading to learn how you can dress like Jenna.
How to Dress like Jenna Lyons
Casual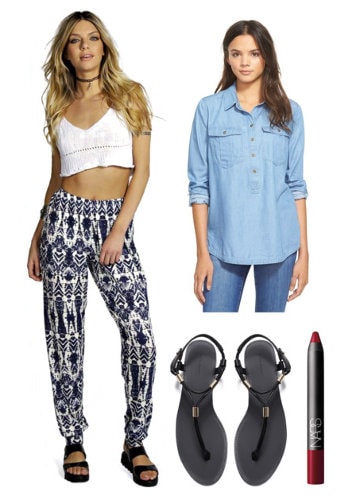 Products: Pants, Shirt, Sandals, Lip Crayon
For a casual weekend outfit, keep it polished and comfy.
Start with a pair of tribal print trousers in a pajama-like fabric, perfect for lounging on a lazy Sunday. Add on a classic chambray shirt, and give it the famous J.Crew roll if you really want to channel Jenna. Finish the look with a simple pair of flat sandals. I like these because of their gold accents. Finally, swipe on a red lip crayon for a pop of color and sophistication. Happy weekend!
Work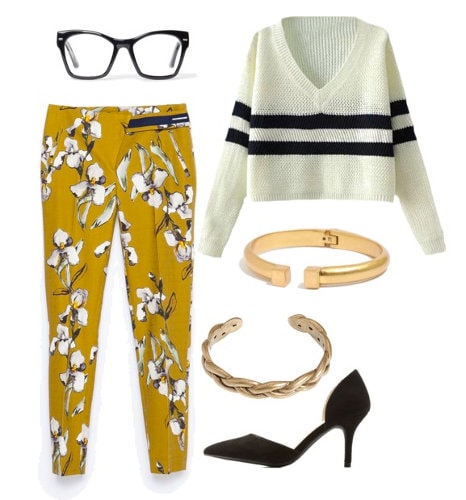 Products: Glasses, Sweater, Trousers, Cuff bracelet, Braided bracelet, Shoes
For an interview, internship or anytime you want to look polished, channel Jenna's simple yet fun work look.
Start with a pair of printed trousers. (Are you sensing a theme?) These Zara trousers are great because they're perfectly tailored but still fun and cheery. Add on a simple black-and-white striped sweater to balance out the bottom. For shoes, stick with a classic pair of D'Orsays with a small heel. Accessorize your outfit with pretty gold cuff bracelets and Jenna's signature glasses.
Going Out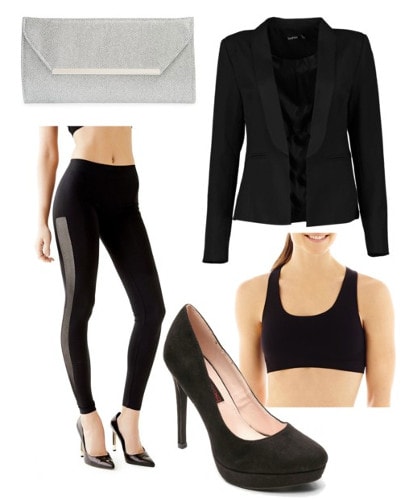 Products: Leggings, Blazer, Clutch, Shoes, Bralette
For evening wear, try something different from your ordinary LBD. Start with a sturdy pair of leggings. I like these because they have a fresh tuxedo stripe side panel. Layer a blazer over a bralette for a bold and original look. Finish with simple black pumps and a shiny clutch.
What do You Think?
Everyone I know owns that one treasured J.Crew piece – what's yours? Would you wear a blazer to a party? Have you mastered the J Crew roll? Which of these outfits is your favorite? Who would you like to see next on Fashion Girls 101?