This post may contain affiliate links, which means we may receive a commission if you purchase through our links. Please
read our full disclosure here
.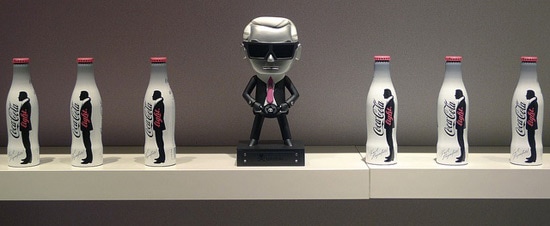 Welcome to another round of our series, Know Your Fashion Designers! This week it's all about Karl Lagerfeld, the German fashion powerhouse with a resume including titles such as artist, photographer, and fashion designer. As Head Designer and Creative Director at Chanel, Creative Director for Fendi, and the head of his own fashion label, Karl Lagerfeld is a busy man who is recognized and respected in the art and fashion community.
For more on other designers, see our past posts on Coco Chanel, Miuccia Prada, Guccio Gucci, Valentino, Diane von Furstenberg, Donna Karan, Manish Maholtra, Michael Kors, Calvin Klein, and Marc Jacobs.
Scroll down to learn more about Karl Lagerfeld!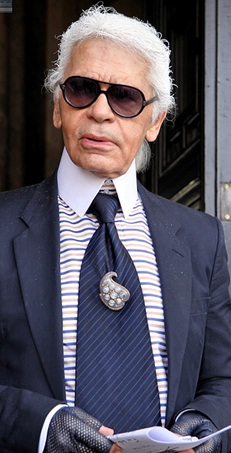 10 Facts About Karl Lagerfeld:
1. Karl Otto Lagerfeldt was born on September 10th, 1933 in Hamburg, Germany. There have been suspicions about the truth behind his birth year and the controversy goes on, as Karl denies that he was born in 1933, a rumor he claims was started by his cousin. In his book "The Karl Lagerfeld Diet", Karl shares that he changed his last name to Lagerfeld because it sounded "more commercial".
2. Lagerfeld was hired as Pierre Balmain's assistant at age 17 and worked with him for three years. After working as Balmain's assistant, Lagerfeld became Jean Patou's art director for five years.
3. The '80s were a busy time for Lagerfeld: In 1983, he was named the Art Director of Chanel and in 1984, he created his own line, Karl Lagerfeld, all while still working with the house of Fendi (he had first signed on with them in the '60s). In 1987, Lagerfeld started creating his own advertising campaigns, which have since been featured in many books. (See below for more!)
4. In 1993, Lagerfeld hired strippers and adult film stars to model his black-and-white collection for Fendi. Anna Wintour reportedly walked out of the runway show because of Lagerfeld's scandalous choice of models.
5. Lagerfeld lost a dramatic amount of weight in 2001. He says it took his thirteen months to lose a little over 90 lbs, and later published a book called The Karl Lagerfeld Diet.
6. Because of his use of fur in his winter collections, Lagerfeld has been repeatedly attacked by PETA and was even "pied" by the group in 2001 at New York City's Lincoln Center. Since then, Lagerfeld has used faux fur in his winter pieces.
7. In 2004, H&M shoppers rejoiced when Lagerfeld designed 30 looks for the company, under the "Karl Lagerfeld for H&M" label.
8. In 2010, Lagerfeld designed limited-edition Coca-Cola Light bottles, featuring his silhouette and signature on aluminum bottles. Coming this June 2011, Lagerfeld's second round of bottle designs for Coca-Cola Light will be released, revealing three new bottle designs.
9. Earlier this year, Lagerfeld chose Blake Lively to be Chanel's ambassador for the Mademoiselle handbag collection, calling her an "American dream girl".
10. According to UK's Vogue (updated May 18th, 2011), Lagerfeld isn't big on technology:
"I don't use cell phones. I read, I write, I love faxes, I like to take notes. I hate to be on the phone, I think it's an intrusion. I'm reading, I'm sketching, I don't want to be interrupted."
Outfit Inspired by Karl Lagerfeld: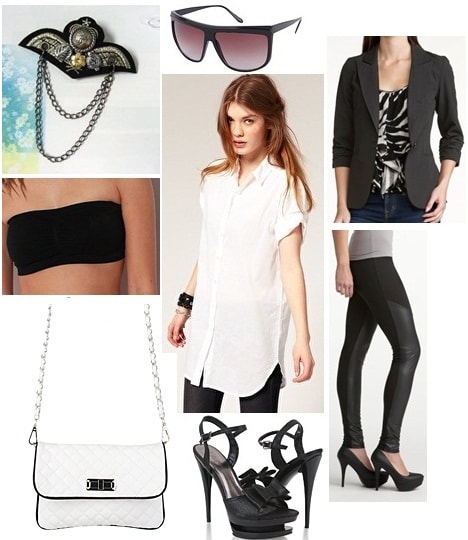 brooch, sunglasses, bandeau bra, button-down shirt, blazer, purse, heels, leggings
Like many other designers, Karl Lagerfeld loves to rock basics and neutrals – with a twist, of course. His signature look is a traditional suit worn with edgy accessories, such as fingerless gloves and sharp, dark sunglasses.
To channel Karl's unique look, I paired sky-high black stilettos with racy leather-esque leggings. Lagerfeld is always posing his suit and tie, so have those button-down shirts and blazers ready! I finished the outfit with a traditional quilted chain purse as a nod to his work at Chanel. Karl Lagerfeld may like the simple color palette, but he is not a simple dresser!
Extra for Experts:
Karl Lagerfeld has created so many photography books that I would need a separate post to list them all! Here is just a small sample of what is available to add to your fashion library — or gift to a graduating friend who loves fashion! (For more ideas, see our list of DIY graduation gifts!) Meanwhile, browse these Karl Lagerfeld picks.
Thoughts on Karl Lagerfeld?
What do you think about Karl Lagerfeld? Do you have any other facts about him worth sharing? Are you going to buy the upcoming 2011 Coca-Cola Light bottles? Let us know! And don't forget to vote for who you'd like to see featured in the next round of Know Your Fashion Designers!