College Fashion has had a lot of fun interviewing all kinds of professionals in the fashion and beauty industries– but we wanted to try something a little more relatable this time around.
We all want to get the dream internship, and we all want to understand what it takes to excel at it. CF reached out to Isabelle Epskamp, a 21-year-old student attending Boston University, who has the internship resume that we all drool over.
How does she do it? Scroll down to find out!
The Interview:
College Fashion: Where is your current internship?
Isabelle Epskamp: I'm a Marketing Intern at O, The Oprah Magazine. There is never a dull day at the office. My responsibilities include updating proposals, assisting with special events and volunteering activities, monitoring social media pages, monitoring competitors, executing sweepstakes and contests, and carrying out administrative tasks.
CF: Sounds like your boss has trusted you with many responsibilities. Have your previous fashion-related internships helped you with your current position?
IE: I was a Fashion Intern at Glamour Spain when I studied abroad. When I was there, I researched prices, assisted at photo shoots, and fulfilled day-to-day tasks that my supervisors needed help with. Before that, I was a PR Intern at Rag & Bone. I checked in and checked out clothing samples, managed the PR closet, fulfilled look requests, and directly assisted the PR team.
CF: A very eclectic collection of experience for a 21-year-old. You work at O now, so do you live in New York City?
IE: Yes, and it's great! I'm originally from Chicago, but there's nothing like NYC. I love the different neighborhoods. Each neighborhood has so much to explore and I love that they're all walking distance from one another. I can be shopping in SoHo and walk for 20 minutes and be in the West Village. Everything is so convenient!
CF: NYC is one of the four fashion capitals of the world. What's the most important interviewing strategy in the fashion industry?
IE: You have to let your interviewer know that you're enthusiastic and passionate. The fashion industry is highly competitive and you need to convey how enthusiastic you are to even have the opportunity for an interview. This industry strives for hard-working and dedicated individuals and it's key to excelling in this field.
CF: Do you have any tentative plans for when you graduate?
IE: If everything goes as planned, I hope to be working in Manhattan when I graduate! My dream job would be at a major publication like ELLE, Marie Claire, Glamour, or to be working in PR for the fashion industry.
CF: I think it's safe to say you're in love with fashion. Where are some of your favorite places to shop? Some of your staple items in your closet?
IE: I love All Saints, Rag & Bone, James Pearse, and Zara. My staple items are Rag & Bone dark jeans (I just found a $40 pair on TheRealReal.com!), a fitted white or black t-shirt, and a leather jacket.
CF: Classic. Love it. So, do you have a fashion "guilty pleasure"?
IE: Of course. My guilty pleasure happens to be shoes and it can be a dangerous guilty pleasure to have. I'll let you guess how many pairs I have.
CF: What advice do you have for college students who want an internship like you currently have?
IE: My advice is to set goals for yourself and figure out how you plan to achieve them. When I started my freshman year of college, my goal was to eventually have the opportunity to intern and then later work in New York City. I knew this was a long-term goal, so I got busy joining clubs and becoming incredibly dedicated to my extra curricular activities, which helped me to land my internships!
CF: Who are some of your fashion icons?
IE: Kate Moss, Kate Bosworth, Rosie Huntington-Whiteley, Miranda Kerr, Rumi Neely… the list could go on forever.
CF: What does "dressing for success" mean to you?
IE: "Dressing for success" means to dress for the job you want, and not the job you have. I'm currently an intern, but I still come to work looking office-appropriate. If you put some effort into your appearance others will take you seriously and that's important when you're attempting to make a positive impression.
How to Dress Like Isabelle: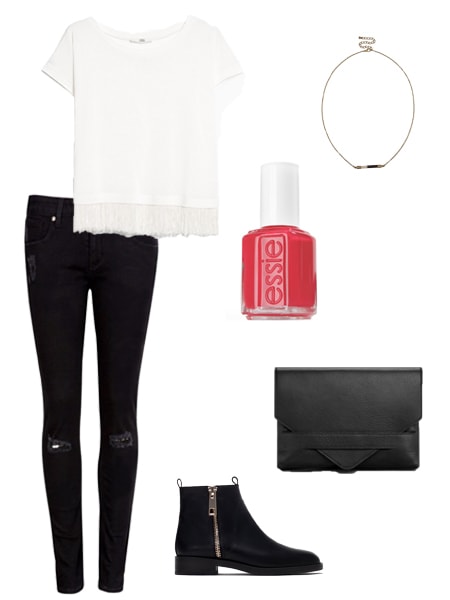 Product Information – Jeans: Ted Baker, Top: Mango, Shoes: Zara, Clutch: & Other Stories, Necklace: Sole Society, Nail polish: Essie's "E-nuf is E-nuf"
What do you think?
What are some cool internships that you've had? Does Isabelle's advice inspire you? Would you like to hear about more fashion interns? Let us know in the comments below!