With school starting and early morning alarms ringing for college students everywhere, we thought it was high time for an update to our previous post on fashion inspired by popular teen sitcom show Saved by the Bell, currently streaming on Netflix Instant!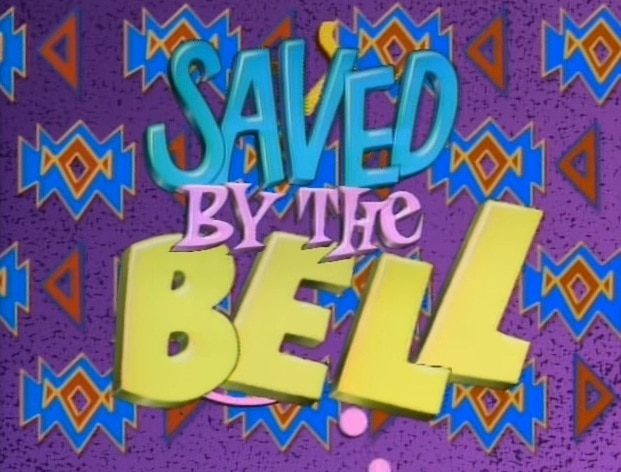 Chances are, if you grew up in the early nineties, you probably watched Saved by the Bell every day after school. I mean, how could you not? This show had it all: zany high school scenarios, trendy '90s fashion, and Mario Lopez in his teen heartthrob days!
For those who somehow missed out on this show, here's the basic premise: a group of six friends go through a wide array of comedic situations at fictional Bayside High, run by authoritative figure Principal Belding. Despite differences in personality and background, they all come to be really close-knit through their wacky adventures and relatable high school trials. Basically, it's Friends for a younger crowd.
Though Saved by the Bell at times touched on some serious themes—like driving under the influence and environmental awareness—it was mostly lighthearted and fun, as befitting an after-school special. Even better, it boasts one of the better sitcom wardrobes I've ever seen, especially from the female cast of the show.
If you're looking to be inspired by the show's fabulous leading ladies, you're in the right place! Keep reading for three casually cool ensemble looks from Saved by the Bell.
(Also, check out more TV fashion with 3 Cute Back-To-School Outfits Inspired by NBC's Community and 4 Wear-Now Outfits Inspired by Rachel Green from Friends!)
Kelly Kapowski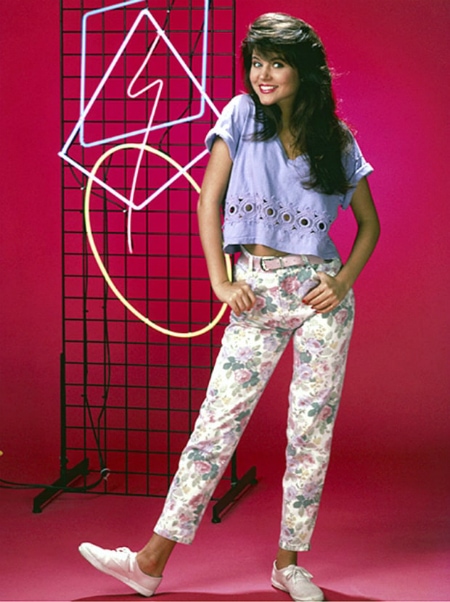 Kelly, Kelly, Kelly. Every guy wanted to date her, every girl wanted to be her. She was the ultimate teenage dream, and Zack (her love interest and later, gasp, husband) certainly never let you forget it. While a bit scatterbrained at times, Kelly was a person you could always count on for advice, especially if you wanted some of her trademark head cheerleader pep!
In the show, Kelly sported quite a few risque outfits, most of which would have been deemed "out of dress code" by most schools nowadays. Still, her outfits never once bordered on the obscene, and bare midriffs or teeny crop tops stood no ground for her innocent, all-American persona and wholesome smile. A typical Kelly outfit was relaxed and girly.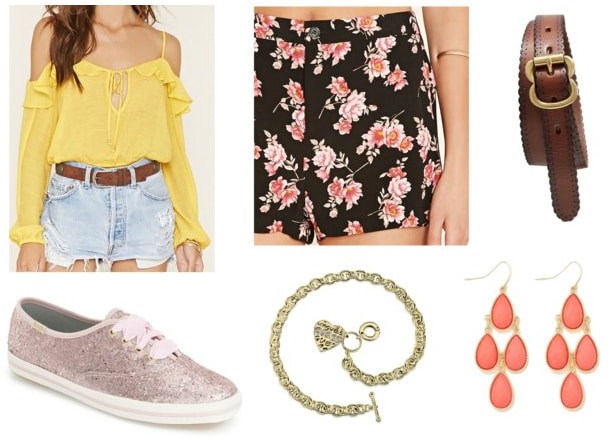 Products: Blouse, Shorts, Belt, Shoes, Necklace, Earrings
Copy Kelly's easygoing style with floral shorts and a ruffled off-the-shoulder top. Then, cinch in the look with a buckle belt and sparkly canvas shoes. Because Kelly was always on a budget, try looking for accessories (like dangling earrings or a heart pendant necklace) from inexpensive fashion retailers or your local thrift store. Your wallet, and your wardrobe, will thank you!
Jessie Spano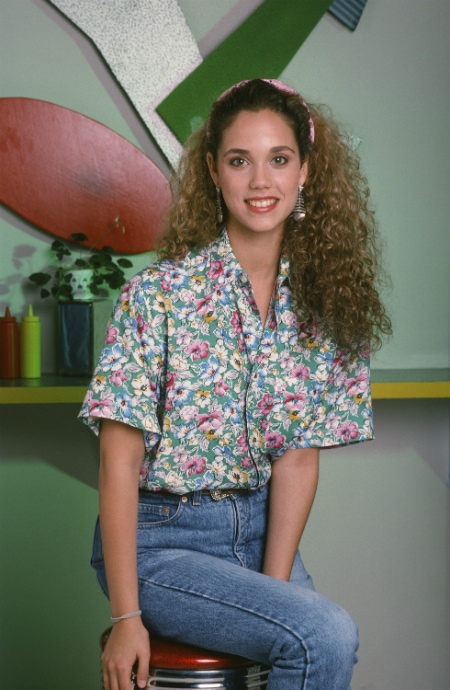 Arguably the brainiest out of the whole group (and Bayside High), Jessie was a lovable know-it-all and caring friend. She was also a hardcore feminist, often calling out fellow pal and later boyfriend A.C. Slater on his chauvinistic "pig" remarks. Jessie's refreshing social commentary throughout the show was always expected, and she also became known for campaigning for equality and environmentalism.
In Saved by the Bell, Jessie's style directly paralleled her academically focused behavior. After all, hers was the most "grown up" wardrobe of the gang, consisting of earth tones, outlandish vests, and bow headbands or scrunchies. A typical Jessie outfit was tomboyish and mature.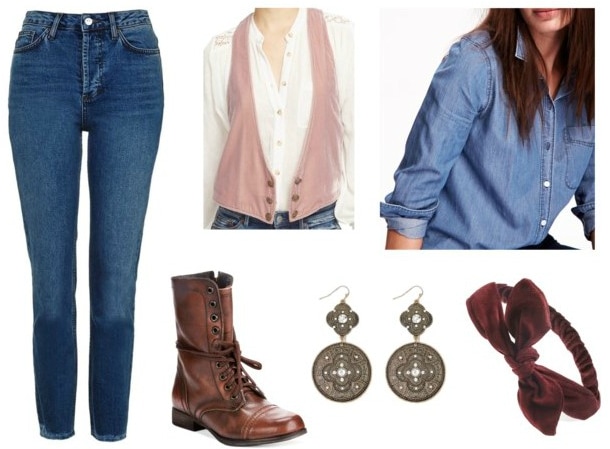 Products: Shirt, Jeans, Vest, Boots, Headband, Earrings
Imitate Jessie's bold and serious style by pairing a blue button-down shirt with high-waisted jeans and tough-looking combat books. Add on a vest, patterned or plain, for visual contrast from the blue color palette you have going on. Finally take the look from bland to breathtaking with some choice accessories: a thick headband (Jessie was a huge fan) and gold, medallion earrings!
Lisa Turtle
Oh boy, did Lisa bring it with those high school outfits! Coming from a well-off background (both of her parents were surgeons), Lisa was never a stranger to the art of good living. As such, she was the resident fashionista of the bunch, leading by example. After high school, Lisa went on to the Fashion Institute of Technology to follow her dream of being a fashion designer.
Throughout the show, Lisa wore the most out-there ensembles on set, and she never hesitated to try out everything she could. As a result, her style was invariably eclectic, but at the same time, always fabulous and daring. Her signature piece was a denim jacket, and she possessed the marvelous gift of always looking good in a hat. A typical Lisa outfit was spunky and vibrant.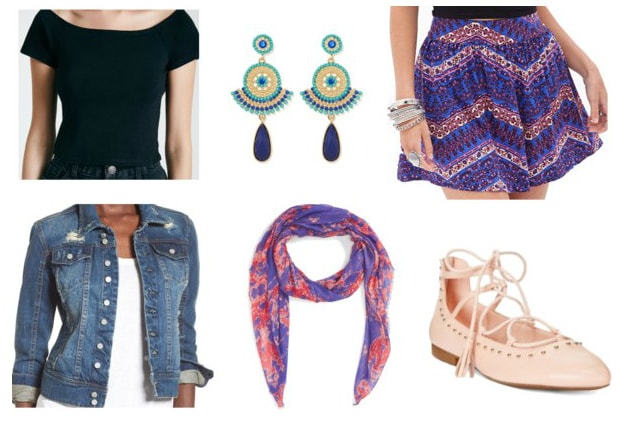 Products: Top, Jacket, Skirt, Shoes, Scarf, Earrings
Follow Lisa's love of high fashion by investing in designer pieces that are both trendy and cute! Pull on a bright scarf over a black crop top and mix up the look with a tribal print skirt. After that, tie on some studded ballet flats and finish the look off with a signature Lisa denim jacket. Remember, accessories are your friend, so don't hesitate to pile them on! Any style risk is a good risk.
Thoughts?
Was Saved by the Bell one of your favorite shows growing up? Which character did you most identify with back then? How about now? Is there another TV show you'd love to see featured on CF? Tell us what you think in the comments section!