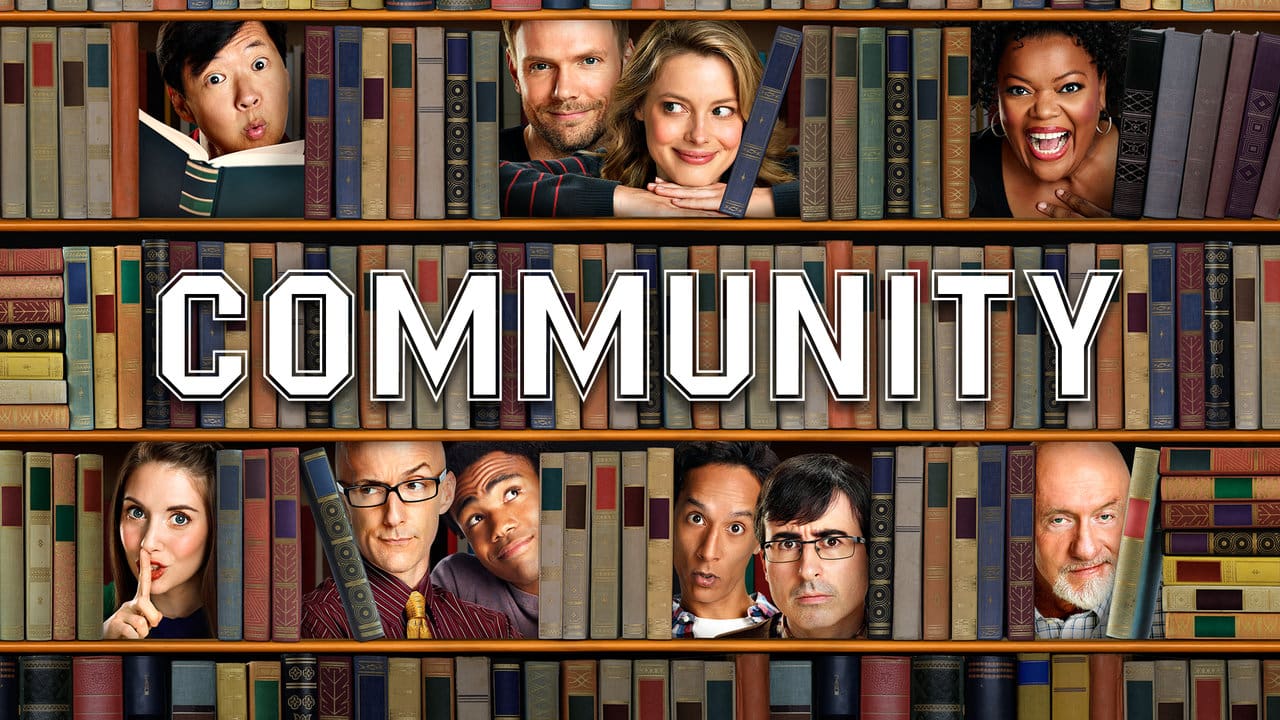 Now that's school back in session for the fall term, let's get some inspiration going from some of TV's finest: the zany ensemble cast of NBC's Community!
For those of you who don't know, Community was a TV sitcom which aired its series finale just last year and followed the wacky adventures of fictional community college students. Running from 2009-2015, the show had a massive cult following, the likes of which demanded "six seasons and a movie." Though the movie's not out yet—nor is it scheduled for a release date anytime soon—fans like myself prepare for the hopeful day by obsessively re-watching the show, which is currently airing on Hulu (and Netflix if you live outside of the U.S.).
Without further ado, here are three cute school outfits inspired by Community's female cast members!
Britta Perry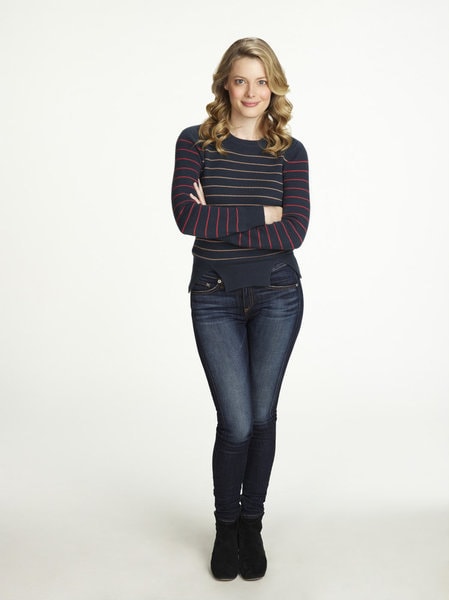 Played by Gillian Jacobs (don't confuse her with Suicide Squad's Margot Robbie!), Britta Perry is an oftentimes ditzy—but always genuine and well-meaning—Psychology major. Settling down in community college after a dramatic period in her life of anarchism and social activism, Britta is powered by her passion for helping others. She also has a tendency to go overboard and mess things up, which leads to her friends using some variation of the phrase, "oh no, she Britta'd it!"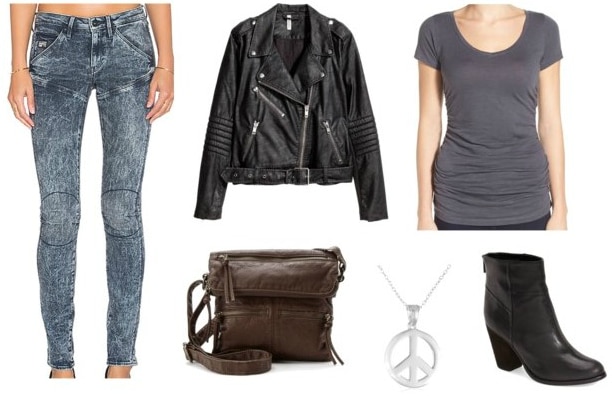 Products: Shirt, Jeans, Jacket, Bag, Shoes, Necklace
In Community, Britta's wardrobe is effortlessly cool and classically edgy. Copy her biker chick style by pairing a grey T-shirt with faded skinny jeans and a quintessentially-Britta jacket. Round it off with a dark brown bag, a peace sign necklace (harking back to her gung-ho activist days), and black booties—you'll be almost too cool for school!
Annie Edison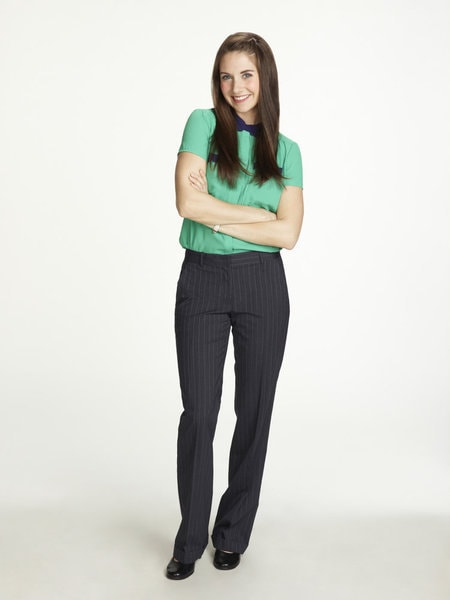 Played by Alison Brie (who some of you may remember as Trudy Campbell from Mad Men), Annie Edison is the stereotypical teacher's pet and star student of the fictional Greendale Community College.
While Annie's the youngest of the bunch, she's also the most book-smart, which makes it hard for her to let go of her overachiever tendencies and unwind. Still, Annie's got a good heart, and her close relationship with Jeff, the leader of the pack, is the classic "will they or won't they?" conundrum of the series.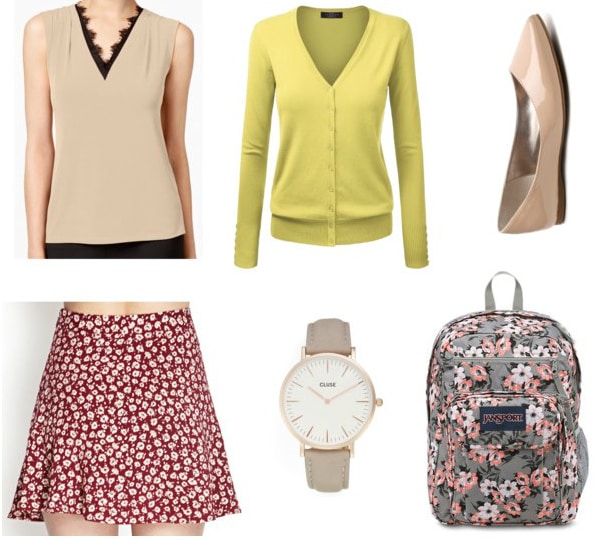 Products: Blouse, Cardigan, Skirt, Shoes, Backpack, Watch
In Community, Annie's style is a perfect mix of girly and preppy. She always manages to look polished and clean-cut, so imitate her looks by layering a cute blouse with a short floral skirt and signature Annie cardigan. Finish up this ensemble with a JanSport backpack (because Annie's academically focused) and a handy watch, and you'll be ready for anything your classes throw at you!
Shirley Bennett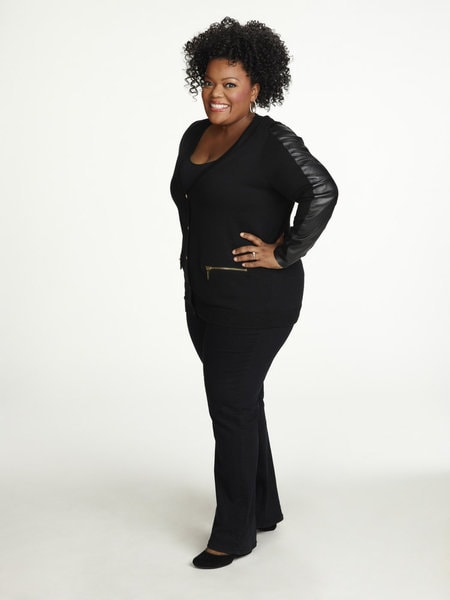 Played by Yvette Nicole Brown (Josh's strict boss in Drake & Josh!!), Shirley Bennett is the "mother hen" of the group, taking on the role of a kind and compassionate parental substitute to her younger friends and providing the absolute best snacks.
Though most of the time she's defined by her Christian values and sweet personality, Shirley's sassy retorts and quick-tempered words reveal a different side to this strong businesswoman!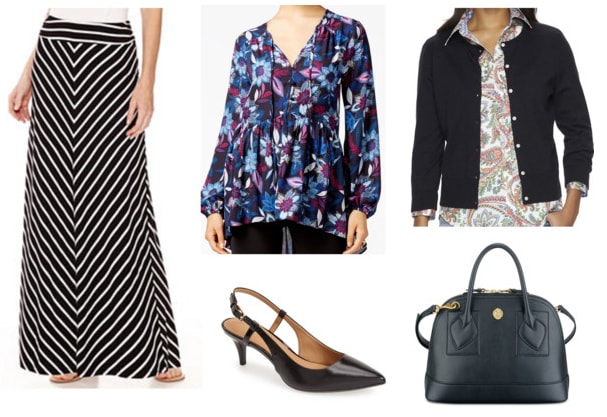 Products: Blouse, Maxi Skirt, Cardigan, Shoes, Handbag
In Community, Shirley wears both conservative clothes and professional attire to reinforce both her religious beliefs and business aspirations. Be inspired by her wholesome wardrobe by matching a striped maxi skirt with a peasant top, button-down sweater, and black kitten heels. Add on a designer handbag to show the world how professional you truly are!
Thoughts?
Have you seen Community? What's your favorite character and why? Would you wear any of these outfits on your way to class? Is there another TV show you'd love to see featured on CF? Leave a comment down below and let us know what you think!