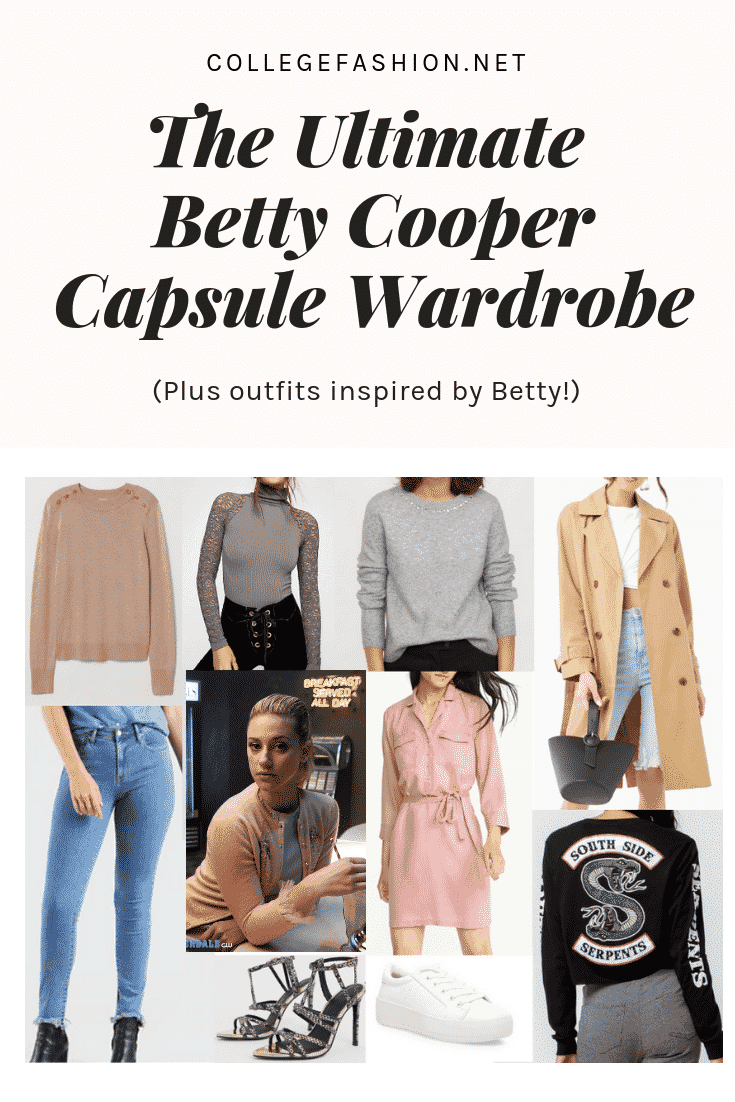 Betty Cooper, despite her looks, is not your typical girl next door. The Riverdale heroine with the "iconic ponytail" has many sides to her.
Betty is kind, compassionate and charming, yes. But she's also confident, unnerved and vengefully protective, brought to life on our screens by the incredible Lili Reinheart!
Betty Cooper's style is deliberate; it is simple and elegant, a blank canvas for whichever facet of her personality she chooses to share with you. Betty is not one to back down — this translates to fitted cuts and clothes that keep your gaze drawn to the expression on her face.
Below I've created a Betty Cooper wardrobe that should help inspire you to take a page from her book and believe in your amazing self!
Read on for our Betty Cooper wardrobe and a guide to Betty's style:
(Psst, if you want more Riverdale style, be sure to see our guides to Veronica Lodge's style and Cheryl Blossom's style as well! We even have a post on Katy Keene fashion from the spin-off.)
Betty Cooper Style – Betty's Wardrobe: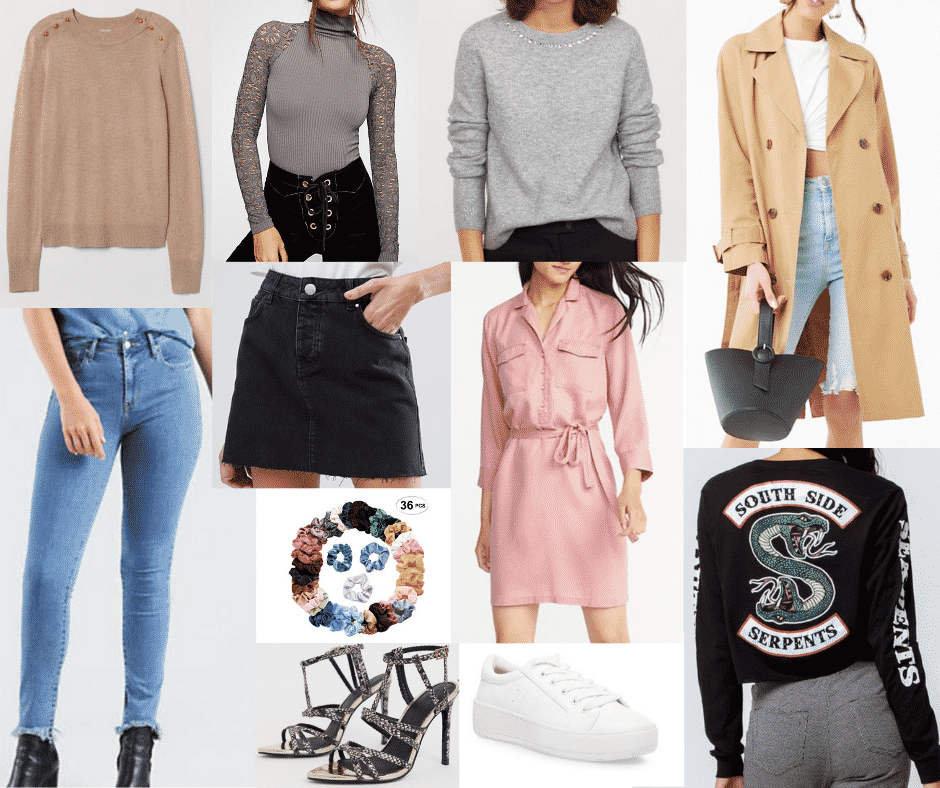 Products: Beige Sweater – H&M, Lace Sweater – Free People, Grey Sweater – H&M, Trench Coat – Forever 21, Serpents T-shirt – Ripple Junction, Pink Shirt Dress – Old Navy, Black Denim Skirt – ASOS, Jeans – Levi's, Scrunchies – Amazon, Heels – ASOS, Sneakers – Steve Madden
A sweater, a pair of jeans, a high ponytail and some practical sneakers accompanied by light makeup (a hint of mascara and lip balm) is the classic Betty look. But on days when she's not hunting down the black hood, or cheering with the Vixens, I have a strong suspicion that Betty likes to mix it up a little!
We've seen Betty in suspender-skirts and printed dresses on occasion, and though the tones remain relatively muted, she can sometimes surprise us.
Some of the items, like a classic trench coat, are must-haves for any aspiring journalist. Comfy jeans are must-haves for everyone.
The serpent's logo on a cropped, long-sleeved tee is perfect for Betty to support Jughead, and classic white sneakers are a fashion staple – they go with almost everything!
Betty Cooper Style Outfits: Betty At School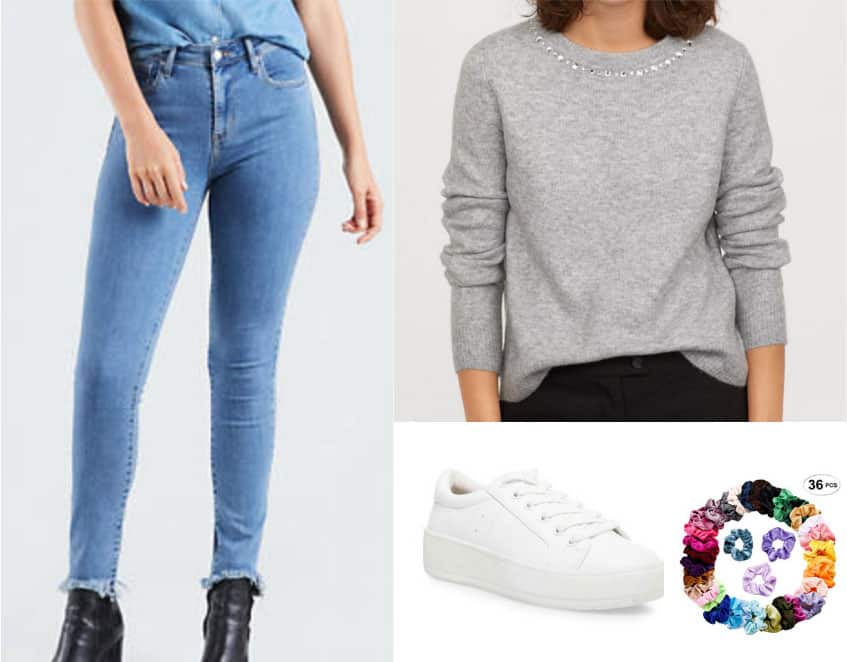 Products: Jeans – Levi's, Grey Sweater – H&M, Sneakers – Steve Madden, Scrunchies – Amazon
Betty's high school wardrobe is simple and practical. She appears to champion comfort — which is understandable if you've ever sat through an hour-long lecture in uncomfortable clothing — but she still manages to look effortlessly cute every single day!
This sweater is perfect for staying warm and adding a little sparkle to your life. It's subtle enough for Betty's style, and paired with some skinny jeans it's a super flattering combination!
As always, a scrunchie for Betty's signature ponytail is a must — velvet is a great fabric for keeping your hair secure without damaging it one bit!
Betty Cooper Style Outfits: Betty the Reporter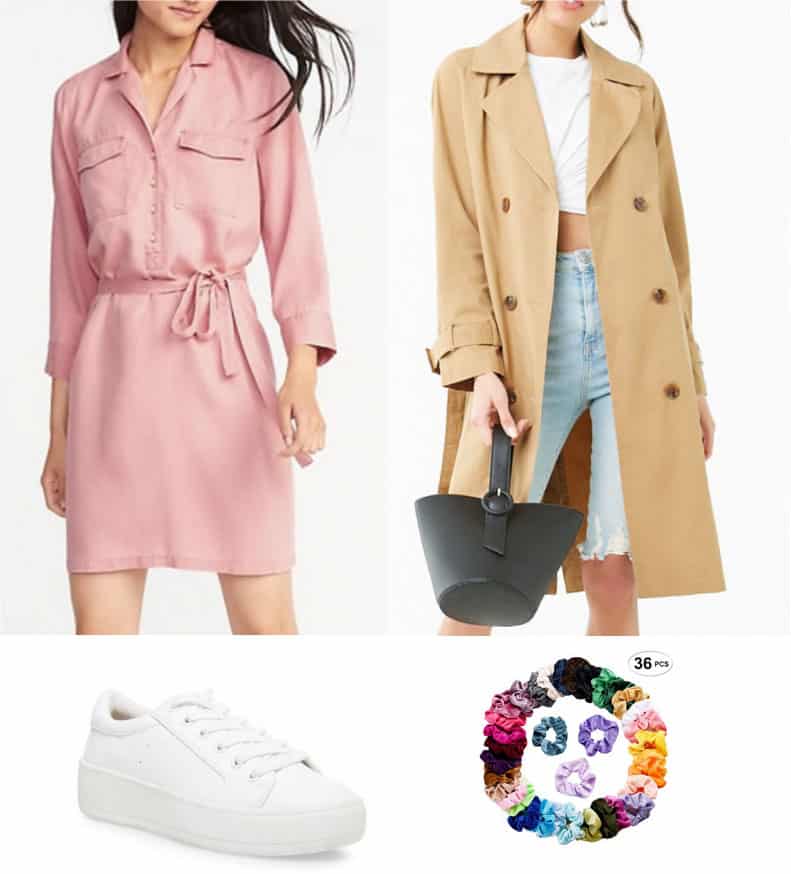 Products: Pink Shirt Dress – Old Navy, Trench Coat – Forever 21, Sneakers – Steve Madden, Scrunchies – Amazon
This pink shirtdress is appropriate for almost any occasion, and quite professional too. The sneakers ensure a casual look, reminding us all that Betty is, in fact, still in high school.
This light coat is a great way to keep warm if the wind starts acting up — and if you're adventurous like Betty, you never know what kind of weather situation you might end up in.
This outfit is versatile for a slightly chilly day where you want to look just a bit more put together, but still want to be comfortable!
Betty Cooper Style Outfits: Dark Betty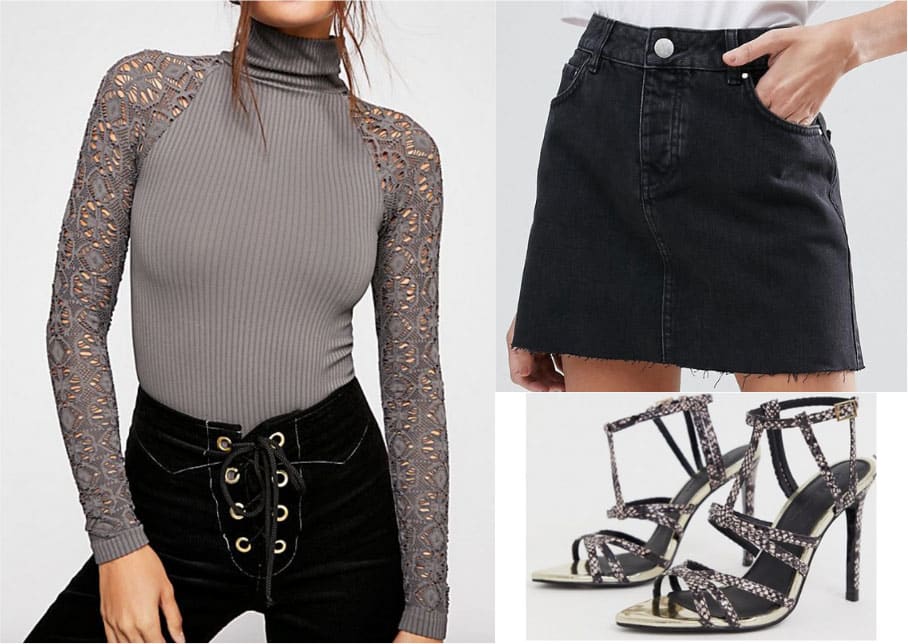 Products: Lace Sweater – Free People, Black Denim Skirt – ASOS, Heels – ASOS
Everybody's got a dark side, or so says Kelly Clarkson, but Betty Cooper's is probably more extreme than yours.
Dark Betty wears a jet black bob and deep red lips, plus alluring attire. While we may not be so extreme as to wear a wig to class, we can still imitate her edginess with a couple of wardrobe tweaks!
A lace sweater and a distressed black denim skirt strike a great balance between cute and unassailable. Sneakers could make this a great class outfit but these heels turn it into the perfect look for a night out!
Betty Cooper Style Outfits: Serpent Betty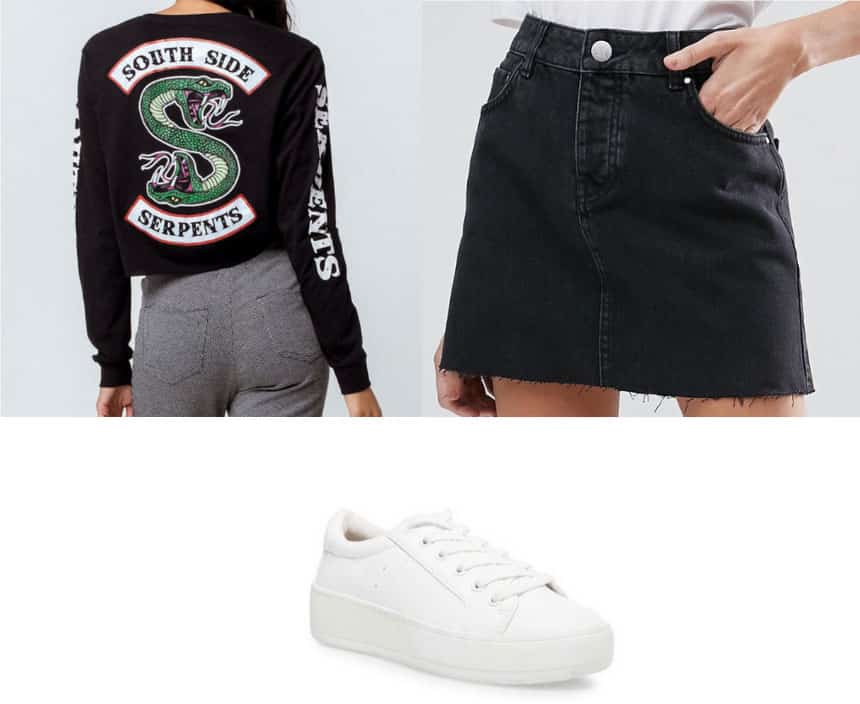 Products: Serpents T-shirt – Ripple Junction, Black Denim Skirt – ASOS, Sneakers – Steve Madden
There's no questioning Betty's loyalty, and joining the Serpents was the ultimate display of her loyalty to Jughead.
This outfit is definitely on the edgier side for Bettty, but it's super cute and the white shoes match the detailing on the Serpents' logo. Added bonus: It's practical, and cute enough for school, too!
What do you think of Betty Cooper's wardrobe?
Comfy, casual, and chic are the best words to describe the ideal college wardrobe, and Betty Cooper's style fits those adjectives to a T.
I wouldn't necessarily call Betty the perfect role model, but she has some incredible qualities that we can all look up to: courage, tenacity, and kindness are just a few. She is also the perfect example of a person who doesn't fit into any one category; she's a little bit of everything — as are the rest of us. So let's allow her to inspire us to bring those hidden parts of ourselves to the forefront!
Did this inspire you to try something new with your wardrobe? Would you like to emulate Betty Cooper's style? Have you been channeling your inner Southside, or switched out your boots for sneakers?
Let me know, I want to hear from you in the comments!