August is here and, unfortunately, that means summer break is coming to a close. But there's no better way to end summer than with a week's worth of outfit ideas from the fashionista who gave us one of the best songs of the summer.
Demi Lovato has been a trendsetter from the beginning. We have seen her style evolve from indie to edgy to boho, and now Demi has merged all of her different styles together to create a killer wardrobe.
Below are seven outfits based on Demi's best street style looks. Scroll down to see them all:
Monday: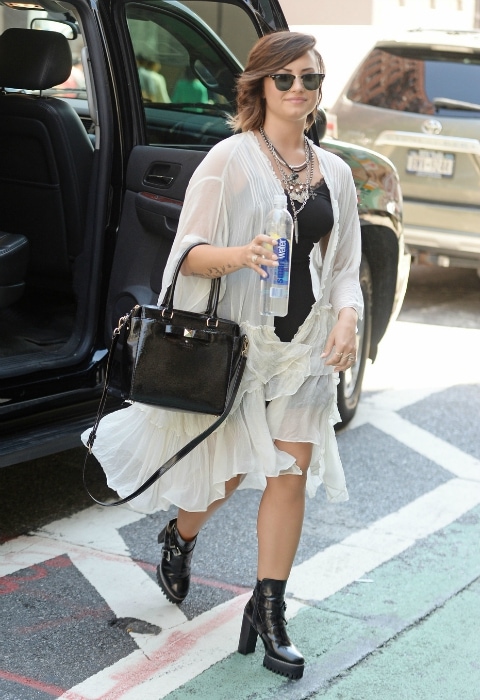 This has to be one of my favorite looks Demi has worn! This outfit is SO comfortable, but the bold pieces give you a super-trendy look.
A casual, loose-fitting black dress is instantly trendy when paired with a duster cardigan and chunky boots. Since the outfit is neutral you can go big with accessories, like this layered statement necklace.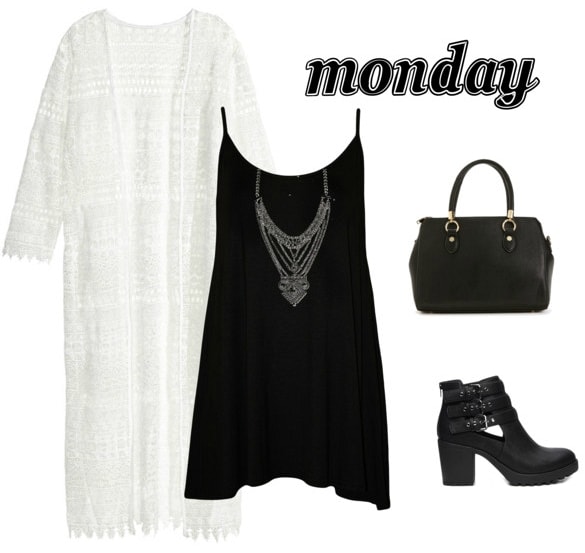 Product Info: Cardigan, Dress, Necklace, Boots, Purse
Tuesday: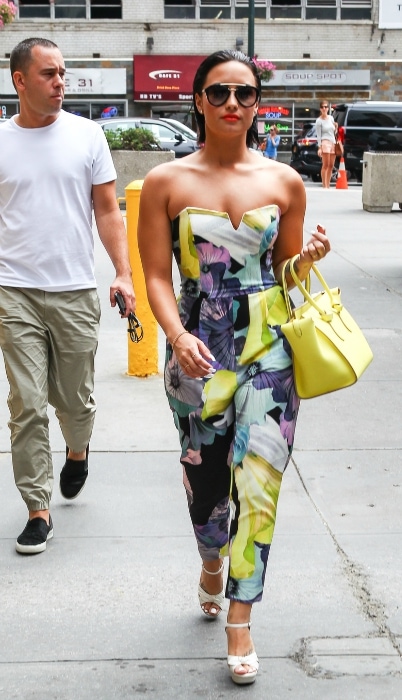 Can we talk about how glam Demi looks in this outfit? Jumpsuits are the perfect way to look sophisticated yet super-cute.
Pick a patterned jumpsuit, and pair it with a purse that matches the print. Complete your fashionable outfit with a pair of white wedges. With an outfit this bold and glam, you don't need too many accessories.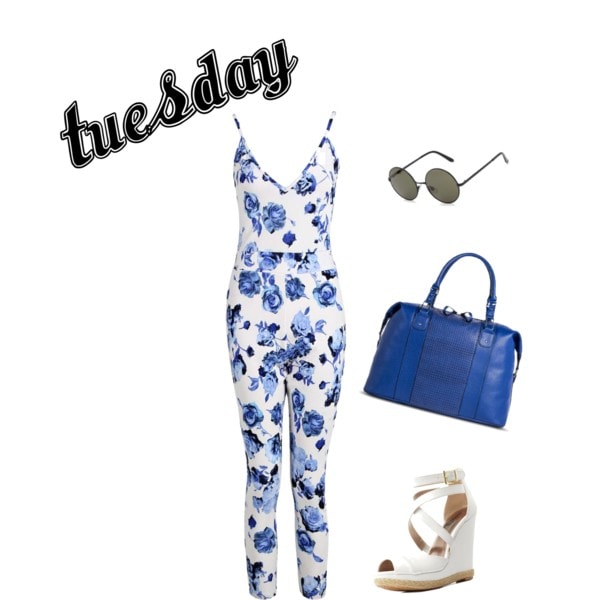 Product Info: Jumpsuit, Sunglasses, Purse, Wedges
Wednesday: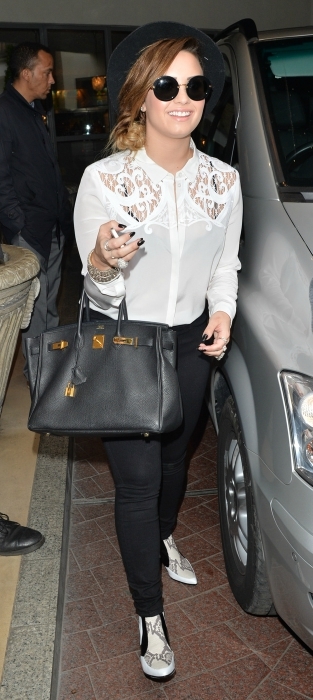 In this look, Demi proves that shoes and accessories can make an outfit. Transform a classic white blouse and black jeans into a completely new look with a wide-brim hat and faux snakeskin flats.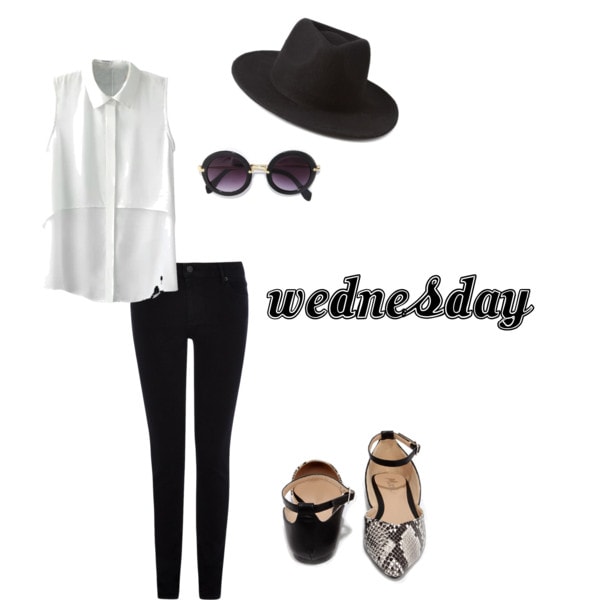 Product Info: Shirt, Jeans, Hat, Sunglasses, Flats
Thursday: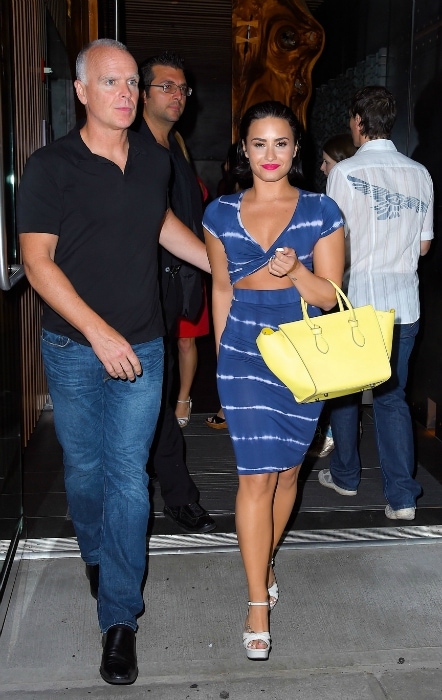 Bright colors, cut-outs, and tie-dye– this look screams "summertime!" Don't be afraid to mix colors. Pair a statement-making dress with a neon accessory for a bold look that isn't over-the-top.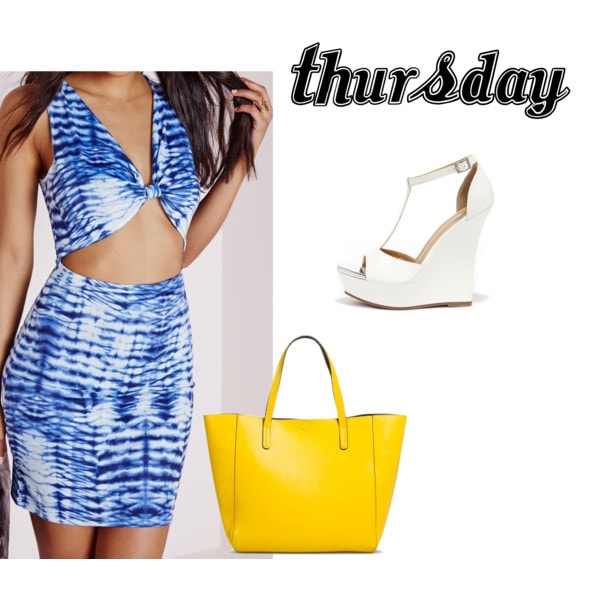 Product Info: Dress, Wedges, Handbag
Friday: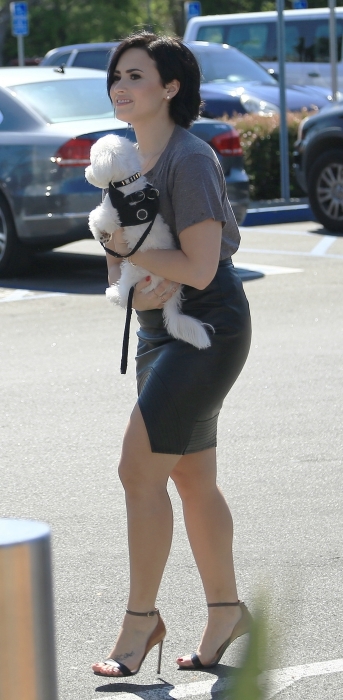 This is the kind of cool, edgy look we are used to seeing Demi rock! The asymmetrical leather skirt makes a statement, so keep the rest of the outfit toned-down. For your next Friday night out, pair the skirt with a loose-fitting tee and black heels. It's minimalistic, but still packs a stylish punch.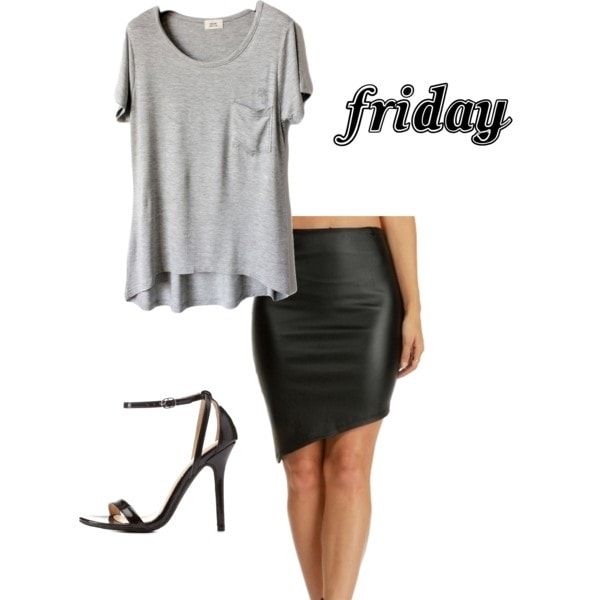 Product Info: Shirt, Skirt, Heels
Saturday: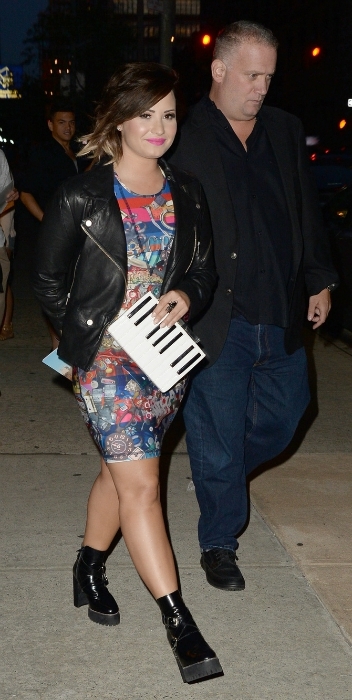 We know Demi loves her leather, and rightfully so, because she rocks it! On those cooler summer nights out, make a statement in a bright printed dress and a faux leather jacket. Finish off this edgy look with chunky platform boots and a black-and-white clutch.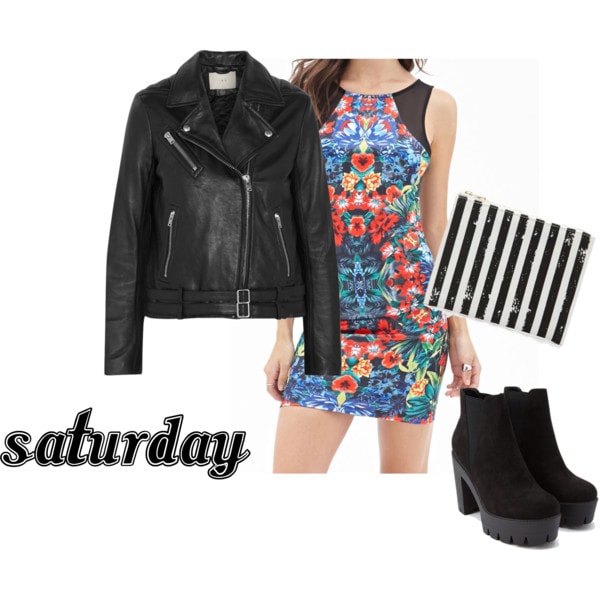 Product Info: Dress, Jacket, Boots, Clutch
Sunday: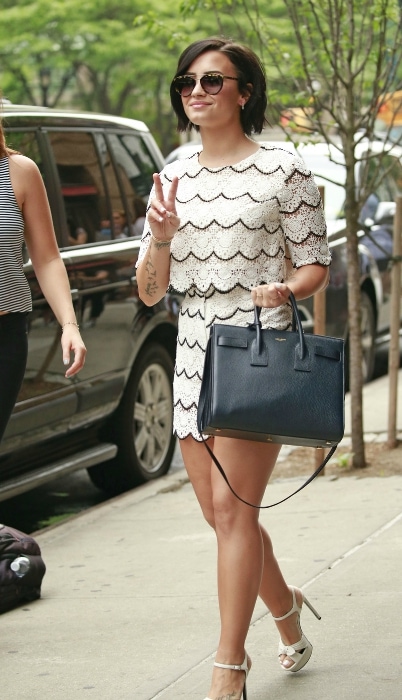 Even though Demi loves edgy pieces, she also likes to show off a more sweet and girly style, like the look above. This scalloped two-piece set is perfect for a Sunday brunch.
For a more wearable everyday look, pair the two-piece set with flat white sandals. Demi kept her look simple and let the clothing speak for itself, but adding a few bright accessories would make the outfit even more perfect for summer.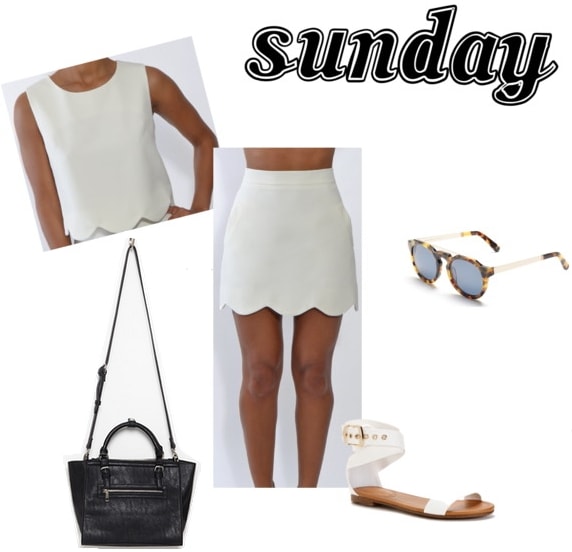 Product Info: Top, Skirt, Purse, Sandals, Sunglasses
Thoughts?
What did you think of this post? Do you like Demi's style? Which outfit did you like the most? Who would you like to see next? Let me know in the comments below!