I'm definitely guilty of falling into a rut of outfits consisting entirely of neutrals. I have an impressive collection of white button-down shirts that I rely too much on, and I'm fairly sure I've worn all fifty shades of gray by now.
There's nothing wrong with keeping it minimal, but if you're like me, you're taking the easy way out by neglecting all the pretty, colorful skirts and tops in your closet because it's just too much work to figure out how to put them all together without looking like you got dressed in the dark.
Since summer's almost over and I just know that I'll be swathing myself in forest green, heather gray, and navy once fall rolls around, I've been challenging myself to wear more color.
With the help of CF's super-helpful A Foolproof Guide to Matching Colors in Your Outfits, I've found that with a little planning, there are just three simple rules (more like guidelines, anyway) to making "mix and match" a breeze.
Easy Formulas for Mixing and Matching Your Colorful Clothes
Before we embark on this full-spectrum journey, one quick reminder: outfits will look more cohesive if the textures/materials are seasonally analogous.
For instance, a wool cable-knit sweater will look "off" when paired with summer-weight chino pants, even if the colors go well together. Alternately, corduroys – traditionally a fall/winter piece – aren't a great complement for a sheer, airy eyelet top. There are definitely exceptions, but it's a good thing to keep in mind!
All in the Family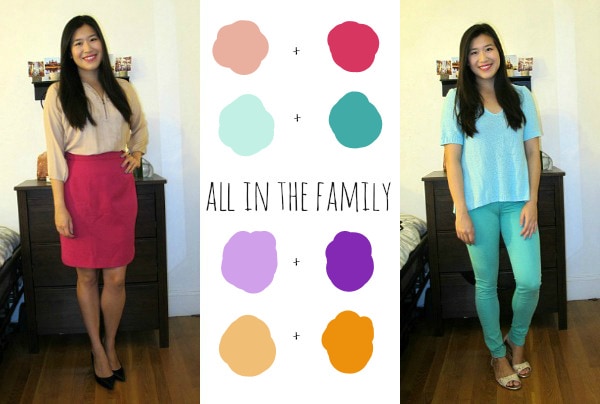 A monochromatic look is quick and easy to achieve: just start with a single article of clothing and match it with something else either a few shades lighter or darker. This creates a chic, polished look and is a great option for that one piece you love but can never figure out how to wear.
With a monochrome outfit, you can keep your accessories neutral to maintain the minimalist look, or you can add pops of color by wearing accessories in a contrasting hue. Personally, I like to keep the rest neutral because I think it lets the main colors shine.
Color Blocking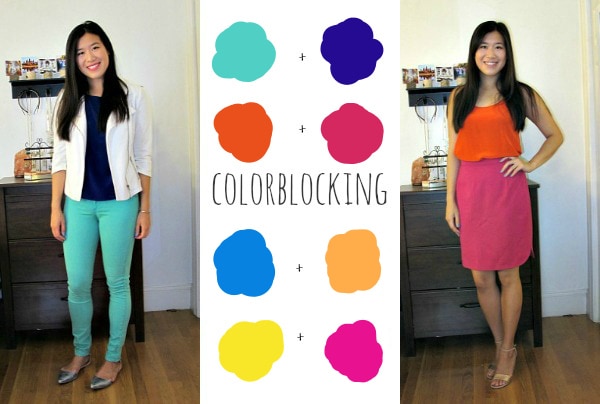 Colorblocking has been pretty popular the last few years and basically consists of two or more solid colors worn together. It's a great look for summer because it typically employs bold, bright shades. Colorblocking looks best when it's with complementary or analogous colors; that is, colors opposite to one or another or next to each other on the color wheel, respectively.
While this trend focuses on saturated, bright colors, you can definitely use the same theory to mix and match your pastels and jewel tones. For example, if you lightened the two outfit examples I've shown, you'd wind up with combinations of sky blue + pale mint and peach + baby pink. Alternately, keep one color bold and use the pastel version of the other for combinations of sky blue + seafoam/cobalt + mint and peach + hot pink/orange + pale pink.
For more color combination ideas, make sure to check out our "Color Combo to Try" series!
Pattern Play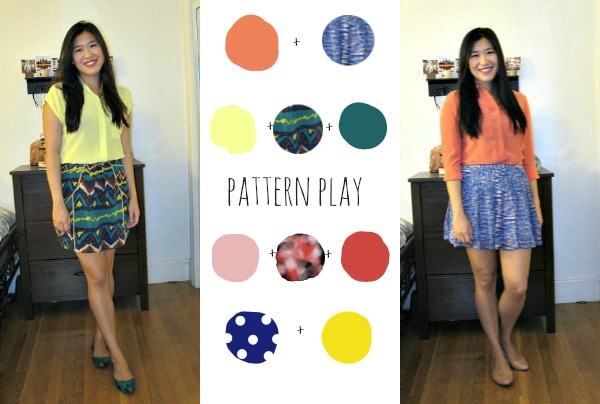 Patterns can be pretty intimidating, but they're much more manageable if you just think of them as a collection of solids.
Take a look at your pattern and see what colors it's made up of. Pick one and use it as a springboard. For instance, the geometric skirt on the left contains cobalt, brown, beige, yellow, and a predominantly teal background. Any of these colors would be suitable: I chose a yellow top and a pair of dark teal shoes. This easy method creates a cohesive, polished look.
Alternately, you can "colorblock" if your pattern is smaller and has one predominant color. The skirt on the right contains purple, green, white, and blue, but from a distance, it "reads" as blue, which is complemented nicely by a coral top.
What did you think?
Would you wear these outfits? What are your tips and tricks for mixing and matching your colorful clothing? Let us know in the comments!