With the start of a new year, people are always looking for ways to reinvent themselves. As you look at all of the "new year, new me" posts on your feed, you might be asking yourself how you can make 2018 different. One of the best ways to better yourself for the future is actually to look towards the past.
Headlines from the last few years have provided young women with plenty of female role models, however there are even more strong women to be inspired by waiting in the pages of history books.
Here are some of the ladies who can influence your fashion and lifestyle in 2018.
Audrey Hepburn
"Living is like tearing through a museum. Not until later do you really start absorbing what you saw, thinking about it, looking it up in a book, and remembering — because you can't take it all in at once." – Audrey Hepburn
You're probably familiar with Audrey Hepburn because of her work in classic films like Breakfast at Tiffany's or My Fair Lady. What you might not know is that, as a teenager, Hepburn danced in ballet productions to raise money for the Dutch resistance during World War II. Her later years were devoted to humanitarian efforts as well through her work with UNICEF.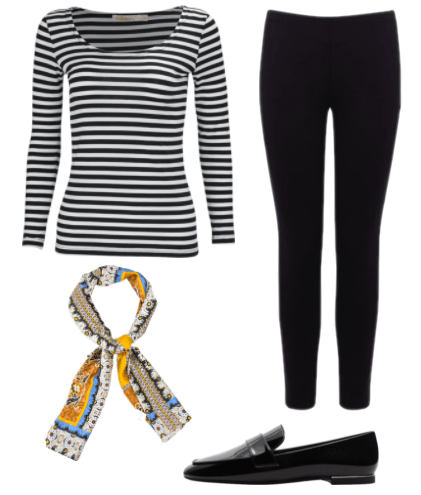 Products: Top – Amazon, Pants – Warehouse, Loafers – Mango, Neckerchief – Yoins
How to dress like her: Audrey Hepburn was known for being a star with an attainable look, so adopting her fashion isn't hard. A simple long sleeve solid or striped shirt in dark colors with a pair of pencil leg pants will be the perfect nod to Hepburn. For a pop of color, add a neckerchief, a reference to her Roman Holiday look, and you're good to go!
How to live like her: Even though she's one of Hollywood's most iconic stars, Hepburn was most proud of her humanitarian work. In 2018, find a new cause to which you can devote yourself. Whether it's a local charity or a global initiative, volunteer your time or help raise money and awareness for something that's important to you. If you really want to embrace Hepburn's spirit, follow her love for animals and volunteer at your local animal shelter or find out how you can carry on her work with UNICEF.
Cleopatra
"Age cannot wither her, nor custom stale her infinite variety." – William Shakespeare, Antony and Cleopatra
Cleopatra VII was one of the most well known rulers of Ancient Egypt. Her leadership was respected and feared by the male rulers of her day. Don't let Elizabeth Taylor's portrayal of Cleopatra fool you, though. She was admired not because of her beauty, but for her intelligence and political charisma.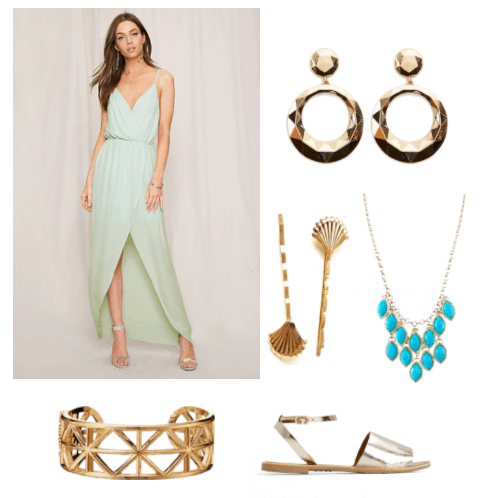 Products: Dress – Forever 21, Earrings – Forever 21, Hair pins – Etsy, Necklace – J.C.Penney, Bracelet – AVON, Sandals – New Look
How to dress like her: For historically accurate Cleopatra vibes, embrace draped fabric in neutral or subdued tones accentuated with eye-catching jewelry. Necklaces and bracelets in shades of gold with blue and green stones will make sure your inspiration carries through without seeming too much like a costume. Add some thick, blocky eyeliner and gold hair accessories to take it to the next level. This would be a great look for spring break!
How to live like her: Cleopatra was known for being educated and an excellent speaker. In 2018, find opportunities to learn new skills, whether it's an online tutorial for how to use a computer program or an in-person class that teaches you a new skillset. Cleopatra was multilingual, so 2018 could be the year you decide to learn a new language. (Duolingo is awesome for this!) Embrace her spirit of ambition and try for new leadership roles in a club or organization you're in as well.
Jackie Kennedy
"Once you can express yourself, you can tell the world what you want from it." – Jackie Kennedy
Jacqueline Kennedy is one of the best known first ladies of the United States. She is widely regarded as one of the most fashionable of all time, as well. During her time in the White House, Kennedy undertook a restoration of her new home. She wanted to bring items of historical significance to the White House and later gave a televised tour showcasing some of the changes she had made.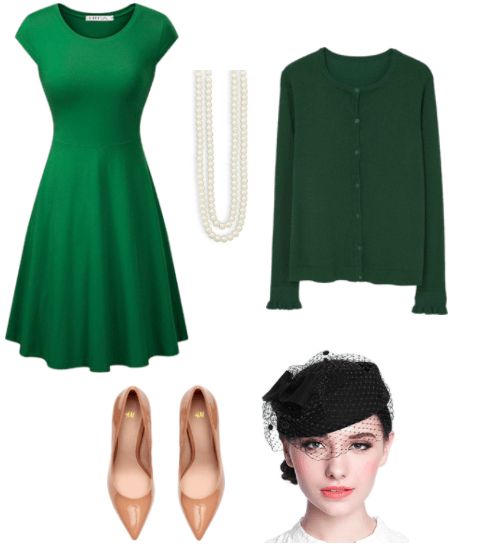 Products: Dress – Amazon, Necklace set – Popmap, Cardigan – Mango, Pumps – H&M, Hat – Amazon
How to dress like her: Kennedy is remembered well for her iconic, classy style. A vintage A-line dress in a solid color or classic pattern, plus a double strand faux pearl necklace, is the perfect tribute to her. If you really want a classic Jackie look, check your local thrift store for a pillbox hat. You could totally wear this look to a springtime wedding.
How to live like her: While in the White House, Jackie established the model for a new type of First Lady: one who appreciated history and the arts. Try picking up a book on American art or history in order to expand your knowledge. Kennedy brought opera singers and instrumentalists to the White House, so in 2018, you can take a step out of your comfort zone with tickets to your local symphony.
Bessie Smith
"It's a long old road, but I know I'm gonna find it in the end." – Bessie Smith
Bessie Smith was a talented pioneer in the music of jazz and blues in the 1920s. She performed in clubs and theaters throughout the country, recorded many songs, and was the highest-paid black entertainer of her era. The press referred to her as the "Empress of the Blues." Some of her recordings have been inducted into the Grammy Hall of Fame and she influenced many other singers in her genres.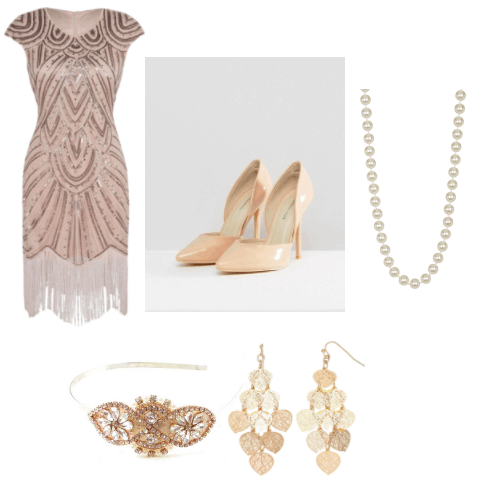 Products: Dress – Amazon, Pumps – ASOS, Necklace – Nordstrom Rack, Headband – Etsy, Earrings – Kohl's
How to dress like her: If you're headed out for the night, it's the perfect time to glam it up in Bessie's classic swing era style. A sparkly sheath dress with appliqués or tassels will be a showstopper. Add a long strand of pearls and a jeweled headband to complete the look. This would be especially perfect for any Great Gatsby-themed parties you may be attending this year.
How to live like her: Bessie didn't just perform in clubs; she also appeared in a film and had a brief stint on Broadway. In 2018, take a page from Bessie's book and explore your creative side. Try out for a singing group or theater production on your campus. If the performing arts aren't your style, try your hand at something behind the scenes, like set design or lighting. Even if it's something as simple as filling in a grown up coloring book at home, you might discover a hidden talent.
Bianca Jagger
"I don't think there was really a time when I have not been politically aware." – Bianca Jagger
If Bianca Jagger's name sounds familiar, it's probably because she was married to Mick Jagger, lead singer of The Rolling Stones. She was also an actress and model and fixture at popular New York nightclub Studio 54. Bianca was good friends with celebrities like Andy Warhol and David Bowie. Most notably, she has a history as a political and social activist and even has her own foundation for human rights.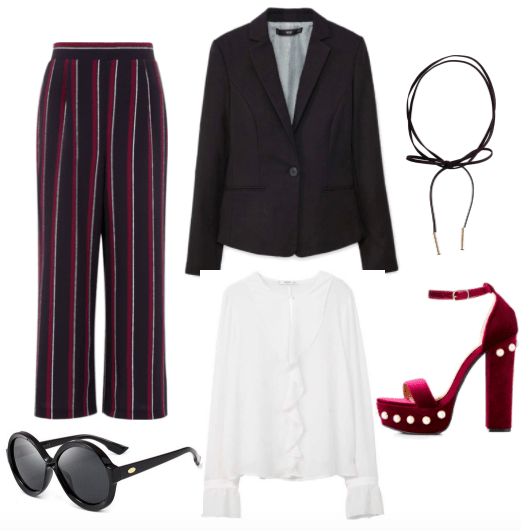 Products: Pants – New Look, Blazer – Mango, Choker – SilkFred, Sunglasses – Gamiss, Blouse – Mango, Heels – Charlotte Russe
How to dress like her: Bianca is a classic example of '70s style. Her most iconic outfit is the skirt suit and oversized hat she wore when she married Mick Jagger. Embrace Bianca's flair for menswear with sleek wide leg trousers and sharp blazers. A satiny top underneath and oversized sunglasses will be total Studio 54 realness.
How to live like her: More than anything else she's done in her life, Bianca has been devoted to political activism. Make 2018 the year you become more politically aware. Pay attention to the news that's outside your Twitter feed. If something really concerns you, call or email your representatives. Attend student government meetings so that you can know what's happening on your campus. Start a campaign or online petition if you disagree with the choices your SGA is making.
What do you think?
Which of these women would you most like to emulate in 2018? Which woman, style-wise, is your favorite? Tell me what you think by leaving a comment down below.