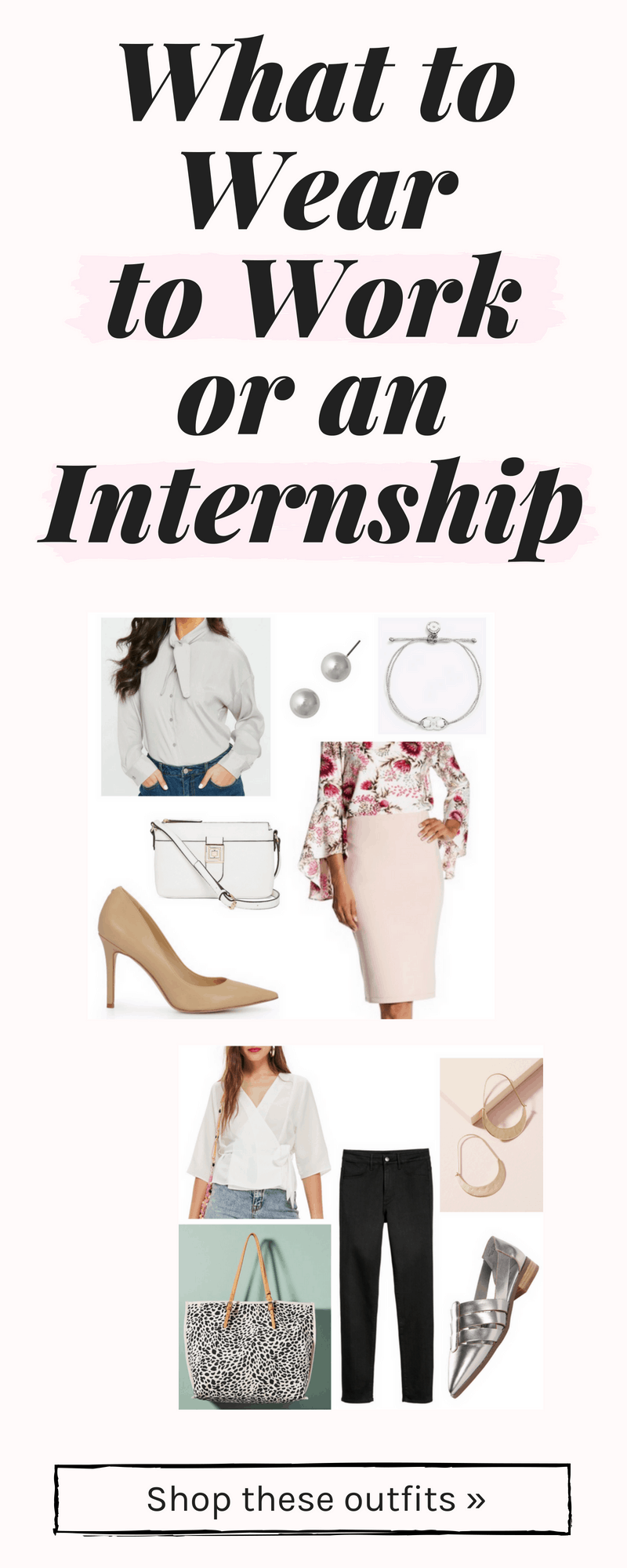 Okay, so you had a great resume, you wore a fabulous outfit to your interview, the hiring manager loved you, and now you have your brand new job or internship! Immediately you're faced with a brand new problem: what do you wear to work?
The rule I talked about in the last part of CF's How To Dress Professionally series (the one about dressing for an interview) still applies: It's always better to be over dressed than under dressed.
Remember that advice, especially for your first day on the job. Sure, it might be embarrassing to show up dressed to the nines when everyone else is in jeans, but it would be way worse to be dressed too casually for a workplace!
Beyond that one piece of advice, here are some more ways to make sure you're dressed right for your new job.
Related reading: Stylish Internship Outfits for Every Major
Figuring Out Your Office Dress Code
Getting dressed for work is a lot different than getting dressed for every day. As opposed to when you're dressing to go out with friends, the goal of dressing for the office is to blend in with what everyone else is wearing. It's not so much about your personal style as it is about representing your company in a positive way. You can still incorporate your personal style into outfits, just make sure your clothes fit with your workplace.
So how can you tell ahead of time what the rest of the workplace will be wearing? Simple, think about your interview. What was the hiring manager wearing? Did you interview at the office? If so, what were other employees wearing? Take that information and dress to the same level of formality.
Still have no idea what to wear? Unless you've been informed ahead of time that you need to dress formally, business casual is the standard office dress code that most workplaces abide by. If you need to learn about what business casual means, check out the CF post on business dress codes. You can also research the company and what standards they have. Or even better – you can find people who work at your company through LinkedIn and message them nicely about attire requirements.
Business Casual Work Outfits
Business casual is tricky – there are no set guidelines to this dress code, which I know is really frustrating and annoying to most people (myself included). In general, however, business casual can be understood as a slightly less formal version of professional dress.
For example, in a business casual office you can wear dress pants and a nice top, as opposed to being required to wear a full-on suit. It's still formal, but a little less restricted.
Here are some sample business casual outfits: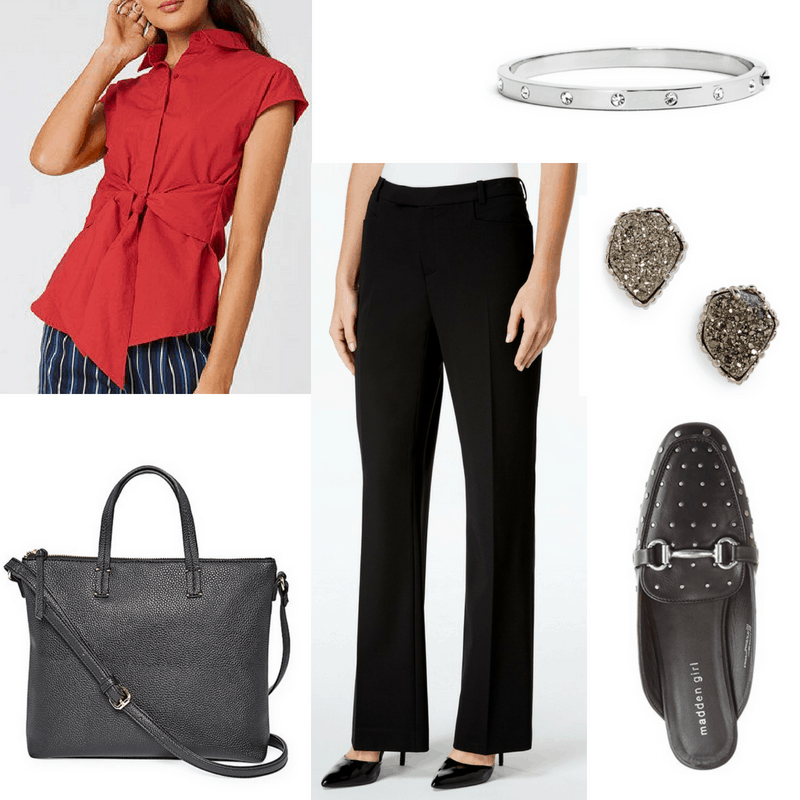 Products: Top – NA-KD, Pants – Tommy Hilfiger, Purse – JCPenney, Shoes – Madden Girl, Studs – Kendra Scott, Bracelet – Kate Spade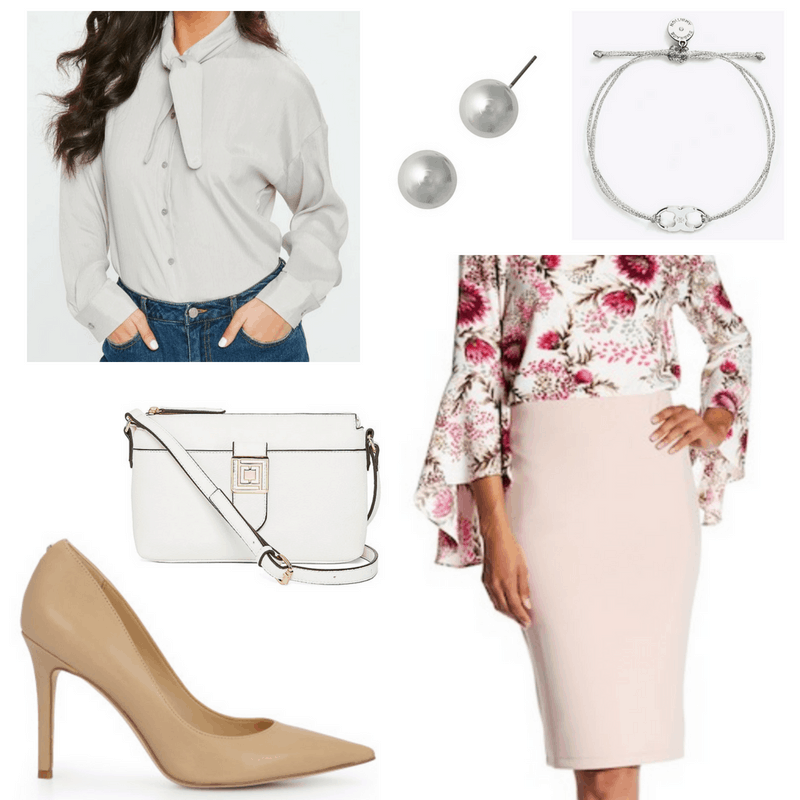 Products: Blouse – MissGuided, Skirt – Nordstrom Rack, Earrings – JCPenney, Purse – Liz Clairborne, Bracelet – Tory Burch, Heels – Sam Edelman
Casual Work Outfits
If the dress code at your workplace is casual, that doesn't necessarily mean you should break out your tank tops, flip flops and mini skirts! With a casual dress code, you can wear denim, flats, and longer skirts (think at the knee or slightly above, no shorter), but don't think that all the rules go out the window. You still need to keep your look classy and polished if you want to be taken seriously on the job.
Here are some sample casual work outfits: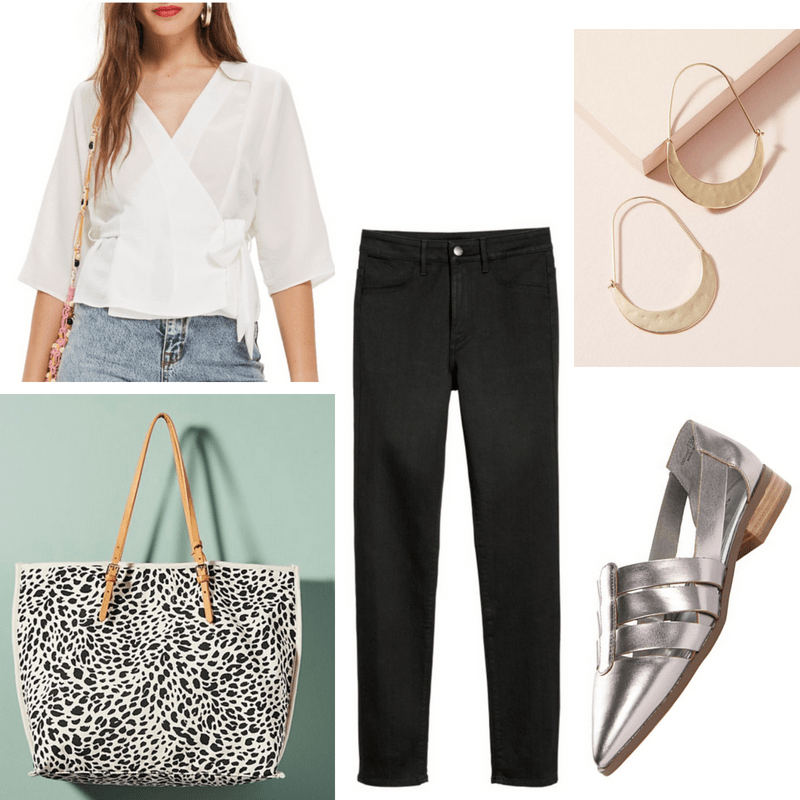 Products: Skinny Jeans – H&M, Top – Topshop, Tote – Anthropologie, Earrings – Anthropologie, Flats – Chinese Laundry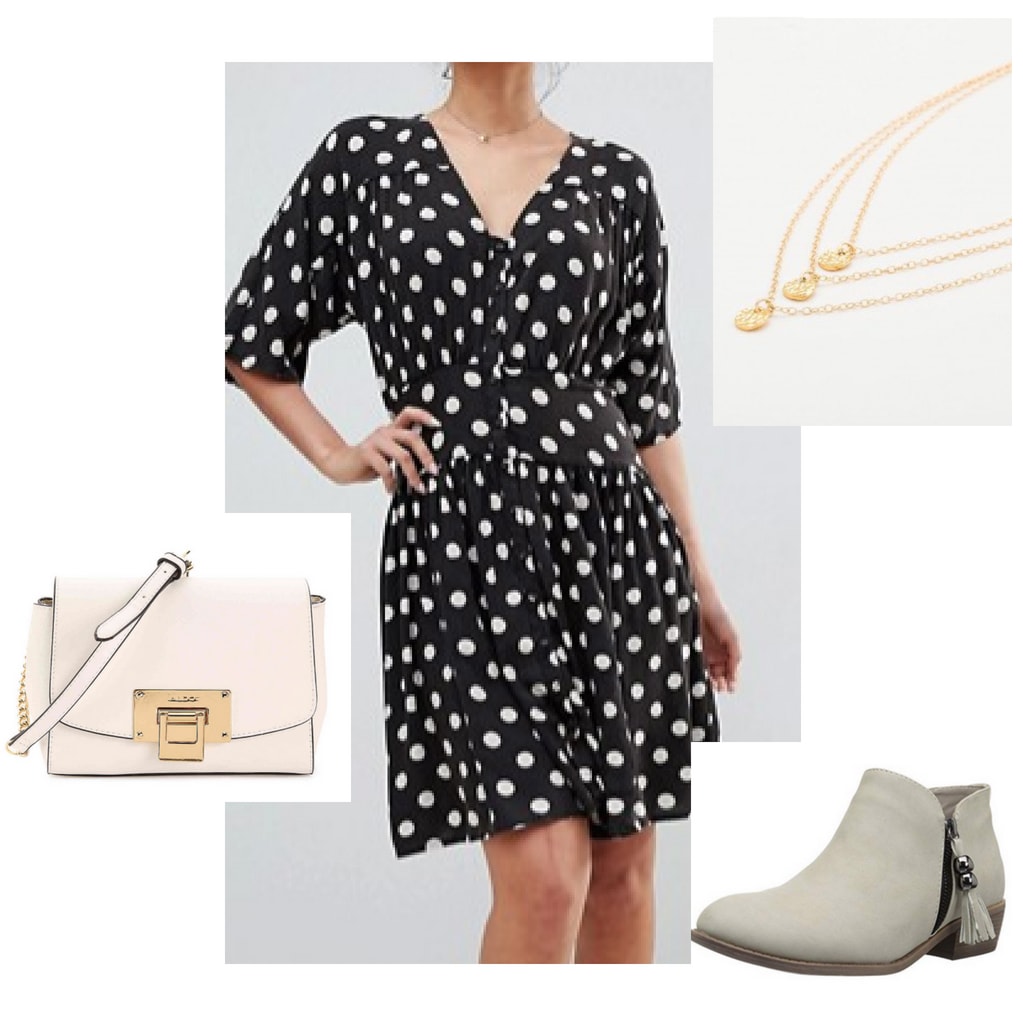 Products: Dress – Asos, Shoes – Brinley Co, Purse – Aldo, Necklace Set – Gorjana
Hair & Makeup Tips for Work
No matter the dress code, when you do your hair for the office, make sure that it's neat, clean, and out of your face. Unless you work at Vogue, you don't want a this-took-hours hairstyle, much less an I-just-rolled-out-of-bed look! Stay away from the extremes in a normal office. Wearing your hair down and straight, back in a chic ponytail or half-up with a barrette is perfect.
Makeup in an office setting should stay within the same guidelines as what you wore to the interview – neat and clean, with no neon colors or glitter (unless you work for MAC or any other beauty store!) Keep it mature and professional with nude colors, light foundation, and an overall "natural but better" look. You don't want your face to scream "I'm wearing makeup!"
More Information on What to Wear to Work
For more info on what to wear in any job setting, check back soon for the next post in College Fashion's How To Dress Professionally series!
Also, be sure to leave a comment if you have any questions or thoughts at all about this! I'd love to hear from you and answer any q's you might have, so get to it!
Editor's note: This post was originally published in 2008; it was completely updated and revamped in 2018 with new photos and information.