This post breaks down internship outfit ideas for every major.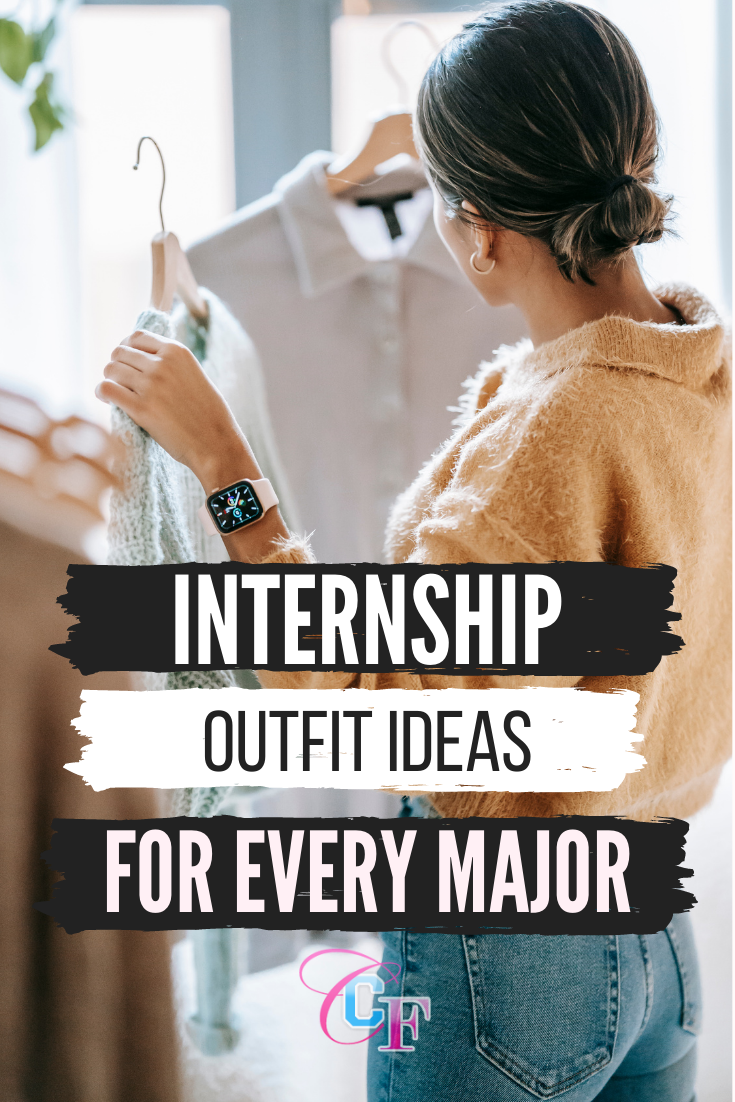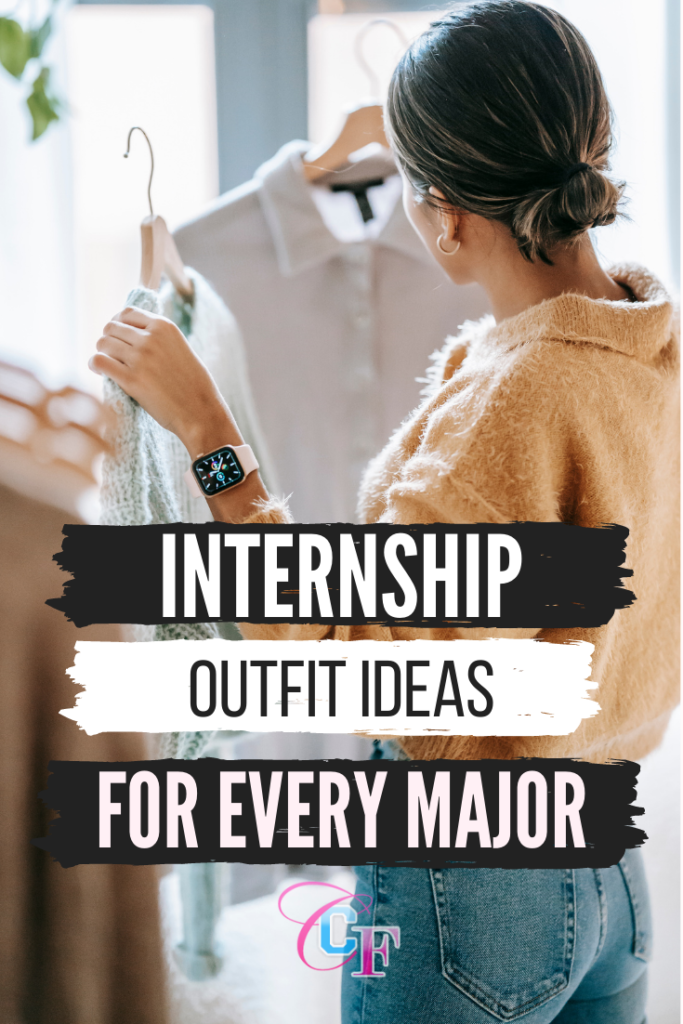 With summer quickly approaching, it's time to start thinking about internships. Summer is a great time for building upon your skills and resume without a course load of classes.
There are tons of summer internship programs out there for college students in just about every field.
But there's a reason why we're talking about this on the blog today, because with internships come outfits. While many internships are being held remotely this summer, it is still important to dress the part professionally and to feel your best.
Below you'll find nine stylish outfit ideas for every type of internship!
Outfit 1: Business / Accounting / Finance
Matching sets are a must-have for your wardrobe this summer. They are easy to style and you can quickly throw them together. This set is chic and in a beautiful, neutral shade.
I paired it with a silky, black camisole and these pointed-toe flats. Flats are great because they're not only cute, but very comfortable too.
I finished off this summer internship outfit with some silver hoop earrings and this structured bag.
Look 2: Education / Psychology / Communication
This outfit is delightful and professional, so it's perfect for an internship.
I paired a ruffled skirt with a classic white button-up blouse. Black and white is always a sophisticated staple that you should build a professional wardrobe around.
For shoes, these pointed-toe mules are a great variation on classic flats. To finish off the look, I added a layered gold necklace and this mini backpack.
Outfit 3: Journalism / Creative Media
This look is absolutely everything and would be great for a creative internship.
This matching pant and oversized blazer set is the perfect blue tone. I added a mock neck tank top for layering and some chunky white sneakers. You can always swap out the sneakers for flats if your office is on the more traditional side.
Tote bags are trendy right now and are perfect to hold all of your work essentials.
Look 4: Fashion / Interior Design / Apparel and Textiles
Fashion internships tend to have a more casual dress code and even allow denim. These jeans are great because there are no rips and they feature a clean hem.
I paired them with this awesome plaid top. It's cropped, but goes well with the high-waisted jeans.
For shoes, these black loafers are adorable and comfortable. They look like they are designer!
For accessories, mini gold hoops are a must and this black crocodile bag can easily carry your laptop.
Outfit 5: Law Internship
Here's yet another matching set!
This plaid skirt and blazer set is great for a summer internship outfit and these pieces can be worn together or separately. I paired them with a white turtleneck bodysuit underneath and some chunky heeled black booties.
A mini, black crossbody purse can carry your essentials and this adorable nude headband gives me Blair Waldorf vibes!
Look 6: Marketing / Management / Sales
This look is total girl boss vibes!
I paired these chic, high-waisted black trousers with a cropped button-down blouse. The sleeves are too cool!
I added a gold buckle belt to the pants and some pointed-toe black suede flats. These flats are so comfy and have an extra strap on the back for support.
Last, I opted for a a tote bag with a black floral pattern. It will hold your laptop, headphones, glasses, wallet, and just about everything else you'll need for the day.
Outfit 7: Advertising / Public Relations Internship
This internship outfit features some amazing, high-waisted plaid pants. They're a great alternative to your typical, boring work pants and are still acceptable for most offices.
I added this flowy white blouse and some nude and black pointed-toe flats.
These small gold coin earrings and a brown croc shoulder bag are great accessory options. Keep the jewelry minimal when you're at work.
Outfit 9: Film and Production Internship
This look is fashion-forward and one of my go-tos for anytime I want to feel put together. The film industry also has a pretty lenient dress code and allows you to dress more casually.
I paired some high-waisted mom jeans with this oversized graphic tee. I would tuck the tee in to create a more flattering look.
I added a nude blazer to stick to the neutrals theme and some white sneakers.
For accessories, some mini gold hoops and this adorable yellow floral printed headscarf are all you need!
Look 10: STEM Internships
This outfit would work in the office or a dress-code regulated lab. If you're out in the field for your internship, you can probably dress more casually than this.
Jeans without rips are usually allowed for STEM internships, as well as more casual tops and boots. For any in-office work, this look is perfect and professional. You can also wear it under a lab coat easily, and still feel comfortable.
I paired this adorable collared smock top with a pair of high-waisted tailored pants. Instead of going with the traditional black, I opted for these neutral chocolate brown colored pants. The collared blouse is not too oversized and has a great, fitted look.
For shoes, closed-toe shoes are definitely the way to go. These patent leather oxfords have the comfortability of a sneaker, but the look of dressier loafers. They're sleek and sophisticated looking, while still being incredibly comfortable.
To accessorize, these matte black claw clips are perfect for pulling your hair out of your face at work. They are also very affordable and stylish. For a bag, this structured black tote bag can fit your laptop, as well as any other work essentials you may need.
If it's colder in your office or you want that layered look, throw on a boyfriend blazer. They can be dressed up or down and are the perfect staple internship piece.
Which summer internship outfit was your favorite?
What are you studying in college? Do you have an internship lined up? Let me know in the comments below!