This post may contain affiliate links, which means we may receive a commission if you purchase through our links. Please
read our full disclosure here
.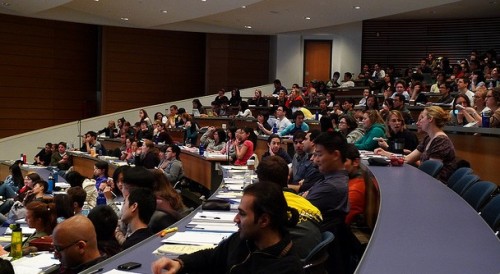 Gone are the days of high school rules and restrictions — in college, we can stroll into the lecture hall, sit wherever we please, and drink our caffeinated beverage of choice while alternating between taking notes and Facebook-stalking the hottie who lives on our floor. College classes also come with a new dress code, being, namely, that there isn't one. There's a widespread stereotype that in college no one cares what you wear to class, so some students show up in variations of what they probably wore to bed.
But here at CF, we're big supporters of the idea that you should get a little dressed up to go to class. I'm not saying you need to bust out your pencil skirts and heels, but what harm is there in putting a little effort into your outfit before heading off to lecture? Read on to hear my take on why dressing up for class is a good thing, as well as some cute, easy outfit ideas.
Why "Dress Up" for Class?
You'll look good for the rest of the day! Classes probably aren't the only thing on your schedule for the day. You might have meetings with an adviser, club meetings to attend, or a part-time job or internship. By putting some effort into your outfit in the morning, you ensure that no matter what the rest of your day throws at you, you can handle it with style.
It shows respect for your professors. Would you want to teach a bunch of people who looked like they just rolled out of bed and couldn't be bothered to put on a pair of jeans? In my opinion, dressing up for class shows professors that you pay attention to detail and take your education seriously, two traits they probably look favorably upon while writing letters of recommendation.
You have cute clothes; why not wear them? If you're reading College Fashion, I'm going to go ahead and assume that you have at least some interest in shopping, fashion, and style. You spent your hard-earned cash to put those cute clothes in your closet, so be sure you get your money's worth out of them.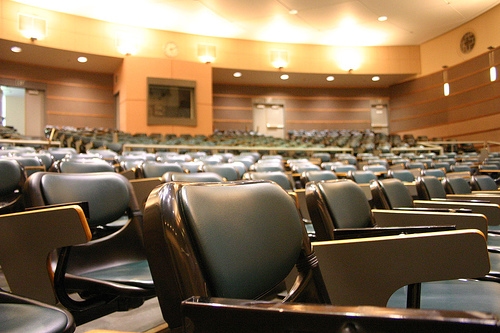 What do I mean by "Dressing Up?"
By no means am I suggesting that you wear your Sunday best to all of your classes — though if you want to, more power to you!
Dressing up for class isn't really that difficult. Instead of wearing sweatpants, wear jeans (they're just as easy to put on, I promise). Add a scarf to your outfit to look a little more polished. Throw on some earrings, and trade your flip-flops in for a cute pair of flats. You'd be surprised at how much of a difference these little steps can have on your overall outfit.
Outfit 1: Preppy Polish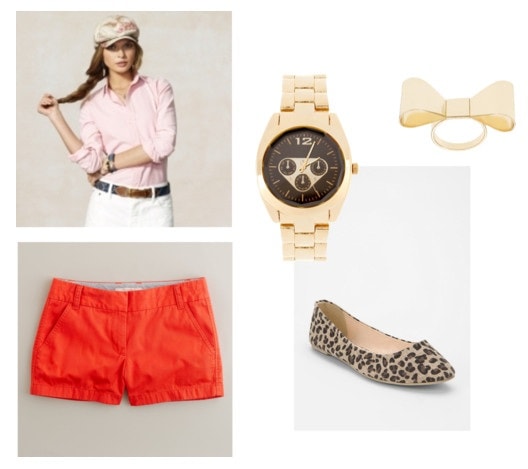 Shirt,Shorts, Watch, Ring, Flats
Outfit 2: Simple and Chic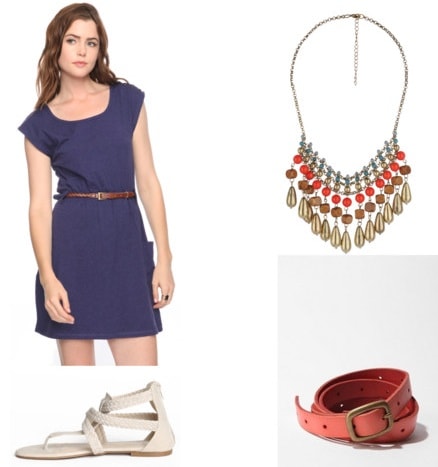 Outfit 3: The Sweatpants Alternative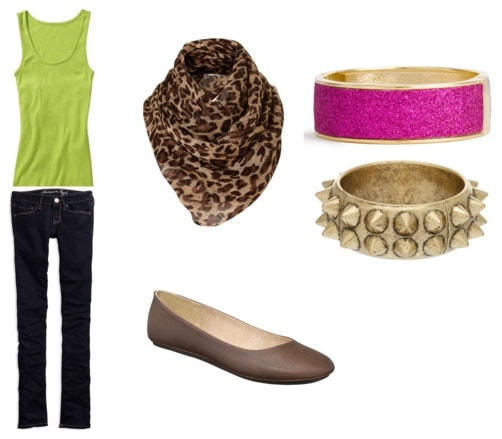 Tank, Jeans (similar style), Scarf, Flats, Pink Bangle, Spiked Bangle
What Do You Think?
What's your opinion on getting dressed up for class? What's your typical class attire like? Do you have any tips on how to get ready in a time crunch? What kind of activities would you like to see covered next? I'd love to hear from you, so be sure to leave a comment!