This post may contain affiliate links, which means we may receive a commission if you purchase through our links. Please
read our full disclosure here
.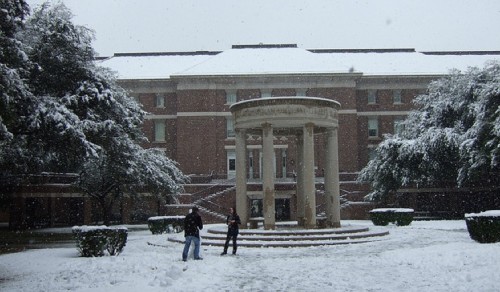 A while back, we featured three outfits to wear to class that were easy to throw on, but still looked put-together. Now that the weather has changed and fall is here (with winter soon to come), it's time to retire the shorts and sundresses and embrace cold weather fashion.
Just because it's cold outside doesn't mean you need to resort to leggings and oversized "college" sweatshirts! Read on for easy tips on how to look chic for class while staying warm in fall and winter.
Tips on Dressing for Cold Weather
Layers are your new best friend. Most buildings on campus will try to overcompensate for the chilly weather outside by cranking up the heat inside. It's a nice gesture, but if you're not wearing layers, you can end up sweating through your classes. Layering in a casual way is easy: start with a tank or tee, add a cardigan or sweater, and top it off with another jacket, scarf, and/or hat (depending on how cold it is outside). You'll still look cute and will be comfortable no matter where you go.
Make scarves and hats your signature accessories. I started my love affair with scarves a few years ago, and I haven't been able to give them up since. They come in literally thousands of shapes, colors, and patterns, and instantly add excitement and warmth to any outfit. Hats are another great option to keep your ears warm and cover up any bad hair days you may have.
Invest in a great pair of boots. This is especially important if you live somewhere where winter brings lots of snow and ice. A truly great pair of boots will keep your feet warm and match with a lot of different outfits you already have. Whether you like desert boots, riding boots, or an edgier option, find a pair you love and wear them with everything.
Pants are not the only option. Dresses and skirts are still definitely options when the weather turns colder. As long as you pair them with tights (sweater tights are particularly warm) you can stay true to your personal style without freezing.
Outfit 1: Warm Neutrals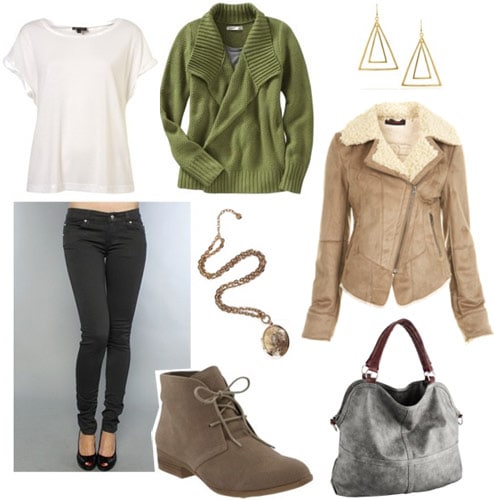 Shirt, Pants, Cardigan, Earrings, Necklace, Booties, Jacket, Bag
Outfit 2: Cute & Cozy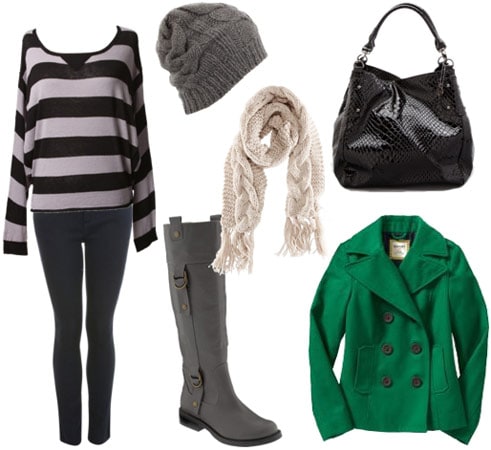 Sweater, Jeans, Hat, Boots, Scarf, Bag, Coat
Outfit 3: Cold Weather Fashionista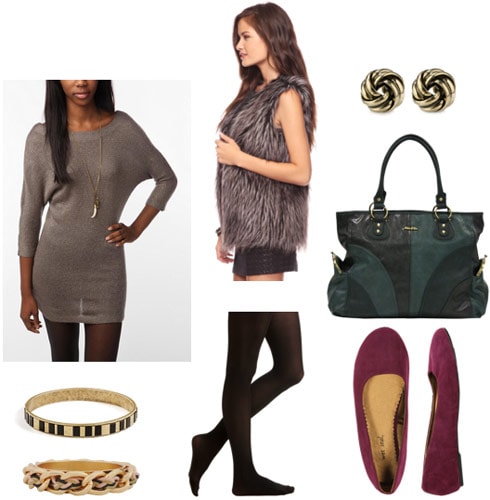 Dress, Flats, Vest, Tights, Bag, Earrings, Barcode Bracelet, Chain Bracelet
What Do You Think?
What do you wear to class when it's cold outside? What are your tips for staying stylish in cold weather? Which outfit is your favorite? I'd love to hear from you, so be sure to leave a comment!