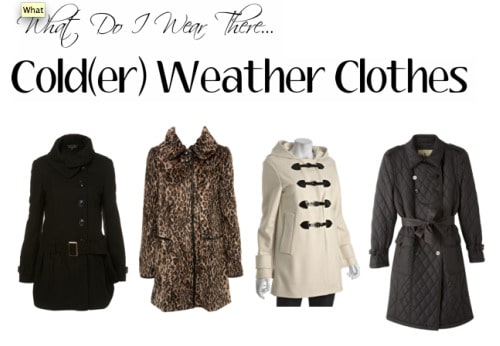 Product Information: Black Funnel Neck Coat: TopShop, Leopard Print Coat: MissSelfridge.com, White Wool Coat: Bluefly, Quilted Black Coat: JohnLewis.com
A couple of weeks ago, I did a post on what to wear in cold weather as we get closer to winter. Many of you commented asking for an article on what to wear in winter weather/really cold weather, and this past week, reader Mary expressed her own cold weather concern:
"I have just come to Sweden for an exchange program and I will be here for 1 year. The problem is that it's super cold here, and I am really out of ideas on what to wear to keep both warm and cute/girly! The problem is that even for indoors I have to wear warm long sleeve shirts or something with a cardigan. Would you be so kind as to give me some suggestions for us girls living in very cold places?"
Many of us students will find ourselves going abroad at some point in our college careers and will potentially experience a similar climate change, so I think this is a great question. Plus, many of us are already living in really cold areas now!
A couple of quick disclaimers:
Before I get to the outfits, I have two quick disclaimers to make:
First, I am a firm believer in winter being the season for making investments. As much as I love Forever 21, H&M, and other discount retailers, winter clothes definitely need to be more durable in order to do their job.
Therefore, you guys may see that some of these pieces are a bit pricier than what I normally post. However, I tried to chose pricier pieces that you can use year after year, not just ones that are trendy right now. The trendier pieces are from–you guessed it!–those college student-friendly, cheaper retailers.
Second, I believe that winter coats are an extremely personal choice that should definitely be an investment. Therefore, I am only showing base outfits without coats.
I think that every girl should have a coat that they can throw over anything to stay warm and even add to their overall look. Since I wouldn't personally be able to try on any of the coats I'd be recommending, I would feel terrible if I had suggested something that was a major investment and ended up not being a smart choice!
Still, to give you an idea of what's in style for this winter, I have a couple cute coats in the graphic above. The sites are listed below, and I'd love to hear whether you guys maybe have these pieces or similar ones.
Now on to the outfits!
Cold Weather Sample Outfits
Look One: Cold Weather Classics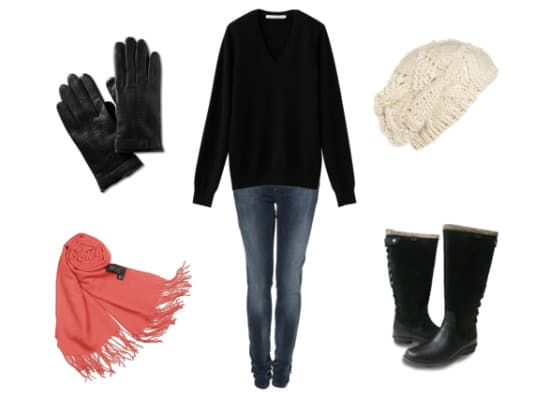 Product Information: Jeans, Knit Hat: TopShop, Cashmere Sweater: Uniqlo, Stitched Gloves: Banana Republic, Wool and Cashmere Pashmina: Forzeiri.com, UGG Boots: Zappos
This look is made up of the most expensive pieces in the article, but they are also the ones you will get the most wear out of. Each piece is durable and timeless on its own, and they all look pretty cute worn together too!
A black cashmere cardigan will keep you looking classy and well as comfy, while these basic skinny jeans are perfect for tucking into any sort of winter footwear.
As for the boots, I know that the label "UGG" strikes fear into the heart of many fashionable college girls, but I have actually heard pretty amazing things about this particular style. They are lined with super-warm material on the inside and have a durable exterior that promise to hold up against any cruelties of winter weather (I would probably use the UGG waterproofing spray on them just in case)!
An important part of staying warm is adding extra cold-battling accessories, so pick up a nice pair of gloves (preferably with a lined interior) that will match with everything, like these black leather ones. I seriously love slouchy knit hats to add a perfect winter touch to your look and hide static-y strands, while a pink pashmina will flatter flushed cheeks and add some color to your look. Pashminas are also great since you can wear them as a scarf or as a shawl!
Look Two: Everyday Style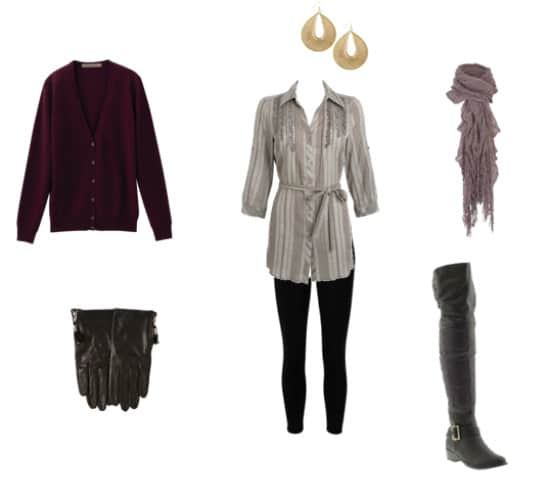 Product Information:Cardigan: Uniqlo, Stripe Tunic: Debenhams.com, Black Leggings: French Connection, Zip Gloves: TopShop, Knitted Ruffle Scarf: Newlook.co.uk, Over the Knee Boots: Piperlime, Gold Earrings: Wet Seal
For this look, I wanted to create something you could wear in your day-to-day life that would be comfortable but appropriate for a variety of different activities, from going to class to going site seeing–you are in a new and exciting place, after all! The button-down striped tunic is especially adorable with the added ruffles by the neck, which match perfectly with a pastel-colored, ruffled scarf.
While I normally do not suggest leggings in colder temperatures since they are not very warm, they are the ideal piece to wear underneath winter's hottest shoe trend: the over-the-knee boot. Since this is slightly tricky to carry off, I do suggest choosing boots that are dark and made out of a less flashy material, such as suede or this subdued brown leather.
Since the top and leggings are not as warm, I would layer a cardigan over the tunic. I love the deep, wine color of this one, and its batwing-style sleeves are also really popular right now. Add on a pair of brown leather gloves (try to get a pair in close as color and texture to the boots as possible), some gold earrings for fun, and you now have a stylish, versatile, and (most importantly) warm look for the winter!
Look Three: Trying Out Trends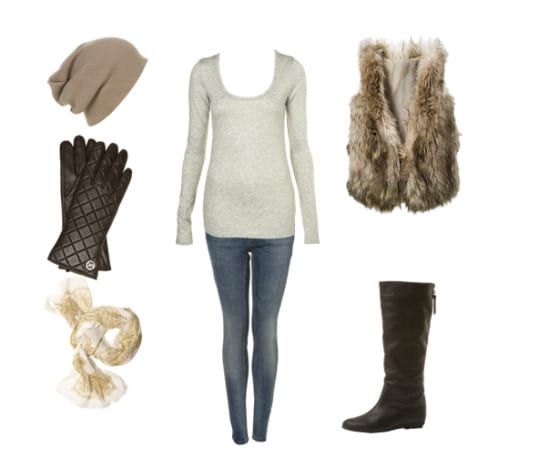 Product Information: Long Sleeve Top, Skinny Jeans, Rib Beanie Hat, Tassle Zip Boot: TopShop, Fur Vest: H&M, Quilted Leather Gloves: Bluefly.com, Scarf: Hipsterchic.com
As I mentioned in my last post about dressing for colder weather, I have a terrible tendency to get lazy as the temperature drops. To break myself out of my typical boots-and-a-cardigan uniform, I sometimes like to try to incorporate one of the super-trendy winter fashion pieces into my wardrobe. For you CF readers that like a challenge, I suggest purchasing a cheap faux fur vest to add some warmth and excitement to your winter style. I know Zephyr wrote an post about faux fur outerwear on Monday, and though the reaction seemed mixed, some of you definitely seemed interested in this super-hot winter accessory.
Since the fur vest is such a statement, I would try to keep the rest of your look classic so that the vibe is vintage-chic, instead of furry mess! Neutral colors are still cool for this season, so choose the rest of your pieces in that color family. Layer the vest over an oatmeal long sleeve top and plain denim skinnies. Tuck those jeans into tall (but not over-the-knee–you don't want to go trend-crazy!), sleek brown boots.
To finish this look off, I added a pair of quilted brown leather gloves for some sophistication and topped it all off with one of my beloved slouchy beanie hats in a nude color. If your neck is feeling bare, you can add a scarf with light detail but try to avoid any other accessories for fear of looking too overdone.
What Do You Think?
Are these looks enough to protect you from a cold winter (after you mentally add your favorite winter coat to each look, of course!)? How would you mix and match them for different activities? Do you have any tried-and-true pieces that you believe are Cold Weather Classics? Let us know below!
And as always, don't forget to share any "What Do I Wear There" questions you may have. Your question may be in next week's article!