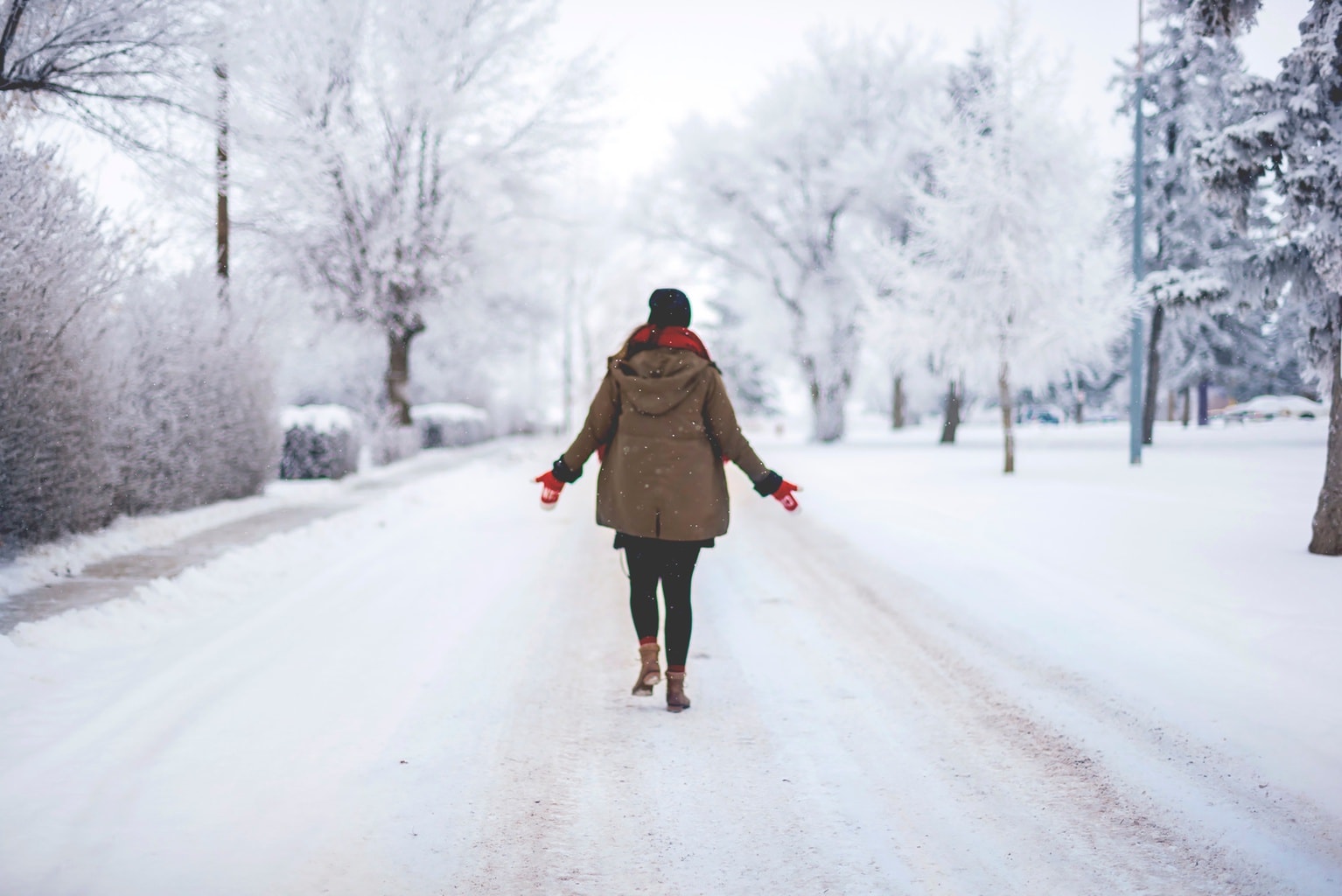 A couple of months ago, I did a "What Do I Wear There?" post about dressing for fun fall activities. As I sadly surveyed a calendar this morning to see that yes, the holiday season is truly over, I realized that just because there are no more dates on a calendar telling me to celebrate doesn't mean I have to stop! And looking through some of your past questions, it was obvious to me that there is plenty fun left to be had this winter.
Therefore, I compiled this list of three fun things to do before the winter is over based on your comments, as well as what I know I love! Then I gave some suggestions on how to maximize your fun time by looking your best with tips on what to wear, as well as hair and beauty advice.
Activity One: Rock Out!
A while back, a reader asked me the age-old question of what to wear to a concert. Concerts are great for the winter since you get to be in an environment in which the weather doesn't matter! However, dressing for a concert is always especially tough because you want to look great while still being comfy enough to dance around during the (typically) hours long show!
My first piece of advice is to pay close attention to the venue you are attending. Do you have actual seats or is it standing? How packed does the venue tend to be? Do they tend to keep the temperature warmer or cooler? Will you have a place to put your coat? These are all super important to know since you can gauge the level of comfort to go for, as well as whether or not you want to bring a heavy coat.
Then, of course, think of the crowd. Is there going to be dancing? Will there be drinks served?  Trust me, heels + mosh pit = really bad news (as are open-toed shoes + mosh pits, for obvious reasons), and rowdy crowds + alcohol = certain spills! So don't wear anything you really couldn't stand to have ruined or stained if you're going to be in a rowdy crowd or standing room section at a concert.
Finally, think about the act you are going to see. I know that people tend to go pretty crazy with their looks when dressing up for Lady Gaga concerts, while country concerts typically have crowds dotted with cowboy hats! Dress to fit in or stand out – the choice is yours.
Here is an example of what I would wear for a concert where I was expecting to stand and dance–not necessarily in a mosh pit environment–when the act was an upbeat pop, rock, rap, etc. performer.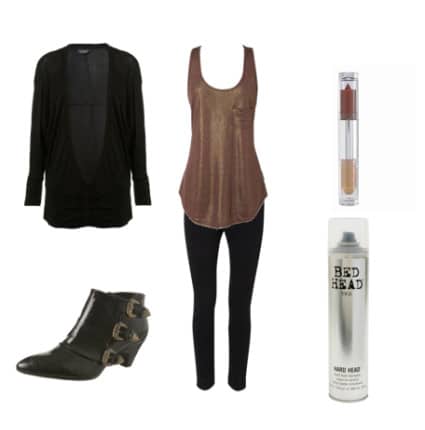 Product Information: Batwing Cardigan: TopShop, Tank: Store.Alloy.com, Black Skinny Jeans: Oasis-Store.com, Buckle Heels: Missselfridge.com, Covergirl Smoky Eyeshadow Stick: Drugstore.com, Bed Head Hairspray: Asos.com
This is a great outfit for a cool, rockstar-chic look that is sexy but not too revealing, so you can freely dance around and not have to worry about wardrobe malfunctions! The shimmery tank top will ensure you are the center of attention in the crowd, especially well paired with plain black skinny jeans and a simple batwing cardigan. Add a tough element with buckle boots with a tiny, thick heel–this thick heel will make them comfortable, and the tiny boost in height will help you see the stage!
Accessories are always tricky at these types concerts since it is so easy to lose pieces and so hard to find them, so skip the accessories in favor of more done-up hair and makeup. Use some extra-hold hairspray to give yourself some crazy waves or a sleek pompadour or ponytail. As for makeup, go for a shiny, smokey eye with Covergirl's new, easy-to-use Smoky Shadow Blast Shadow Stick, which makes the sultry, smoky-eye look ridiculously simple!
Activity Two: Apres-Snow Adventures
One of the best parts of winter is all of the activities you can do in the snow–from skiing to snowboarding to simply playing around, snow creates all sorts of new pastimes for this season. However, one of my favorite things about the snow is the time after it when everyone runs inside, throws on some warm clothes and cozies up (bonus points for hot chocolate and a fireplace)!
But just because you want to put on comfortable clothes after time out in the cold does not mean you should turn to sweats! While sweats may be the obvious choice if you are just in your own home, if you happen to be somewhere like a ski lodge, there are lots of ways to stay warm without donning sweats. This may seem like a silly time to worry about fashion but when you're at a resort or lodge, this "cozy" time is a great time to meet some cute boys! Your outfit could be a great conversation starter to meet some friends as well.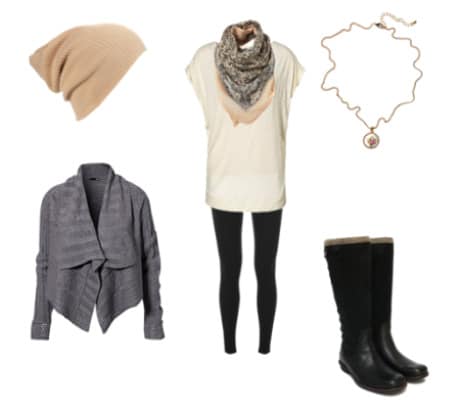 Product Information: White Tunic: Shop.hm.com, Leggings: Net-a-porter.com, Beanie: TopShop, Scarf: TopShop, Sweater: Shop.hm.com, Necklace: Shop.hm.com, Boots: Coggles.com
This is an adorable outfit that will not only help you warm up after hours in the cold but also keep you looking super stylish. A plain white tunic and chunky gray sweater over leggings are simple but classic basics that you can then accentuate with girly accessories like a scarf, slouchy hat, and pretty pendant necklace. For shoes, go for a warm, lined pair that is also waterproof in case you get dragged out for an impromptu snowball fight!
Activity Three: Fashion Shows
The new year means new fashions, especially with fashion weeks all over the globe starting in a month or so! Even if you do not attend one of the major shows, there are many smaller ones that go on around the time of fashion week that are much more accessible to the public. Many colleges even do pretty impressive shows, too!
I know that the first time I attended a fashion show at New York Fashion Week, I was seriously distressed over what to wear. I could not afford the designer's clothes and I had no clue what would be appropriate to wear! The resulting look–a little black dress and super done-up hair–ended up being a little out of place at the 9 AM show.
Therefore, I thought I'd give a couple tips about what to wear if you are lucky enough to score seats at a fashion show this winter!
Don't feel obligated to wear designer–As college students, most of us cannot afford the latest designer looks. And even if we can, we probably do not have them from every designer! That's why I think it's best to forgo worrying about trying to fit in by scoring a piece from the designer you are seeing. If you can afford it, that's awesome, but if not, there are lots of other looks that will be just as acceptable!
Watch out for knockoffs–I love my "discount designer" stores (AKA Forever 21, H&M, TopShop, etc) that allow me to indulge in this season's trends cheaply, but keep in mind that many of these looks are "knock offs" of the actual designer pieces. You do not want to wear your trendy Forever 21 top only to find that the person sitting next to you is wearing the real designer version of the piece!
Go vintage–My best piece of advice is to find a great look from a vintage store. Not only does this mean you do not have to worry about trying to find a designer piece or trying to avoid a designer "knock off," it also means that you will be wearing something one-of-a-kind, which all the fashionistas around you are sure to appreciate.
Look for inspiration–Many bloggers are now given seats at fashion week and document their experiences. Look to street style blogs to see what people are wearing to different shows. (If I had done that, I probably would have seen that the more formal attire is saved for the parties at night!)
Be yourself–I did not want to show a sample outfit for this activity because I want you all to know that the most important part of dressing for a fashion show is showing off your own style! Go for a look you love, don't worry about what's "hot or not" right now. You never know who may spot you there!
What do you think?
What are your favorite winter activities and how do you dress for them? Would these outfits work when you are doing these activities? Are there any other things you love to do in the winter you would like style advice for? Let us know in the comments!
And if you have any "What Do I Wear There" questions, let me know with a comment. You may be featured in a future article!
I also wanted to note that due to popular demand, I will be doing a Study Abroad post for Australia ASAP. I'm glad you guys enjoyed the series enough to keep requesting!