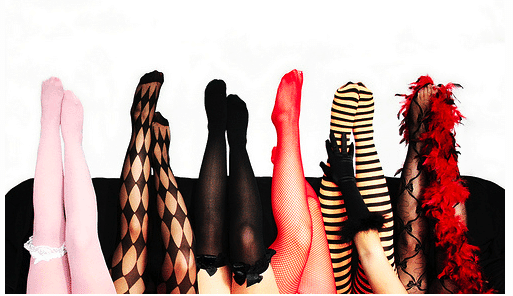 As the weather continues to grow colder, wearing our favorite spring and summer skirts and dresses becomes increasingly difficult if not impossible. If you're a girly-girl, or just one to embrace a year-round feminine look, you've probably been trying to adapt to the changing seasons without losing any of your style.
Tights are the perfect solution for this dilemma: they'll keep you warm, make you look stylish, and can totally change your look–for the better! Much better than a bare leg this winter, I'll show you the season's trendiest tights and how to wear them!
Winter Tight Trends & Tips
Textured Tights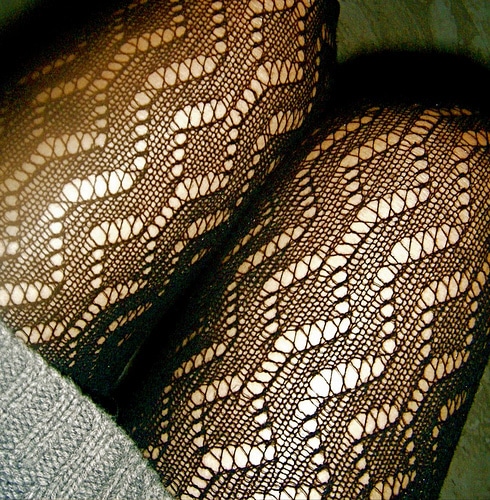 The textured tights category encompasses lace, fishnet, and patterned varieties – so there's a lot to choose from if you want to rock this trend. You can never go wrong with classic black patterned tights for a sophisticated look! They're perfect, for example, to provide coverage under your favorite mini-dress in a more conservative setting.
Textured tights are also a great replacement for your go-to leggings because they're usually a bit thicker than other varieties, and add pretty detail to your outfits. Depending on the level of detail you choose, textured tights can either totally make your look as a focal point, or simply complement what you're wearing without stealing the show.
That being said, remember to keep your textured tights the focus in your outfit for the most clean and sophisticated look – don't mix patterned clothes with them unless an eclectic look is what you're going for.
Hot Picks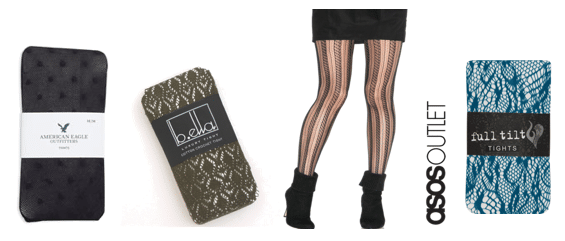 Product Information: Swiss Dot Tights, American Eagle. B.Ella Cotton Crotchet Tights, Lori's Shoes. Jonathan Aston Net Stripe Tites, Asos. Full Tilt Floral Tights, Tilly's.
Color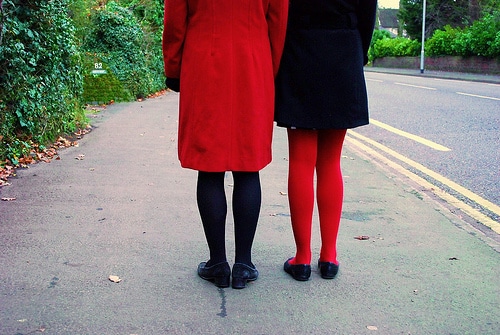 Colored, opaque tights are the perfect way to spice up an otherwise ordinary outfit. They'll provide a pop of unexpected color and playfulness!
Pretty much any color goes here, although deep, dark, and jewel-tone shades tend to be the most popular winter choices. Since these hues tend to be fairly neutral, they look great under pretty much anything. In warmer seasons, expect to see vibrant brights in anything from neon yellow to hot pink. Outfits with otherwise neutral tones look amazing with bright accents. Even a high-waisted skirt and a plain tee get a makeover with their addition! If you're fearless with fashion, bright tights are the way to go.
Hot Picks
Product Information: Purple 80 Denier Opaque Tights, Oasis. Chive Cable Knit Tights, Gap. 50 Den Mustard Tights, Topshop. Red Snake Print Tights, Dorothy Perkins.
Trompe l'oeil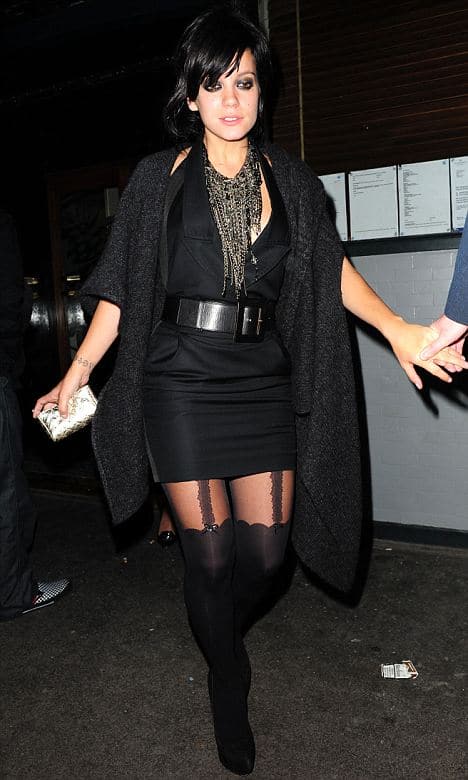 French for "trick the eye," trompe l'oeil tights are totally hot this season, definitely thanks in part to miss Taylor Momsen. Somewhat akin to textured tights, trompe l'oiel styles provide great detail, but with a little something extra. Whether it's a 2-D faux bow, the illusion of lace, or the appearance of a garter, tromp le'oil tights create an illusion of a 3-D addition.
Trome l'oeil tights can be sexy and wild, perfect if you love to take risks with your outfits or want something a bit daring and attention-grabbing. An added bonus–you're still covered up and warm! Trompe l'oeil tights aren't for the shy, and will definitely be the focal point of your outfit if you let them!
Hot Picks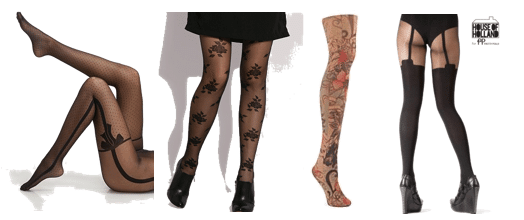 Product Information: Wolford Hot Dot Sheer Tights, Saks Fifth Avenue. Gipsy Sexy Wild Rose Tights, Asos. Celeste Stein Designs Tattoo-Print Tights, Dillard's. Henry Holland for PP House Mock Stocking Tights, mytights.com.
What do you think?
Do you girls wear tights? If so, what are your favorite tights to wear in winter and how do you wear them? Which of these trends are you loving right now? Share your thoughts with a comment!