This post may contain affiliate links, which means we may receive a commission if you purchase through our links. Please
read our full disclosure here
.
To all the CF readers out there graduating in the next few weeks, I want to say congratulations! I will also be graduating and the only way I know to describe how I feel right now is this:
In all seriousness though, graduation is an extremely stressful time of our lives. You're expected to study for finals, while trying to soak up the little time you have left to hang out with friends, AND attempt to figure out what you're going to do with your life. The last thing we have time for is planning out the perfect outfit for every occasion.
That's why I've decided to take a load off your mind by sharing four types of dresses that will get you through graduation looking effortlessly chic and put-together. Dresses are the easiest outfits to put together since you only have to worry about one article of clothing. Use this to your advantage!
Finals Week: The T-Shirt Dress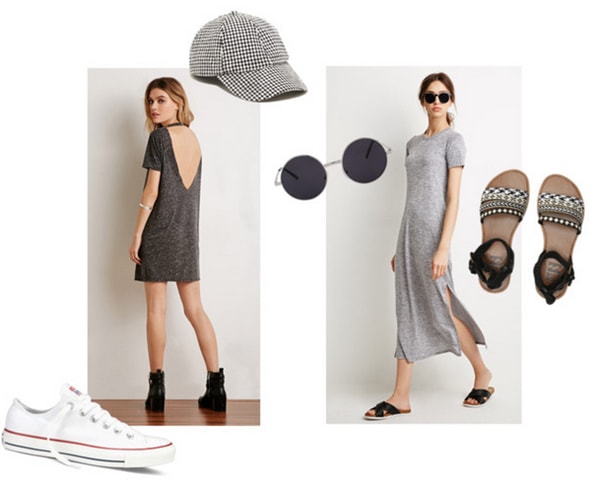 Converse, Dark Gray Shirt Dress, Baseball Cap, Sunnies, Midi Shirt Dress, Sandals
Finals week is horrible, there's no way around it. Whoever decided that we should be tested on an entire semester's worth of material in the SAME WEEK should be subjected to the same torture. During this week of all-nighters, drinking your body weight in coffee, and all-around stress, the last thing you should be worrying about is how you're dressed.
It's tempting to just throw on an oversized t-shirt and gym shorts. However, since how you're dressed is a reflection of how you feel, I think it's important to put some effort into your outfit (in the hopes that maybe you'll feel the same when you take your 9 AM Econ exam). T-shirt dresses are the next best thing to an oversized tee and you'll feel both comfy and chic at the same time.
Celebrating with Friends: Bodycon with Cutouts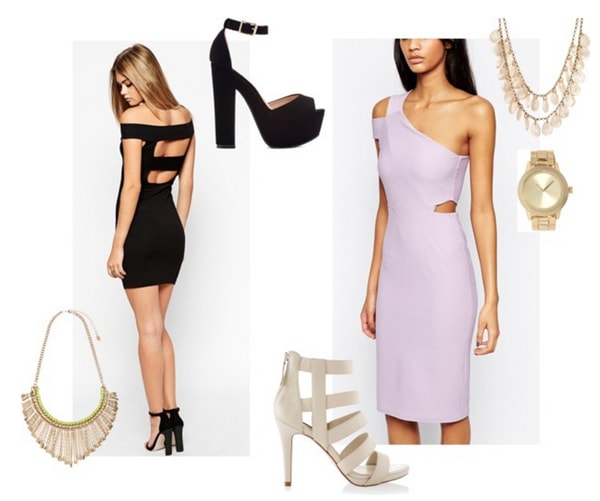 Gold Necklace, Black Body Con, Black Platforms, Nude Heels, Asymmetrical Dress, Beaded Necklace, Watch
You've made it past the dreaded finals week! Now it's time to celebrate with your friends and toast to your accomplishments. Go out and have some fun! You certainly deserve it after making it through hell week.
Dresses are always a safe bet when going out, and they're also much easier to assemble full outfits with– just throw one on, accessorize, and head out the door. Both of these dresses are sophisticated with sultry cutouts that will flaunt your body in unexpected ways.
Graduation Ceremony: A Chic Yet Modest Frock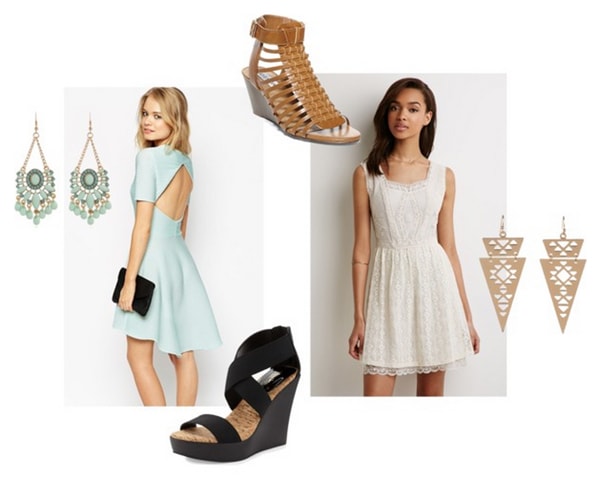 Mint Earrings, Cutout Dress, Black Wedges, Tan Sandals, Lace Dress, Triangle Earrings
Finding an appropriate dress for graduation can be difficult sometimes. You want to wear something you feel comfortable in, but also something that gives you confidence (and you won't trip in walking across the stage).
On top of that, it needs to be something more daytime-appropriate, and modest enough that your family members will approve. It's a lot to think about, so I've done the hard work for you and picked out two dresses that would be perfect for a graduation ceremony.
Post-Grad Life: A Sophisticated Sheath Dress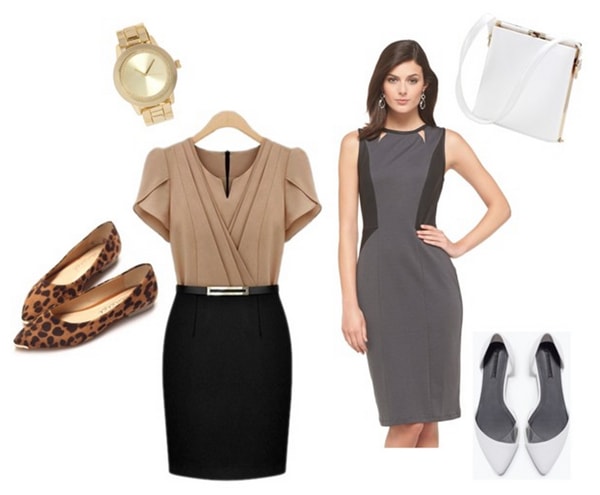 Leopard Flats, Watch, Tan Dress, Gray Sheath Dress, White Crossbody, White Flats
You've finally done it– graduated college and found yourself a big girl job. Now you've just got to dress the part! First impressions at a new job are incredibly important, and like it or not, one of the first things people notice is how you are dressed.
I think a dress can be just as confidence-boosting as a power suit, and it's way more fun to wear. Aim for something modest with fun details that will allow you to express your personality while still being appropriate for work.
Your thoughts?
Are you graduating this semester? What will you be wearing at the ceremony? How versatile do you think dresses can be? Sound off in the comments and congrats grads!