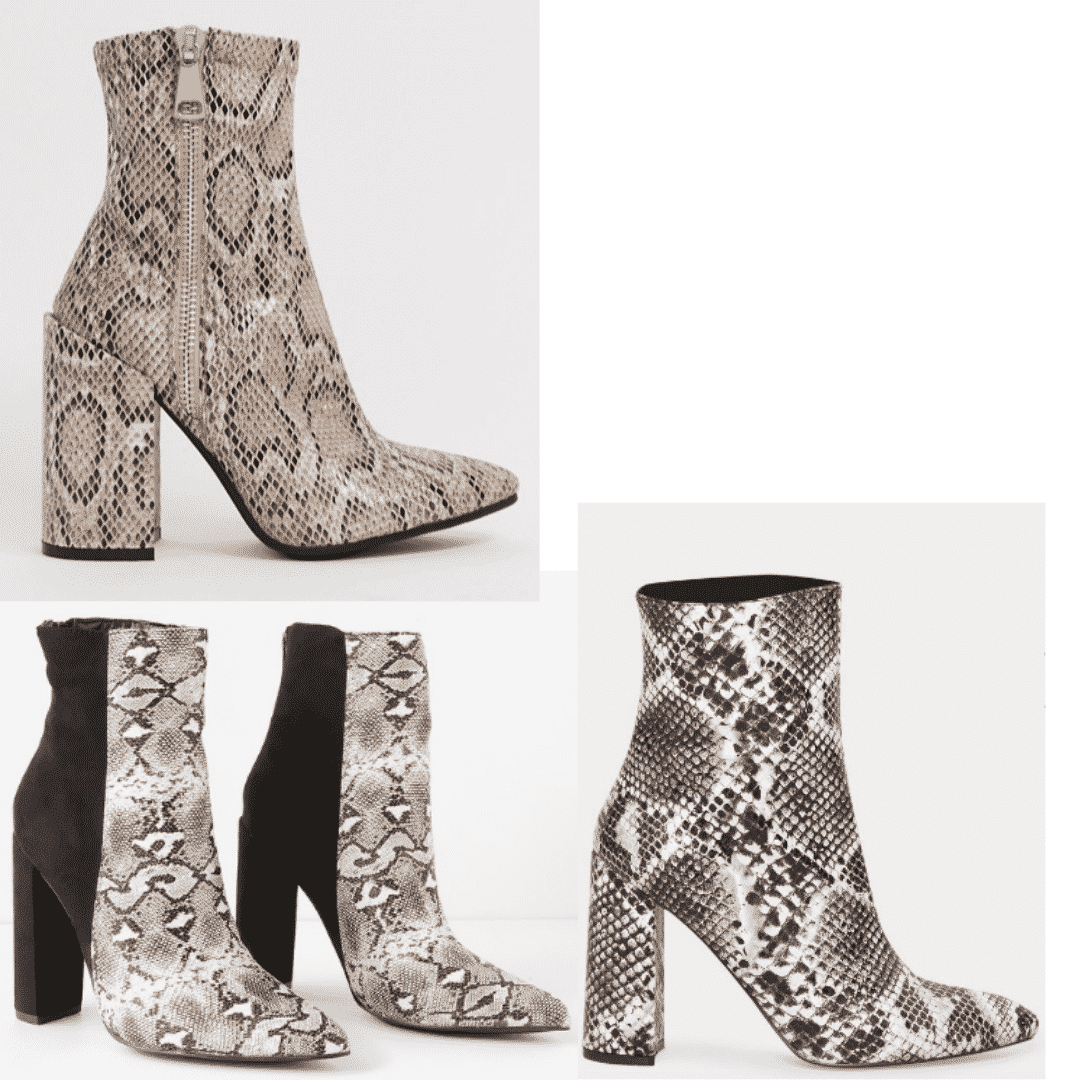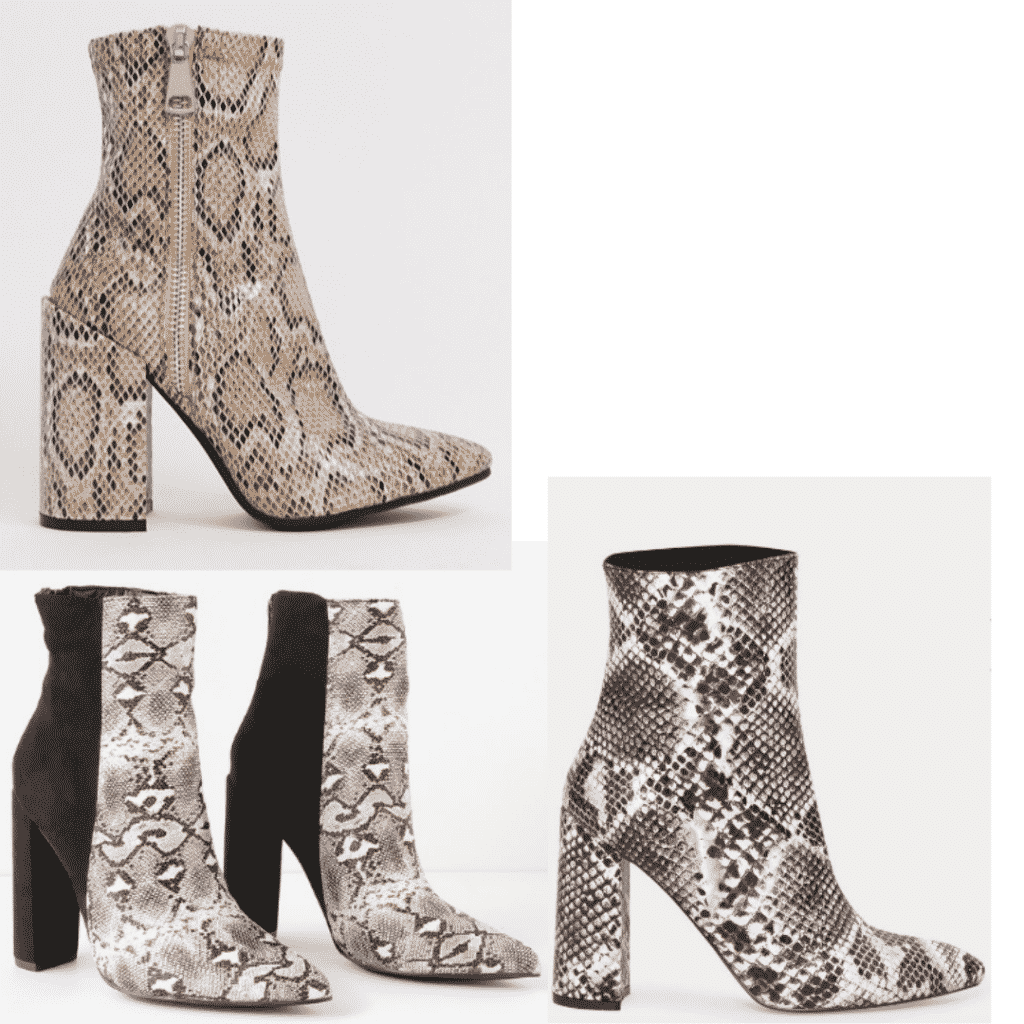 Products: Bottom Left – Lulus, Top Right – ASOS, Bottom Right – Pretty Little Thing.

Just in case you didn't know, snakeskin has been the latest trend for a while now. From snakeskin accessories to snakeskin tops to snakeskin pants, it's safe to say you'll see at least one of these things when you scroll down your Instagram feed.

For those of you who haven't tried this trend yet, I completely recommend it! It's fun, unique and the perfect way to make a statement this season.
If you are just starting out on the trend and are unsure of what to wear or how to style it, I recommend starting off with snakeskin boots, as they tend to be easier to style than a snakeskin top.
Here are some snakeskin boots outfits to get your ideas going!
Snakeskin boots outfits — Class outfit: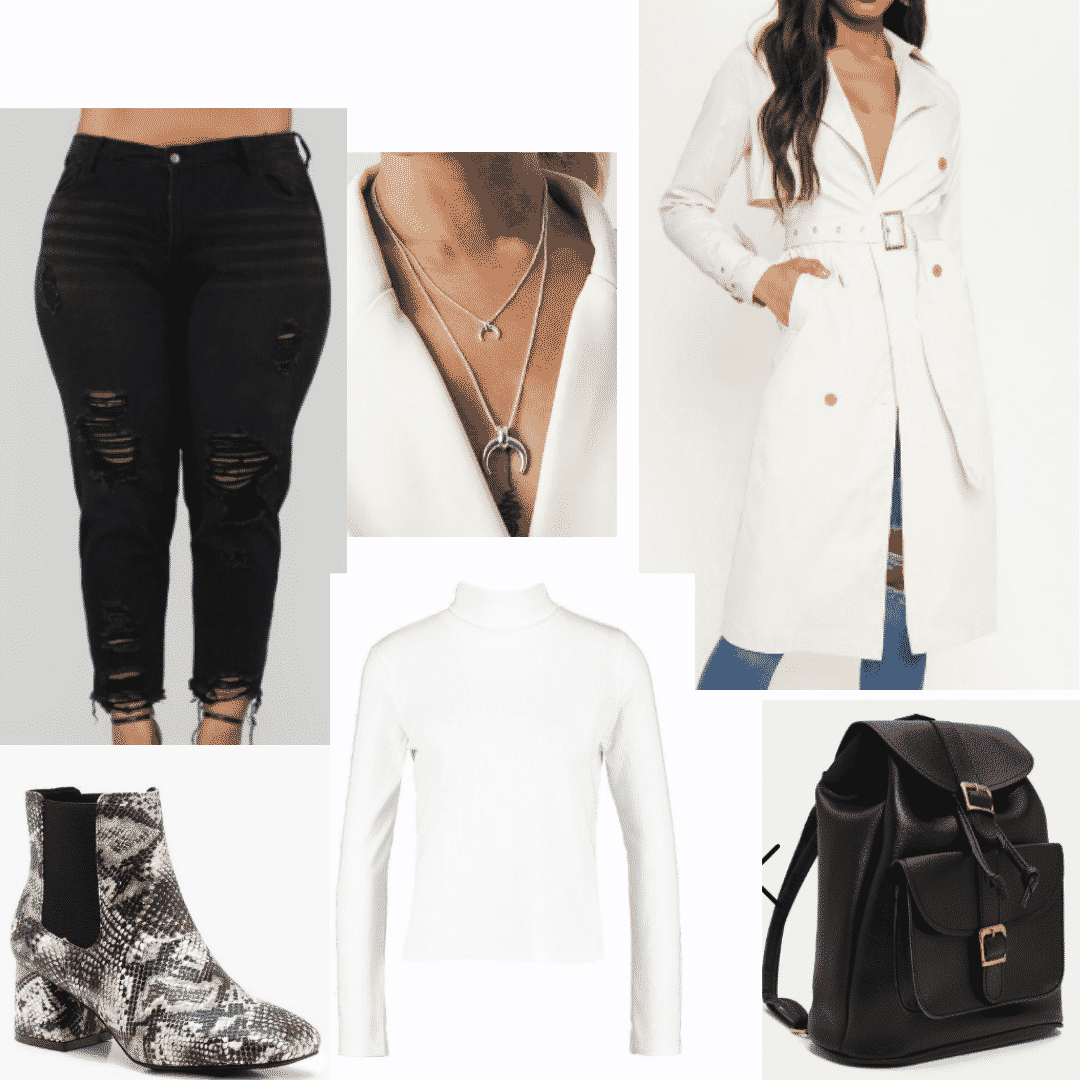 Products: Snakeskin Boots – Boohoo, Boyfriend Jeans – Fashion Nova, Sweater – Boohoo, Necklace – NA-KD, Jacket – Pretty Little Thing, Backpack – Nastygal.

Snakeskin boots are perfect to wear to class, as they're great for pairing with basic outfits. These ones pictured have a chunky heel so that it's easy for you to walk. Pro tip: the thicker the heel, the easier it is to walk in them!
To match these snakeskin boots, I recommend wearing black boyfriend jeans. Skinny jeans would work here too, but straight leg boyfriend jeans will showcase your boots in the best way. Plus, with boyfriend jeans, you have more room to move around and stretch, so they'll be comfy if you have to sit through a long lecture.

On top, I added a white sweater to go with the boots and the jeans. You can tuck in the front of your sweater and leave the back of your sweater hanging loose (AKA the half tuck) for an Instagram girl feel.

Keep the outfit simple with this necklace from NA-KD. You don't want to be completely accessorized for class but with this necklace, you won't have to sacrifice your sense of style either. This necklace is perfect with the turtleneck portion of your top. You can just throw it on top of your turtleneck to showcase the necklace. It's not too glamorized but also not too simple either. It's just perfect for class!

With spring slowly approaching, you can slowly start transitioning your wardrobe to spring jackets (of course, depending on the weather in your city!). This jacket is perfect to wear to class and goes perfectly with your snakeskin boots.

Snakeskin boots outfits — Night Outfit: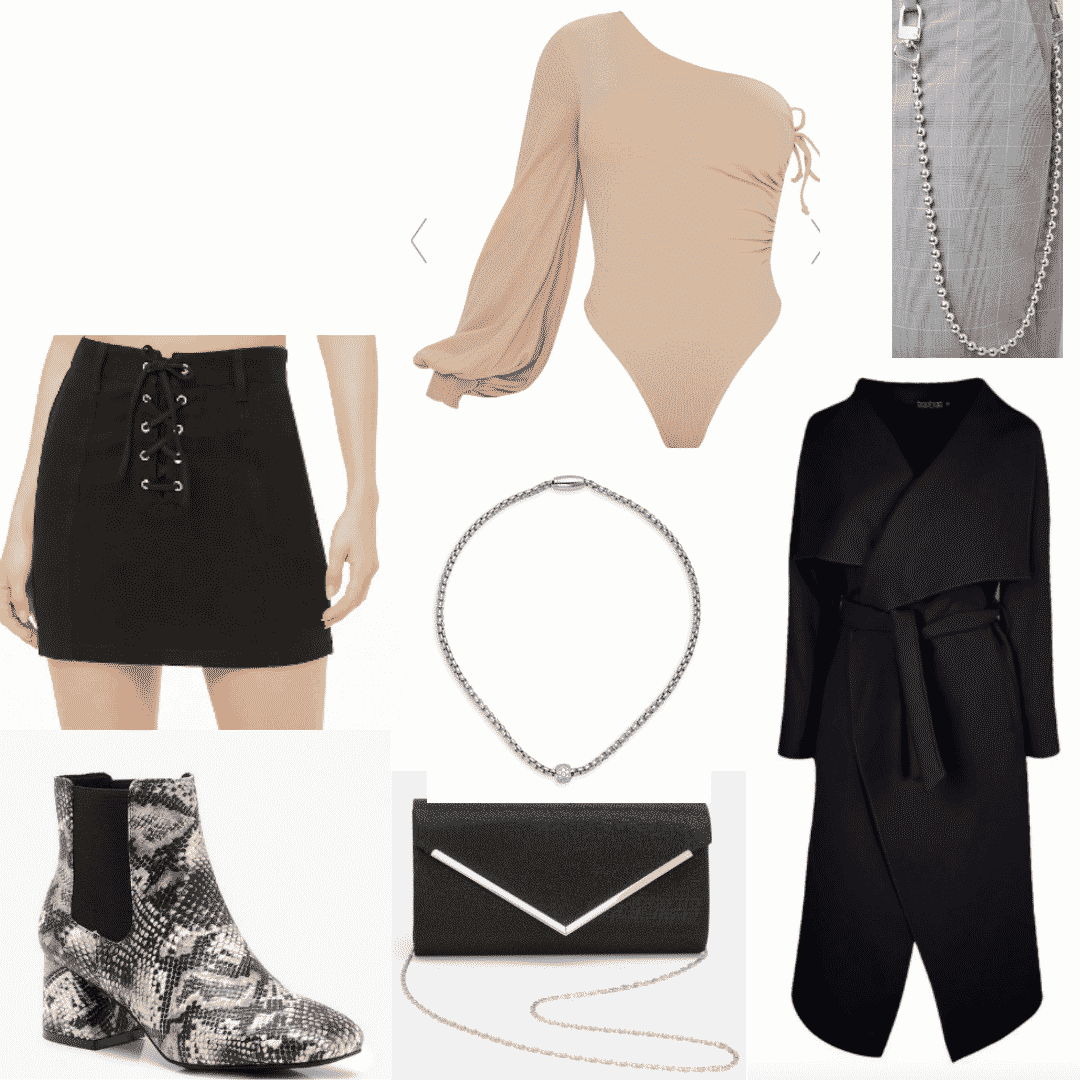 Products: Snakeskin Boots – Boohoo, Black Skirt – Forever 21, Belt – Forever 21, Bodysuit – Pretty Little Thing, Jacket – Boohoo, Clutch – Ardene, Necklace – Lord and Taylor.

These snakeskin boots are a perfect statement piece for a night out as well!
Whether you're going to the club or a date night with a significant other or just hanging out with some girlfriends, these boots will steal the show!
To start, pair these boots up with this cute, black lace up skirt. The black skirt will match perfectly with the snakeskin boots! And of course, depending on where you're going for the night, wear tights to keep yourself warm. If you're only outside for a few minutes, you may not need the tights.

To make your outfit really pop, a chain belt will go great with this skirt. You don't have to wear it through the loops completely. You can attach the belt from one loop to another, hanging on one side of your body – either the left or right, totally your choice.

This beige one-shoulder bodysuit will match the snakeskin boots and skirt as well. It's such a great statement piece to go with the boots. The one-shoulder portion is definitely unique so it goes with your already unique boots.

To fully complete the outfit, add a cute little necklace. You're good to go.

Yay or Nay?

What do you think of the snakeskin trend? Would you wear snakeskin boots?

Let us know in the comments below!