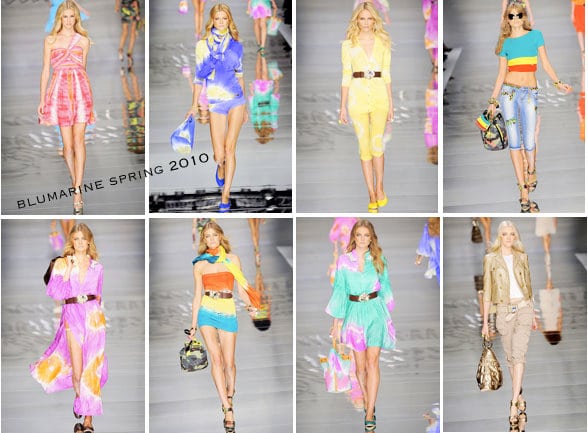 Some of the most fun looks to come down the runway for Spring were those from Blumarine's RTW collection. The looks were a mix of 60's hippie, safari-chic, and bohemian free-spirit – all in bright, fun colors. Although some of the outfits would take massive confidence to pull of, it's easy to take a little inspiration from the collection and mix it into your own everyday looks.
"The exuberance of Blumarine is full-frontal devil-may-care Italian. In its knowing, put-together, highly commercial way, it captures the Southern European attitude to holidaying in the sun (obviously, this season, in St. Bart's, Jamaica, and thereabouts). The range might be a little limited—there's only so much tie-dye the eye can take—but the energy of this well-priced line looks as though it's beginning to steal a march on the likes of Cavalli, Pucci, and even Versace." – Style.com
Take a look through the designer's collection and you'll see how unforgettable it is. Blumarine, as Style.com noted, is stepping into the Pucci realm of chic, colorful ensembles with great success.
Want to get the Blumarine look for yourself? For under $25, you too can incorporate bright, springy style into your closet. Read on to learn how!
Tie Dye
The most memorable aspect of Blumarine's Spring collection was tie dyed fabric – in all colors and styles. Although a head-to-toe tie-dyed might be a bit ridiculous anywhere other than a runway or a tropical island, a little bit of the pattern can really liven up a look. What easier way to take your favorite casual day look into Spring than by adding a light, colorful scarf? Plus, for $10, what have you got to lose?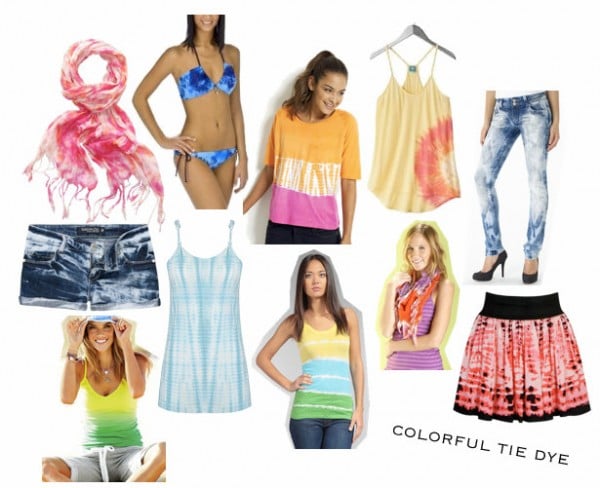 Product Information: Scarf – Aeropostle, Bathing Suit – Target, Tee – Alloy, Burst Tank – Kohls, Jeans – Alloy, Skirt – Forever 21, Orange Scarf – Roxy, Striped Tank – Revolve, Blue Tank – Forever 21, Ombra Tank – Victoria's Secret, Shorts – Tillys
Get the Blumarine look:
The designer grounded each tie-dyed clothing look by adding a dark, tailored belt. This addition keeps the clothes fitted and much more flattering, plus helps to balance out the craziness of tie-dye.
Stick to a tie-dyed piece with only a couple colors, like yellow and pink. More than three colors together may end up looking like a bad 70's concert tee.
Turquoise Accents
Another classic summer staple is turquoise – think a Grecian island, white dresses and turquoise jewelry. The Blumarine collection relied on dark chocolate leather belts with turquoise jeweled buckles to cinch the waists of almost every look that came down the runway. In keeping with the colorful looks, the turquoise accents added a vintage feel. What's great about turquoise is that it's easy to find jewelry to fit a college budget! Plus, the color goes with almost anything and adds an unexpected pop of color to any ensemble.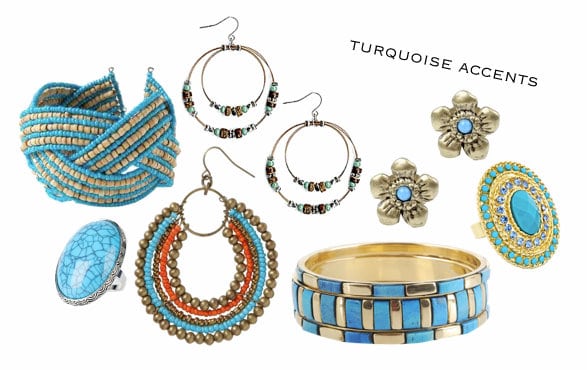 Product Information: Braided Cuff – Old Navy, Double Hoop Earring – Buckle, Flower Earrings – ASOS, Gold Ring – Max and Chloe, Bangle – Forever 21, Embellished Hoop Earring – Old Navy, Cracked Ring – Charlotte Russe
Get the Blumarine look:
Don't be afraid to mix turquoise jewelry in with any outfit. Unexpected pieces like a belt buckle or a big ring are sure to garner compliments, and no one will guess that it cost you under $10!
Go for the sparkle. The entire Blumarine collection is over-the-top, both in colors and prints. Take these looks as inspiration and realize that experimenting with eye-catching accessories can pay off and really make a statement.
Colorful Footwear
Purple shoes with a purple tie-dyed top? Yellow heels with matching capris? Sure, why not? The Blumarine collection relies heavily on color – all the way down to the models' footwear. While I don't recommend trying to match your shoes to your top, bright shoes in a contrasting color are an awesome addition to any outfit. Although in the past, I could never justify spending a paycheck on a great pair of colored flats, at prices under $25 dollars, I just can't resist.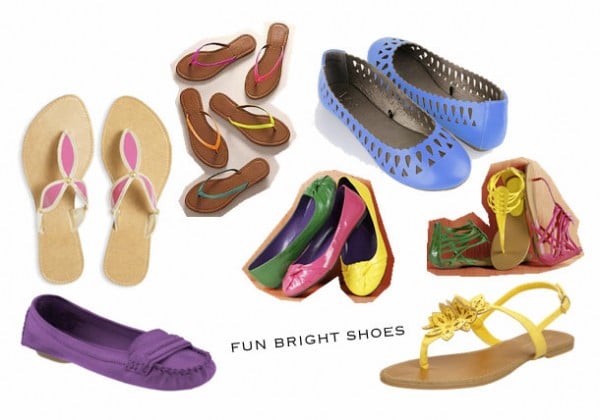 Product Information: Pink Thong Sandal – Newport News, Neon Flip Flops – Victoria's Secret, Blue Flats – Forever 21, Neon Gladiators – Newport News, Yellow Flower Sandals – Endless, Colored Flats – Newport News, Purple Flats – Old Navy
Get the Blumarine look:
Experiment with your shoes. I've definitely fallen victim to wearing the same pair of flip flops from March-October, no matter what outfit I have on, but half the fun of an outfit is the footwear! So make an effort to wear unique shoes this season and test out eye-catching colors.
Although I advise against trying to go all out and match your entire outfit to your shoes, matching your shoes to ONE color out of a patterned dress can be a chic look. As you've probably noticed from our posts here at CF, floral is a big trend for Spring. So take you favorite floral piece and match your shoes to one color in the pattern – it's the perfect balance between matching and putting some thought into it.
Tying it all Together
As soon as I saw the Blumarine Spring collection, I knew that it wouldn't be one that I forgot any time soon. Any designer, just like any college girl, can make neutrals, denims and classic prints work, but the looks in this collection require far more confidence and creativity. The moral of this story? Don't be afraid to experiment with colors, prints and accessories – all at the same time!
What do you think of this collection? Are these looks that you would try, or do you already rock them? The best part of writing for CF is hearing your opinions and styles, so be sure to leave a comment.