This post may contain affiliate links, which means we may receive a commission if you purchase through our links. Please
read our full disclosure here
.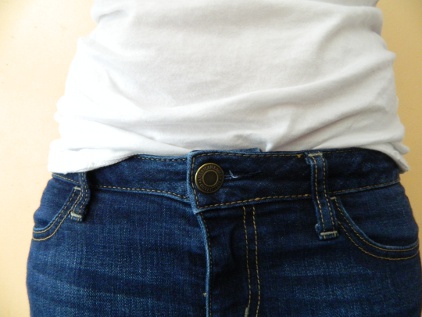 Over the past year, I've been ignoring my denim collection. Due to a job with a no-jeans dress code, I've learned to choose dresses and skirts for day-to-day wear. But sometimes there's nothing more convient or comforting than throwing on a pair of jeans and a soft tee. So with school over for the summer, I thought I'd revisit my jeans one more time.
The Challenge
For this week's Style Challenge, I decided to play with the jeans-and-tee uniform we all know and love. Every day for four days, I wore basic skinny jeans a white tee, but added some interesting twists to make this combination look new.
The Results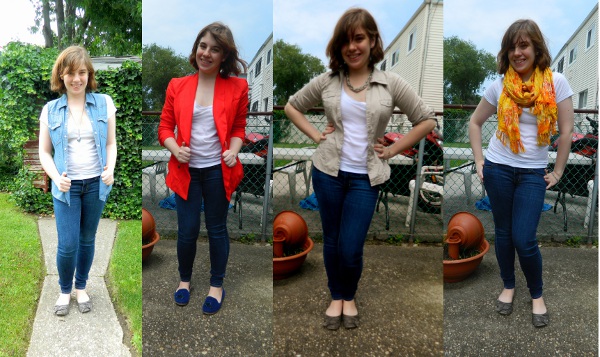 Monday: Today I wore a sleeveless denim button-up as a vest over a white tee and jeans, and accessorized with metallic flats and a pendant necklace.
Tuesday: I layered a vintage red blazer over my white tee and jeans, and added cobalt blue oxfords for an extra pop of color.
Wednesday: Today I threw on a khaki button-up shirt over my white tee and jeans, and left it unbuttoned. I added a larger braided necklace and my favorite flats to complete the look.
Thursday: For a super simple, casual look, I paired a bright orange scarf with my jeans, tee, and flats combo.
What I Learned
The great thing about jeans and a white tee is that they really do represent a blank canvas. Not only is the combo instantly chic, but you can pair it with almost anything. The challenge, of course, is to make those jeans-and-tee outfits new and interesting. To do this, I looked around my closet for layering pieces and statement accessories to upgrade the lazy-day look.
A Few More Tips I Picked Up from This Challenge
Blue jeans aren't the only style in town anymore. If your closet allows, experiment not only with colored denim, but also white denim for even more versatility.
While I used the same t-shirt and pair of jeans each day, that doesn't mean you should avoid playing with proportions. An oversized tee, worn over a pair of skinnies, or a tight top with loose jeans, will create a more interesting silhouette.
Still want something fast and easy? Throw on one of this season's trends, the statement necklace, to instantly push an outfit to the next level.
What do you think?
How often do you wear jeans? What's your favorite way to style them? Let me know in the comments!