We've already given you a large selection of ideas for your Halloween costume: from Geek Chic to Creative Couples costumes CF's got your back. But for those who are nostalgic for the days of trick-or-treating around the neighborhood with a pillow case in tow, we've designed this quiz just for you!
Just take this fun quiz below to find out what childhood Halloween costume you are (and maybe what you should wear, too!). Once you get your answer, find your letter and corresponding result below for a sample outfit based on your personality type.
Quiz: What Childhood Halloween Costume are You?
Quiz Results – No Peeking!
Below are the results of the quiz. Don't look if you haven't taken it yet! I've created one outfit for each result to help give you some ideas for what to wear. Enjoy!
Mostly A's: Angel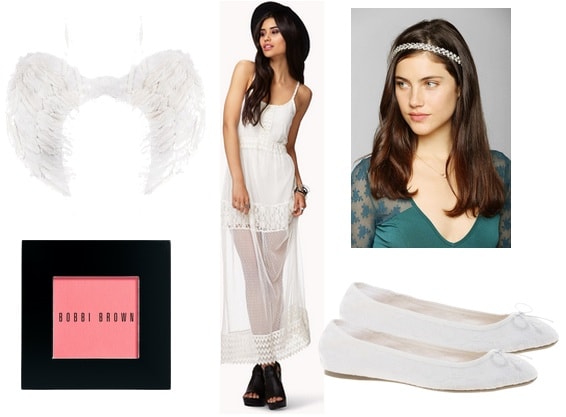 Product Information: Angel Wings, Dress, Headband, Shoes, Blush
While Halloween is typically associated with ghouls and goblins, when we were kids, there were always a number of angels making an appearance to balance out the macabre.
For this costume, I chose a white dress with a sheer skirt. Pair it with pretty white ballet flats, a sparkly headband to represent a halo, and a simple set of feathered wings. Give your cheeks a rosy glow with some blush to complete the look.
Mostly B's: Animal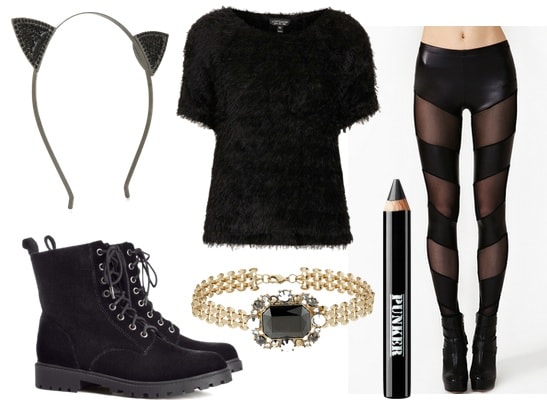 Product Information: Headband, Top, Leggings, Eyeliner, Choker, Boots
A second iconic childhood Halloween costume is the animal — more specifically, the cat. Nowadays, cats are the ultimate internet superstars, but back then they were an easy costume idea – just add on some ears and you're set to go! Now that you have a little more Halloween experience under your belt collar, why not try to amp up this classic Halloween costume?
To do so, grab a fuzzy top and pair it with striped leggings – I especially love this sheer and faux-leather pair from Nasty Gal. Complete your look with a sparkly choker necklace to represent a collar, black boots, and, of course, the necessary cat ears! Don't forget to draw on some whiskers and a nose – eyeliner should easily do the trick.
Mostly C's: Decade Girl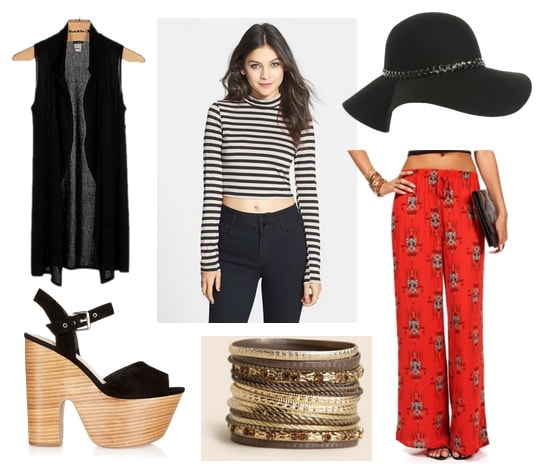 Product Information: Vest, Top, Hat, Pants, Bracelets, Shoes
Another popular Halloween costume back in the good ol' days was to dress from your favorite decade. Mine currently happens to be the '70s, so I chose to use it as my decade of choice for this costume suggestion.
For this look, I started with a pair of printed wide-leg pants and paired them with a striped crop top. I then added on a long vest and a floppy hat. Finish the costume with essential wooden platform sandals and layered bangles. (Note: this outfit could totally work beyond Halloween, too!)
Mostly D's: Witch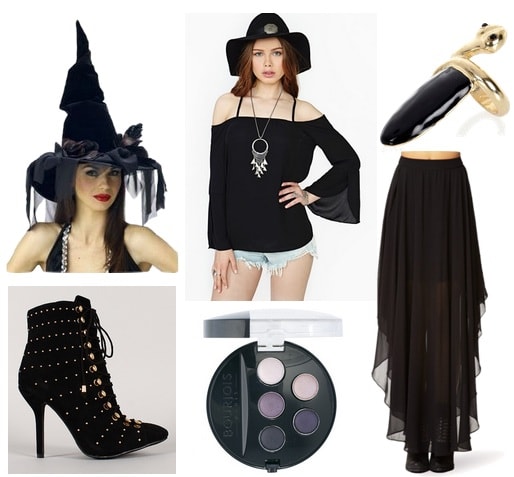 Product Information: Hat, Top, Ring, Skirt, Eyeshadow, Shoes
To round out the list of iconic Halloween costumes from our childhoods, I had to include a witch. It's such a classic!
For this ensemble, pair a black, layered chiffon skirt with a bell-sleeve top. Next, this standout witch's hat and these killer ankle boots are the perfect accessories to take this iconic costume to the next level. Add on the final detail with a nail ring and you'll be set to brew spells all night long.
What do you think?
What was your favorite Halloween costume as a child? What was your result for the quiz? Do you think it matches your personality well? Please let us know what you think by leaving a comment below!