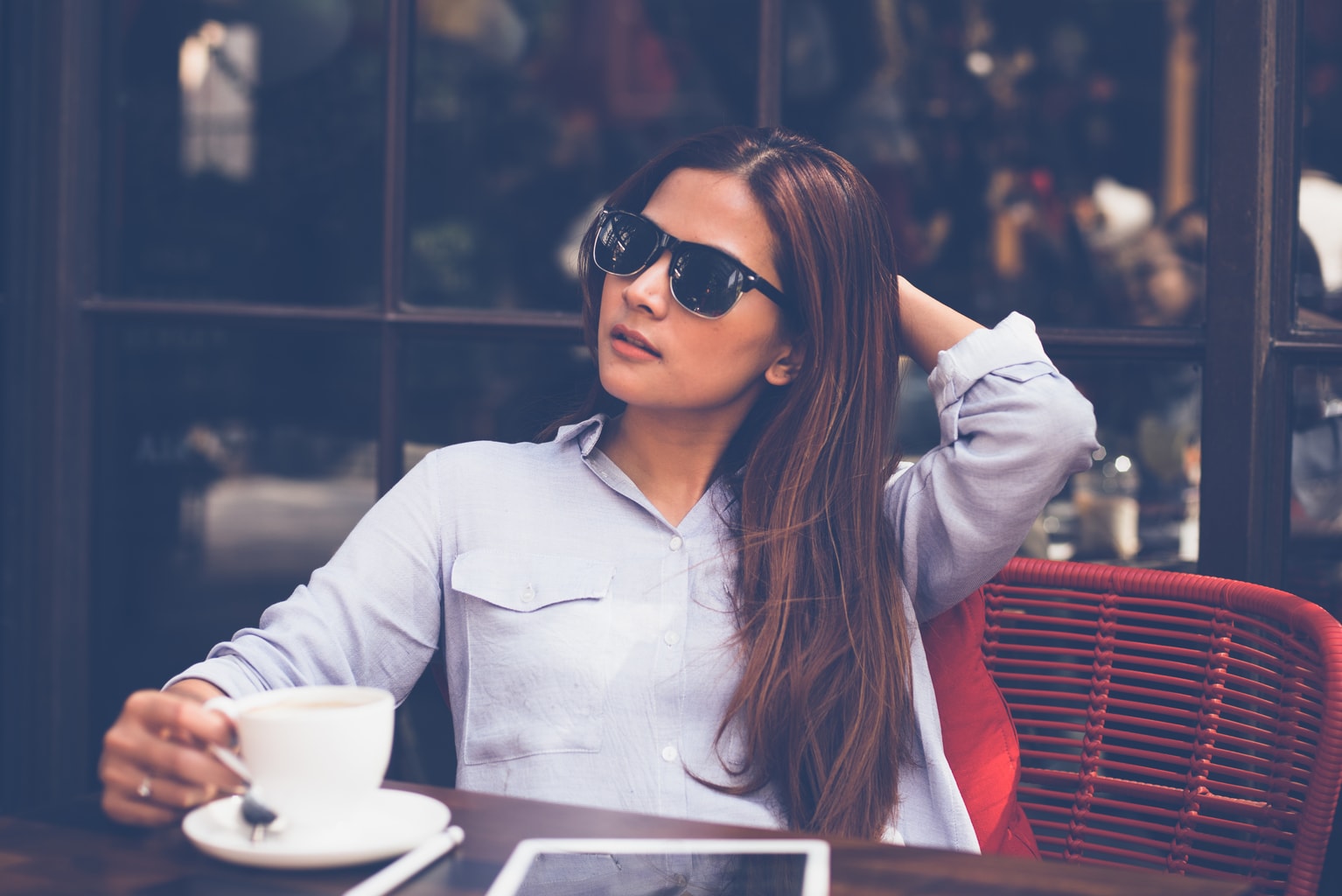 Welcome to the latest edition of Ask CF! Every two weeks, we select a reader fashion question and answer it here on the site. Do you have a specific fashion question for us? Scroll to the bottom of this post to learn how to send it our way!
Ask CF Question
Hi College Fashion,
I recently turned 21! However, people think I am younger and say I look 16. I researched how to look older and some sources suggested wearing more makeup and wearing high heels.
Although I key up my makeup on the weekends, I don't usually go all out during the weekdays. Also, my high heel collection is growing slowly, I don't wear them every day.
Do you have any weekday and weekend outfit suggestions to help me look older?
Thank you,
Mega Babe(y)
Our Response
Dear Mega Babe(y),
As someone who is 26 but could still pass for someone in their early 20s, I understand your struggle.
Luckily, there are lots of things you can do to make yourself look older –particularly when it comes to what you choose to wear!
But, before we get to our tips on how to look older, I would like to dispel a myth that you mention in your letter — i.e., that in order to look older, you need to wear high heels and a lot of makeup. This is not only false, but these tactics can actually do the opposite of what they're intending and make you look even younger!
This is because, when you look young and start wearing high heels and putting on a lot of makeup in deliberate attempts to look older, it can appear to others that you're a kid who's trying to look older, rather than an adult who just so happens to like heels and makeup.
Of course, that's not to say that you can't wear heels or makeup at all! Rather, what I'm saying is that you should treat heels and makeup as accents to your look, rather than the main focus. By doing so, you will project an air of maturity and sophistication, rather than one of a young teen who is trying to look older.
Now that that's out of the way, keep scrolling to see how to make yourself look older through fashion:
How to Look Older: Outfit #1
Products:
The best and easiest way to make yourself look older is to wear classic pieces in subdued colors and timeless silhouettes.
I absolutely love the shape of this blouse, as it not only looks put-together but also has several modern elements (e.g. the larger collar and buttons, the pleated sleeves) that make it look fresh and chic.  
For a mature-yet-youthful look, pair it with some high-rise, black jeans. Any fit will do (here, I chose a modern mom-jean style); just make sure that they fit well and are neither super tight nor super baggy. Add a croc-effect bag for some interesting texture.
Also read: Fashion Investment Pieces: Black Jeans
Next, some low-heeled ballet pumps are not only more comfortable to walk in than true high heels, but will also make you look older without looking like you're trying too hard.
As for jewelry, I picked out a pair of cute stud earrings and a classy chain-link bracelet to add some further visual interest to this otherwise neutral look.  I also added an investment watch: Nothing says "elegance" quite like a classic timepiece that you can wear now and in the years to come.
Lastly, makeup in more subdued colors that flatter your skin tone and eye color can be a great way to add some extra definition to your look without going all-out.
So, with that in mind, I picked out a luxe purple eyeshadow palette and a muted coral-pink matte lipstick. (I happen to own this one; it's ultra-flattering on, and also non-drying!) Alternately, if you're not a fan of coral-toned lipsticks, feel free to swipe on a "your-lips-but-better" shade that goes well with your skin tone.
Outfit #2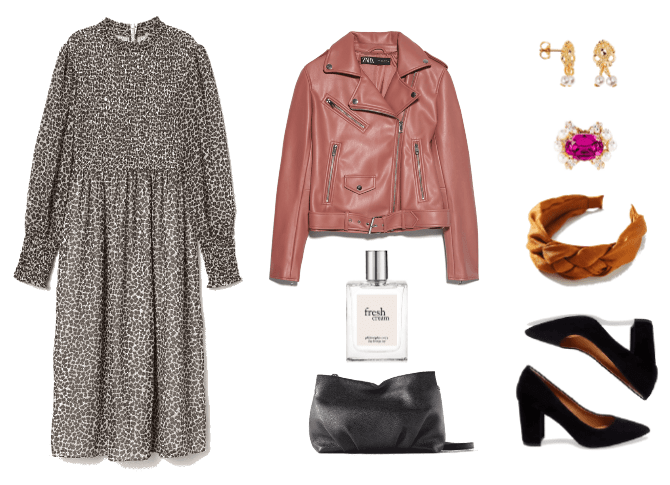 Products:
Contrary to what some people believe, you definitely don't need to show a ton of skin to look like an adult woman. Need proof? Check out this ensemble, which is both covered-up and mature-looking!
Sure, plenty of grown women choose to show a lot of skin and that's totally fine; but if you're going for a more classic aesthetic, which tends to look more mature, it's a good idea to cover up a little more.
Having said that, I chose this midi dress for its trendy leopard print which can be either dressed up or down. Here, I paired it with a pink faux-leather jacket for some fun contrast.
As far as accessories go, I love this braided hairband, whose muted copper shade makes it look more mature, as well as this classic black cross-body bag which can be worn with so many different outfits! These black pointed-toe pumps both literally and figuratively elevate the look. In addition, the chunkiness of the heels themselves makes the pumps much more comfortable than stilettos, because hobbling around with sore feet is never fun! (See, I told you that you could still wear heels! Keep in mind, though, that black ballet flats, loafers, or ankle boots would work just as well with this look.)
Since there's something very grown-up about having a signature scent, I decided to choose one of my favorites to wear on an everyday basis, Fresh Cream by Philosophy. This soft and warm scent is an upgrade from the saccharine perfumes that younger girls often wear, and it smells sweet and feminine. (If sweet scents aren't your thing, go to your local Sephora or department store to find something that suits your senses.)
Also read: Here's Exactly How to Choose a Perfume
Since this outfit is already on the busy side, you don't really need any jewelry, but if you do want to wear it, I'd suggest a delicate pair of earrings, like these pretty studs. If you're feeling bold, you can also add a statement bracelet or ring, like the brightly colored cocktail ring shown here. Note that, with this particular look, I wouldn't recommend a statement necklace or statement earrings, since there's already lots of action around the face.
Finally, here's a fashion tip: When choosing a dress silhouette–especially one with a busy print–it's a very good idea to stick with more covered-up silhouettes. This is because the combination of loud patterns plus lots of skin can be a little much to take in. Furthermore, showing a lot of skin might seem like a good way to look older, but in reality, it can make you look younger.
Outfit #3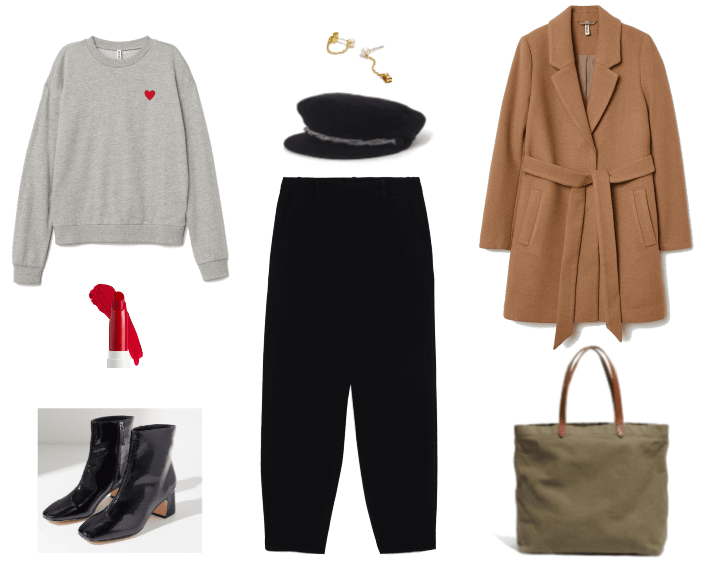 Products:
If ever there were proof that you don't need lots of makeup and sky-high heels to look grown-up and on-trend, this look would be it!
To that end, an easy way to look older is to incorporate business-casual pieces — such as these gorgeous trousers — into your everyday look. While this outfit would still look great with a pair of jeans, the trousers demonstrate a more mature sensibility.
I decided to style the trousers with a gray sweatshirt featuring a cute little embroidered heart. The sweatshirt's casual aesthetic balances out the formalness of the pants, making them more wearable for everyday occasions.
Also read: How to Wear College Sweatshirts the Fashion Girl Way
If you want to step things up, it's always a good idea to look for unique accessories that show off your individual sense of style, and that's where this chic baker boy cap, with its glam rope detail, comes in.
An elegant, wear-with-everything coat is a must-have in any grown woman's wardrobe, which is why I chose this beautiful camel-colored belted style; simply toss it on over any outfit for some instant polish.
Furthermore, these pearl chain stud earrings put an interesting spin on a classic must-have, which is why I thought they'd go well with this timeless-with-a-twist outfit.
To finish off the look, put on a sophisticated pair of patent ankle boots and grab a holds-everything canvas tote. If you choose to wear makeup, keep it classy with a swipe of medium-red lipstick. (Just be sure to keep the rest of your beauty routine very clean and simple for a look that's minimal and grown-up looking rather than over-the-top and juvenile.)
Outfit #4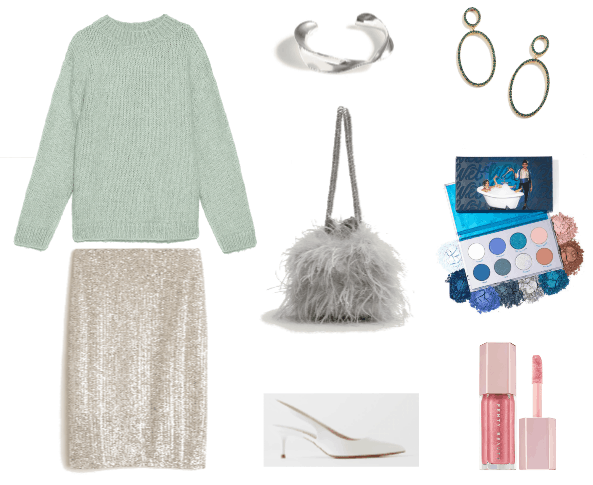 Products:
When people think of sparkly and/or sequined clothes, they may think of things a young girl would wear. Well, I'm here to challenge that notion by proving that you don't have to be a kid to wear "fun" clothes. This is because it is how a piece is styled, rather than what it looks like on the hanger, that determines how the piece will look once you actually put it on.
Moreover, while this outfit packs a big punch, it's actually really easy to put together.
Start off by slipping on this beautiful sequined skirt. I love this piece because it makes a bold statement, yet is classic enough to be worn over and over again with different tops and accessories!
Next, add an oversized sweater; I like this one for its of-the-moment pistachio hue.
This feathered evening bag might seem like a little much. However, because of its subtle gray color, you won't have to worry about it looking costume-y or over-the-top.
Add some elegant skinny dark green drop earrings, as well as a twisted silver cuff bracelet for an extra dash of sophistication.
Since there's a lot going on with this look already, keep your shoes simple by opting for a pair of feminine white slingback kitten heels.
Finally, as far as makeup goes, focusing on one area of the face at a time is a great way to add some extra glamor without taking away from the outfit itself.
Here, I picked out a cool-toned eye palette that features lots of icy blues and greens that'll make your eyes the focal point of your face without clashing with the clothes themselves. As well, a sheer lip gloss in a subtle shade of pink adds a touch more shine, once more without overwhelming the rest of the look.
I hope that these tips and outfits will inspire you to find a sophisticated and grown-up style that'll help you look your age. Thanks for your question!
Do you have a fashion question? Send it to us!
Is there something in your closet that you want to wear but have no idea how to style? Do you need advice on what to wear to an upcoming event? Do you have a specific fashion conundrum?
If you have a fashion-related question that you would like to see answered in this column, simply email it to askcf @ collegefashion.net, and one day you might see your question answered right here on the site!
What do you think of our tips on how to look older?
Have you ever been mistaken for being younger than you really are? Does your age, as perceived by others, influence the way that you dress? Do you have any tips for dressing more maturely when you look young?
Let me know in the comments!
Editor's note: This post was originally published in 2017; it was completely updated and revamped in 2022 with new photos and information.
If you liked this article about how to dress to your age, consider checking out some of our favorites below —