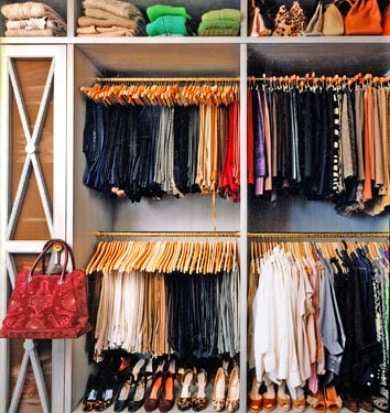 I just finished re-reading The One Hundred by the amazing Nina Garcia. The One Hundred is basically composed of 100 (imagine that) items that Nina believes every woman should own. And while the book is full of inspiration (can anyone say illustrations by Ruben Toledo?), some of the items she considers essentials are just not necessary or practical for college students.
Over the next few weeks, I will be creating my own list of essential items for the stylish college girl. I'll break the list down into different areas of college life: lounging, night out, big interview, gym, weather survival, on-trend essentials for the upcoming season, and starting today: essentials for going to class and exams.
These lists won't include everything you need for college, just items that I think are stylish basics to help build a wardrobe that fits your personal style. These are the classics of the college fashion world, if you will: items in addition to your basic jeans and tank tops. If you are looking for a list of all the necessities for college (things you must bring) check out Wardrobe Essentials for College Girls, which gives excellent ideas and covers the basics.
Throw On and Go: Must-Haves for Every Day
I sometimes find myself pulling on sweats and a t-shirt before class in the morning because it's so easy–but definitely not stylish. To make it easier to be fashion-forward AND comfortable, I think every college student should have a closet full of basic, throw-on-and-go essentials for mornings when you just don't feel like getting dressed up.
Here are some must-have items and outfits that are easy enough to rock even the morning after an all-nighter:
1. Shirtdress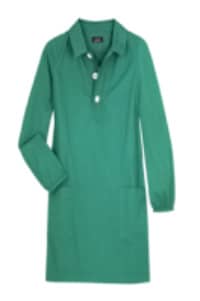 Product Information: Long-sleeved shirt dress- A.P.C., Plaid shirt dress- Fred Flare, Black shirt Dress- Athleta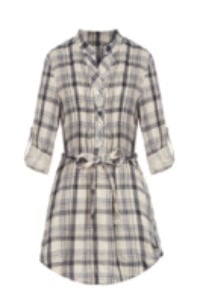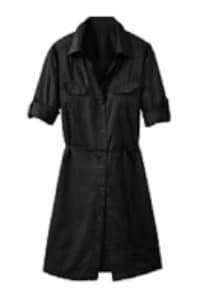 Whether you prefer preppy long sleeves, trendy plaid, or demure black, a shirtdress is a wardrobe essential. It's not as casual as a tee and jeans, but gives you more freedom than a sundress (no pressure to wear heels). I like to pair mine with leggings or tights, but if you pick a shirt dress that doesn't completely cover you, always go for skinny jeans underneath. You want to avoid the pant-less look at all costs, for obvious reasons. Then just slip on flats or boots, and you're ready to go.
2. Cardigans, Cardigans, Cardigans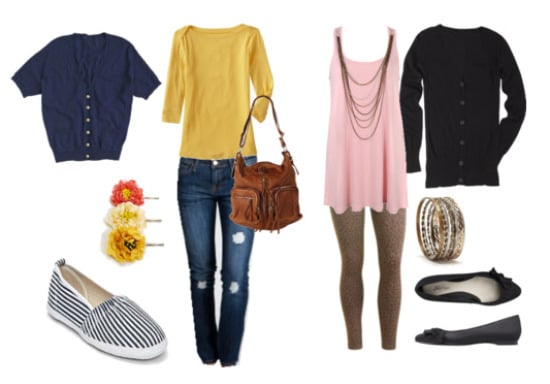 Product Information: Outfit #1: cardigan – Delias, yellow boat-neck – Old Navy, destroyed jeans – Charlotte Russe, striped sneakers – Urban Outfitters, hobo bag – Forever 21, flower hair pins – Old Soul New Heart Outfit #2: pink tunic – Forever 21, animal print leggings – Arden B., black boyfriend cardigan – Alloy, mixed-metal bangles – Urban Outfitters, bow flats – Payless
I can't say enough about cardigans. They are the foundation of my wardrobe. No matter what you pair them with, you look laid-back chic. They can look dressy with a LBD and heels, or completely casual, with a vintage tee and booties. Outfit #1 is a more classic look with a fitted cardigan. Outfit #2 has a tougher vibe, with a loose and trendy boyfriend cardigan.
3. Sneakers
Whether you prefer Converse or slip-ons like those pictured above, you are going to want something besides flats and heels for trekking to class. Some days, your feet just need a break (take note, Victoria Beckham). Pick a pair that fits your style. Here are a few of my favorites: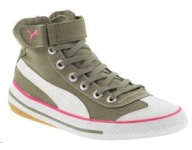 Product Information: Puma Mid-Factory Shoes – Piperlime, Pink Slip-Ons – Urban Outfitters, Lace lace-ups – Urban Outfitters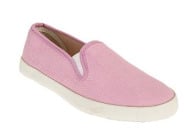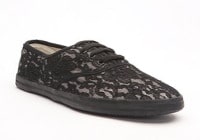 4. Large Tote
You need something of decent size to carry your books (and everything else) in, but no one wants to lug around a basic JanSport. I like the rich color of the Forever 21 bag in Outfit #1, but here are a couple other options: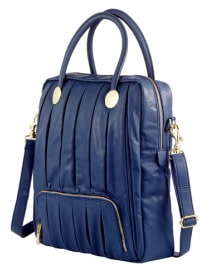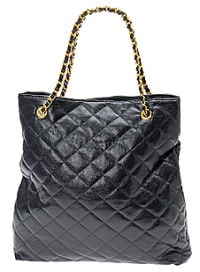 Product Information: Blue Pocket Tote – ModCloth, Black Chain-Strap Tote – Aldo
5. Plain White Tee
This is definitely a basic. I love a men's Hanes tee because it's comfortable, obviously, but also because it offers me creative freedom. There are so many ways to dress up a white shirt, making it a must in any wardrobe. Here are some simple ideas on how to make a white tee more than a white tee: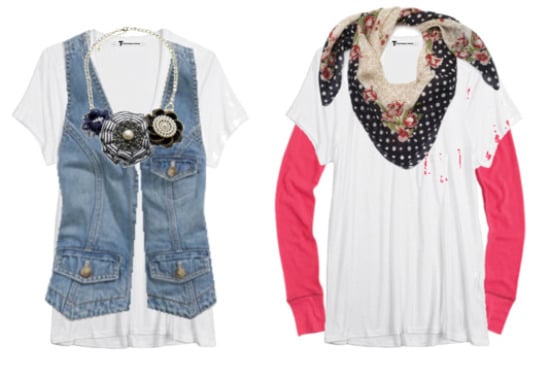 Product Information: White T-shirt – La Garconne, Denim Vest – American Eagle, Flower Necklace – Accessorize, Pink Thermal – Delias, Printed Scarf – Accessorize
Adding layers to a simple outfit can make it unique. I love the look of a vest over a plain tee, and denim was all over the Spring runways, so I've been shopping for a cute denim vest to wear this season. Accessories like statement necklaces and scarves always come in handy when dressing up a plain tee: they add a little extra something to an otherwise boring outfit. Don't be afraid to add your own special touch – just be creative!
More tips on dressing for class:
When you are rushing to class, fueled only by a cup of coffee, you need clothing that is easy to throw on but still expresses who you are. Here are some more things to keep in mind when building a wardrobe of class essentials:
Don't be afraid to have a personal uniform. So you like blazers? Don't be afraid to wear them often, just mix up the rest of your outfit. A signature item (think Blair Waldorf's headbands from GG season 1) makes a statement, setting you apart from the rest. There is definitely nothing wrong with that.
Fashion doesn't have to mean discomfort. Walking to class every day in heels and body-shaping undergarments is just not necessary. Just be yourself and have fun.
Pick versatile items, like the white tee. You want items you can mix and match with the rest of your closet, not items that can only be worn once.
So… what do you think?
Would you wear any of the items on this list to class? What do you usually wear for exams and classes? What do you guys find yourselves pulling out of the closet again and again?
I'd love to hear what your wardrobe essentials are! Next week, I'll have essentials for going out. See you then!