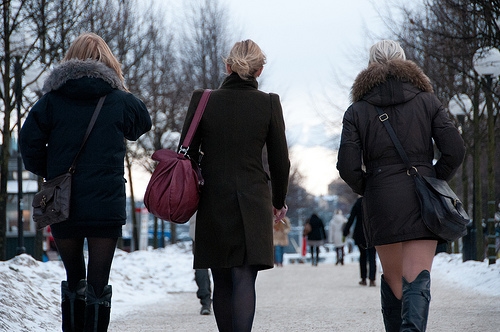 It's almost February, and temperatures in certain parts of the US are beginning to dip under twenty degrees – which translates into subzero temperatures in the Celsius unit of measurement. If you go to college in the Northeast like I do, you'll know that February's perennial snowstorms and promises of a long winter ahead are when the weather slowly chips away at your determination to be retain all semblance of style.
Granted, when snow is pelting hard outside and temperatures are about as moody as a college girl during finals week, I become more concerned with actively trying not to freeze. My sartorial sensibilities, however, would sooner curl up in a ball and cry than let me leave for class resembling the Michelin Man.
If you're tired of letting the weather defeat your resolve to look cute, or if you're moving to a colder state for college and are unsure of what to wear, here are three stylish yet practical looks you can definitely rock in subzero temperatures.
1. The Perpetually Dressy
Product Information: Turtleneck – Uniqlo, Dress – House of Fraser, Jacket – Patagonia, Tights – Wet Seal, Boots – Lands' End, Scarf – Sole Society, Beanie – Forever 21
I refuse to give up my dresses just because it's cold outside, so this is my solution. I swear by Uniqlo's Heattech range because their tops are warm, comfy, and made of breathable fabric that transitions seamlessly into heated classrooms.
Turtlenecks are having a bit of a moment, so I layered one under a plaid shift dress for an on-trend '90s vibe. The fleece-lined tights and snow boots keep your lower body warm against the snow without adding bulk. A good parka can be pricey, but they're investment pieces – I love this Patagonia parka for its classic silhouette, color and sturdy construction.
2. Toronto-Worthy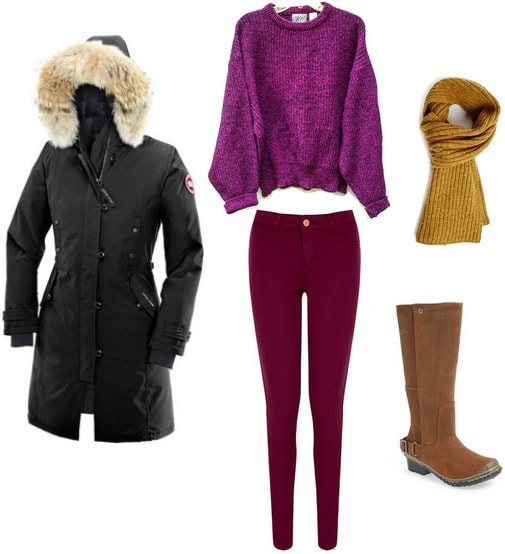 Product Information: Jacket – Canada Goose, Sweater – Etsy, Jeans – Oasis, Scarf – ASOS, Boots – Sorel
Ah, the ubiquitous Canada Goose jacket. It's especially common in areas with killer winters for good reason – though its price tag makes it a serious investment, it's probably the warmest slim-fit parka on the market. If the winds are particularly unforgiving, you could even layer a cozy cardigan over the sweater for maximum warmth.
Since my campus is filled with black parkas come January and February, I paired the coat with splashes of color to set the look apart. Marsala is totally 'in' this year, and when paired with magenta and mustard, it perfectly complements the neutral-colored snow boots.
3. Skirting the Issue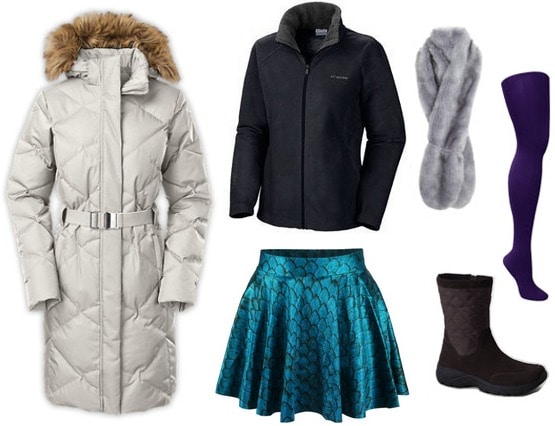 Product Information: Jacket – The North Face, Fleece – Columbia, Skirt – Allydress, Fur Stole – Miss Selfridge, Tights – JCPenney, Boots – Lands' End
I love down jackets with belted silhouettes – they're the easiest way to keep a freezing-weather look figure-flattering. If you aren't daunted by the notion of keeping a white parka clean, this North Face option is another great way to stand out among the sea of black down parkas on campus. It's pretty pricy, but it's an investment piece you'll wear for years to come.
A statement mermaid skirt dresses up this über-comfy fleece jacket, and a faux fur stole amps up the luxe factor while also fighting the cold. Purple tights are an adorable way to play off the blue and green tones of the skirt, and these boots are just as snuggly as your Uggs… but ten times cuter.
What do you think?
Do you have a pair of super-cute snow boots, or a stylish parka? Do you cling to your skirts and dresses in the middle of snowstorms? What are your personal tricks for staying warm in freezing temperatures? Let me know in the comments!