This post may contain affiliate links, which means we may receive a commission if you purchase through our links. Please
read our full disclosure here
.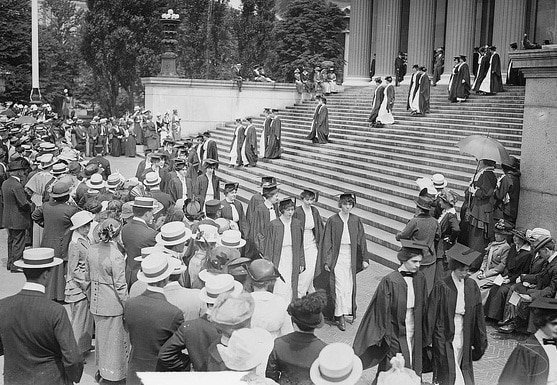 I never thought the day would come, but I'm graduating in two short weeks. Spending my final semester abroad has softened the emotional blow (sangria and tapas will do that to a girl), but I'm finally having to come to grips with the fact that I'll soon be entering "the real world".
Through an extremely scientific study of my Facebook feed, I have determined that all graduating seniors fall into one of two camps: you either know exactly where you're headed post-graduation, whether it be a job or higher education, and you're ready to take on the world; or, you're quaking in your boots wondering if procrastination and late night pizza consumption count as "special skills" on your resume.
Whether the thought of commencement gives you tingly feelings of anticipation or a sinking sensation of impending doom, there's no arguing that it's the first day of the rest of your life. (You may all groan at my cliches.) So, what does that mean? Besides the fact that your mom will probably cry a lot and you'll have to sit through a ton of names being called, it means that you gotta look goodin the photos that will be recorded for posterity.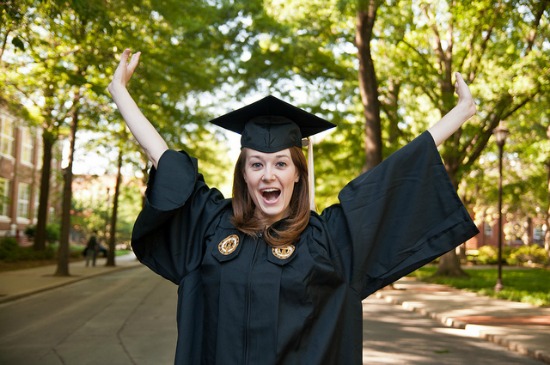 Here at CF, we understand and appreciate different fashion tastes. A frilly pink dress may be a dream outfit for one girl and the "what not to wear" nightmare of another. Since graduation is such a milestone, it's important that your outfit reflect you.
Here, we've put together four different commencement outfit ideas to suit a spectrum of fashion sensibilities. (For more tips and tricks on graduating in style check out previous CF posts: How to Dress for Graduation and 5 Stylish Outfits for Graduation.)
Note: Make sure that your cap and gown don't clash/match too much with your outfit! I totally forgot that my graduation attire will be red and had to scrap my original plans to wear a red dress.
Preppy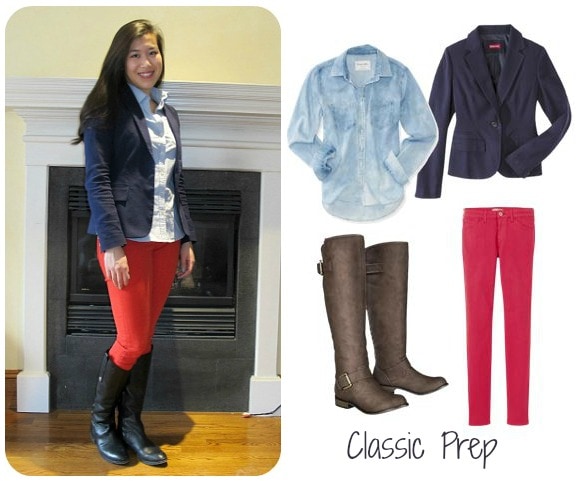 Product Information: Blazer, Top, Skirt, Espadrilles, Necklace
If you're the type of girl who reveres her J. Crew catalog and appreciates a good monogram, then classic prep may be the way to go for you! A crisp white shirt and A-line skirt are a no-fail combination. Low espadrille wedges are comfy, but will still give you a little extra height. Jazz it up with a pink bubble necklace and a fun striped blazer.
Romantic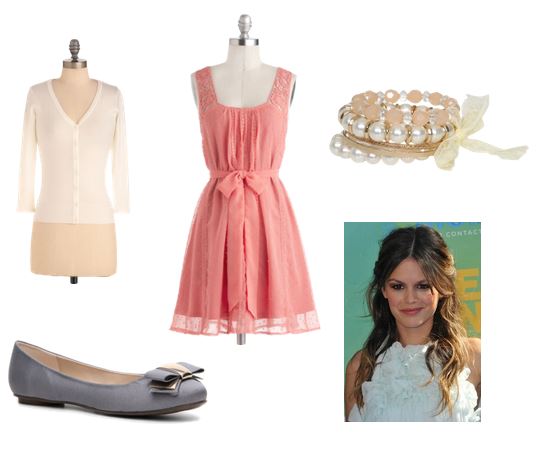 Product Information: Cardigan, Dress, Shoes, Bracelet
Graduation is one of the times where it's acceptable to be the princess of your personal fairy tale. (Cherish it: I'm pretty sure the only opportunity after that is your wedding.) Pair your favorite feminine frock with a light cardigan. Add sweet bow flats or swap in pumps if you're keen on heels. A voluminous, half-pulled-back hairdo is easy, pretty, and will look nice even under your cap.
Edgy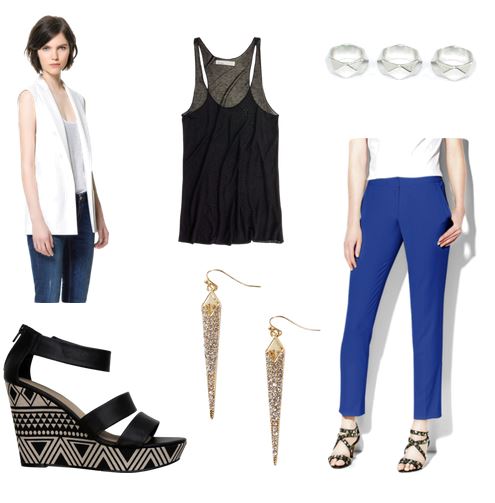 Product Information: Vest, Tank, Trousers, Wedges, Earrings, Ring
So, you're a trendsetter who's always ahead of the fashion game — if so, don't hesitate to show off your personal flair while you're out on the commencement stage! However, it's also important to remember that what's hot now may wind up being fodder for "you wore that back then?" questions a few years down the road.
Avoid an easily-dated look by choosing slightly edgier takes on classic pieces. For instance, an unexpected vest and funky platforms put a twist on the basic tank and trousers look. Indulge with fun accessories!
Bohemian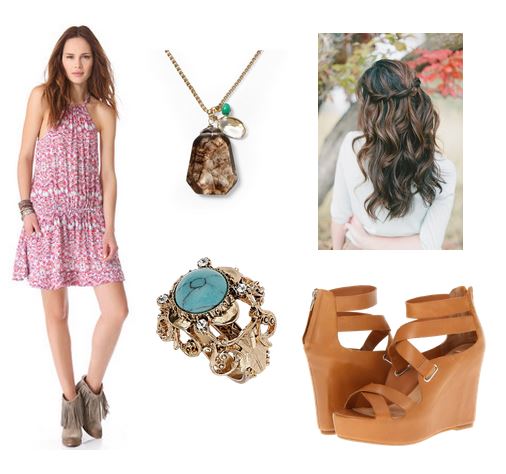 Product Information: Dress,Shoes, Ring, Pendant
For the free spirit, a figure-skimming printed shift is beyond comfortable yet totally flattering. Strappy wedges in your skin tone are walkable and make your legs go on forever. Organic-looking jewelry like a stone pendant and turquoise ring dress up the look, while loose, pretty braids will keep your hair out of your face during the ceremony.
What did you think?
Would you wear these outfits? Are you a graduating senior? Do you know what you're wearing yet? (I don't!) Do you and your friends talk all night about the rest of your lives, where you're gonna be where you turn twenty-five? Remember all the times you spent together? (Did you tear up a little just now? I did.)