This post may contain affiliate links, which means we may receive a commission if you purchase through our links. Please
read our full disclosure here
.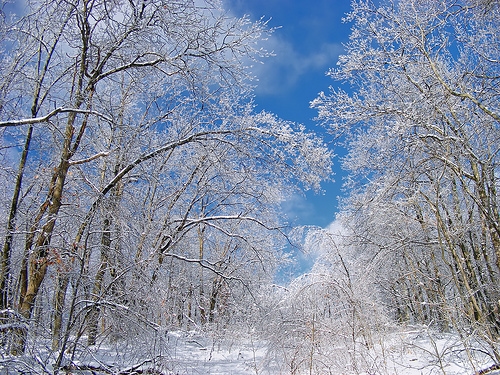 Autumn is quickly turning into winter, which means that it's time to start dressing for colder weather! Depending on where you live, though, your idea of cold weather could mean a lot of different things. For example, someone from SoCal might think that 60 degree weather is "freezing", but a Midwesterner wouldn't even call that temperature chilly.
So, whether you experience mild winters or live someplace where -15 °F is the norm, we've got you covered. Scroll on down to check out four multi-layered, stylish and cold weather-ready outfits for winter:
Cooling Down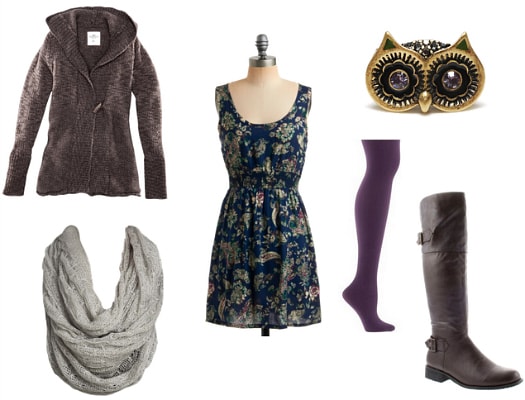 Product Info: Sweater- H&M, Dress- ModCloth, Ring- Betsey Johnson, Scarf- Wet Seal, Tights- Piperlime, Boots- Debenhams
If you're lucky enough to live in an area where the winter weather tends to stay somewhere between brisk and slightly chilly, this outfit is for you!
Start by pairing a pretty printed dress with a cozy knit sweater and some sturdy riding boots. Next, add some colorful tights, which pick up on the purple hues on the dress, then layer on a light gray scarf. For the finishing touch, add a fun piece of jewelry, like this owl ring.
Getting Colder…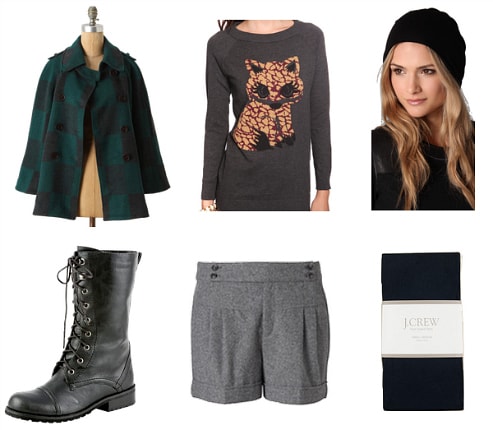 Product Info: Coat- Anthropologie, Sweater- Forever 21, Hat- Shopbop, Boots- Amazon, Shorts- Mango, Tights- J. Crew
This outfit is a great way to experiment with different textures and layers during winter. These wool shorts are warmer than your average pair of cutoffs, and by adding some thick opaque tights you create a look that's perfect for colder weather. Pair the shorts with an adorable pullover sweater, then add some edgy-yet-practical lace-up boots. Finally, add a lightweight cape coat and a beanie and you'll be ready to face some winter weather.
Brrr, It's Cold In Here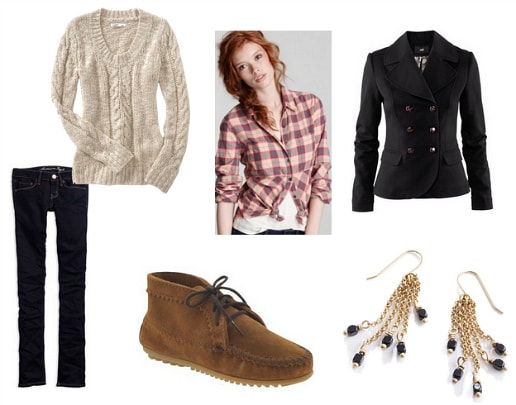 Product Info: Sweater- Old Navy, Shirt- Bloomingdale's, Coat- H&M, Jeans- American Eagle Outfitters, Moccasins- Piperlime, Earrings- Madewell
If you're looking for a simple and super-warm winter ensemble, look no further than this outfit! Start by layering a cable-knit sweater over a cozy flannel shirt, letting the collar peek out. Add a pair of basic skinny jeans and some comfortable moccasins. Finally, put on a classic and structured pea coat, then add a pair of earrings for interest.
Absolutely Freezing!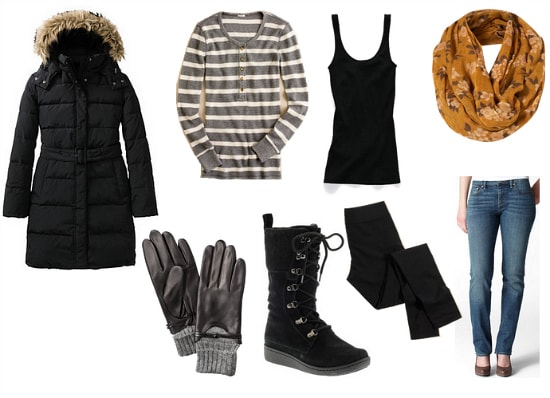 Product Info: Coat- Uniqlo, Thermal- J. Crew, Tank- Victoria's Secret, Scarf- Topshop, Gloves- Target, Boots- Piperlime, Leggings- Aerie, Jeans- Levi's
Live somewhere where the temperatures can reach sub-zero status? Try out this multi-layered look this winter.
Start by creating a base layer consisting of a tight tank top and a pair of leggings, as this will add an extra layer of warmth without adding a lot of bulk. Next, add a cozy striped thermal and a pair of thick, straight-leg jeans. Add some warm outerwear, like this puffer coat, then wear a pair of insulated, waterproof and super-stylish winter boots. Finally, add some warm gloves and a mustard yellow scarf for a cute and practical look for freezing cold temperatures.
What do you think?
How to you dress for winter weather? How cold does it get where you live? Would you wear any of these looks? Which outfit is your favorite? Be sure to leave a comment below and let me know what you think!