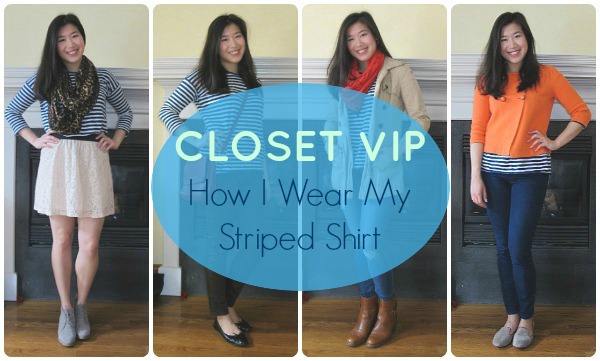 After years of experimenting with different styles of clothing, I feel like my fashion sense has finally evolved to the point where I know exactly what I like and dislike. While I still like to try out new trends, I've noticed that, for the most part, I purchase clothes similar to the ones I already own.
For instance, I was out shopping with a friend recently and grabbed a few pieces to try on: when she saw what I had in my arms, she rolled her eyes and said, "Really? Anotherstriped shirt?"
It was definitely a fair point, but the thing is, I wear striped shirts so often that it's not, in my mind at least, totally impractical to treat them as a basic. For the record, I think I own about five of 'em… not including sweaters.
The 3/4 sleeved striped shirt, also called a sailor or Breton shirt (or if you're feeling fancy/French: "la Marinière") is definitely a major Closet VIP, along with the navy blazer, denim jacket, and black skirt. Read on for tips on how to style this classic piece!
Choosing the Perfect Striped Shirt
Color
A navy/white or black/white stripe combo is the easiest to style. I have shirts in both colors, but find that I reach for the navy one more often. Navy/white has more of a preppy or nautical vibe, while black/white can go chic or edgy depending on how you style it.
If you love colors, a pink/white or olive/white striped shirt would be so cute for spring!
Stripe Width
You've probably heard lots of warnings that horizontal stripes will make you look heavier. This can be mitigated by choosing the right stripe size. Very thin or very thick stripes do have a tendency to visually widen the body, but a medium stripe won't have that effect.
Exceptions: If you're petite, try out a thinner stripe. On the flip side, taller girls can get away with thicker stripes.
Material/Cut
I like my striped shirts slightly boxy and made from a heavier knit. I find this the most flattering on my build, since I don't have a very defined waist. However, curvier girls or those with hourglass figures may want to look for a lighter knit that skims the body.
Sleeve Length/Neckline
A 3/4 length sleeve is the most versatile and traditional, although a striped tank or short sleeve tee can be great for hotter weather.
Most striped shirts have either a wide boatneck or a round crewneck. If you have broad shoulders, keep in mind that a boatneck can make your shoulders look wider.
Suggested Retailers
Round up the usual suspects!  J. Crew, Gap, Old Navy, Madewell, and L.L. Bean all have great options. If you're willing to shell out some Euros, classic French retailers St. James and Petit Bateau both make a gorgeous la Marinière. 
How I Wear My Striped Shirt
In the Trenches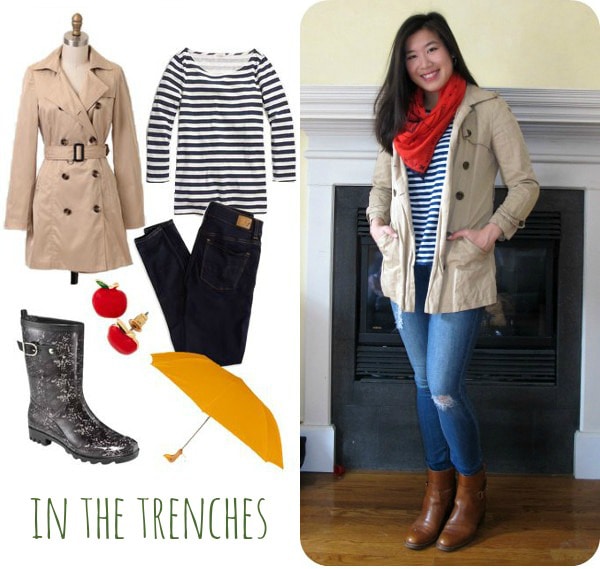 Product Information: Shirt, Trench, Jeans, Boots, Umbrella, Earrings
I am unfortunately the furthest one can get from being an early riser. Luckily for me, on the days when I've hit the snooze button one too many times and need to make a mad dash to class, the trusty combination of stripes and a trench coat is always there to make it at least look like I spent time putting together an outfit.
Bright accessories will liven up a simple outfit and put a smile on your face even during the dreariest of April showers. (And a cute yellow umbrella will help to fill the void in your heart left by the end ofHow I Met Your Mother.)
Pattern Play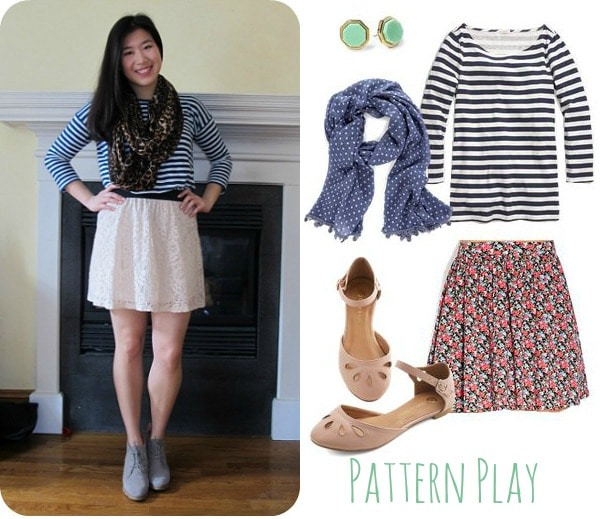 Product Information: Shirt, Skirt, Scarf, Shoes, Earrings
If you like the look of mixed prints but aren't sure where to start, stripes are a great jumping off point! I paired mine with leopard and lace, but you can experiment with all sorts of patterns! It helps to have one color that runs through all of the prints to help tie them together.
Also, smaller, denser patterns, like those on the floral skirt or polka dotted and leopard scarves, won't compete too much with the larger stripes.
Orange Crush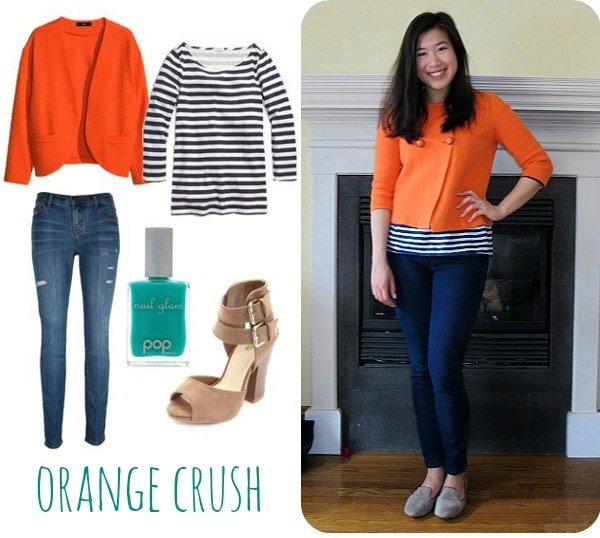 Product Information: Shirt, Jacket, Jeans, Heels, Nail Polish
Orange can be a tricky color to style since it packs a big punch. I've owned this J. Crew trapeze cardigan for six years now and I've probably worn it as many times, and always with a plain white shirt. While I was putting together outfits for this article, I spotted it in my closet and thought, why not? I'm glad I did – I love the way the bright orange looks against the crisp blue-and-white stripes, so it'll definitely be getting a lot more wear!
One caveat though: black/white stripes with orange can easily veer into Halloween decoration or prison-inmate territory!
Springtime Uniform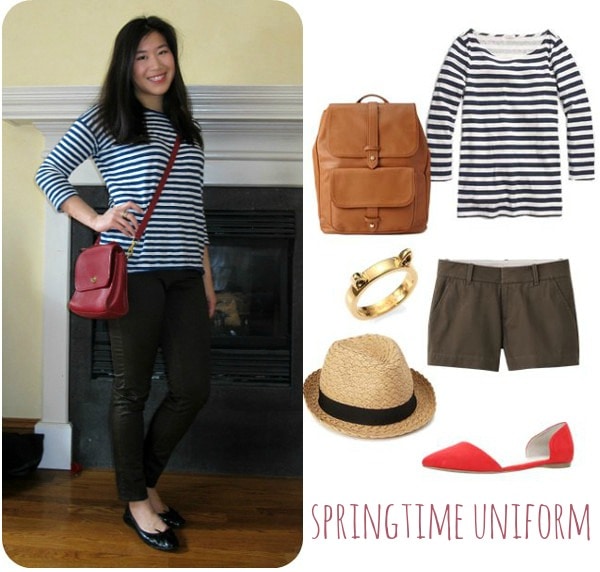 Product Information: Shirt, Shorts, Flats, Backpack, Hat, Ring
When it starts getting warmer, all I want to do is take long walks around Boston on the weekends, selecting fresh produce at the farmer's markets and discovering all the treasures my city has to offer. (Well, that's what I would like to do. I usually just wind up sleeping until one in the afternoon.)
In all seriousness though, a striped shirt is a wonderful companion for those Instagram-perfect weekends. A pair of khaki or olive green trousers or shorts are a nice departure from jeans, while a vintage satchel or backpack keeps your hands free for rummaging through a crate of vinyl records/flying a kite/having a picnic/whatever cool thing it is that people who actually wake up before noon on Saturdays choose to do with that time. (Full disclosure: I sometimes wear this shirt as a pajama top. That counts, right?)
What did you think?
Would you wear these outfits? Do you own a striped shirt? How do you like to style it? What other closet essentials would you like to see me cover? As always, let me know in the comments!