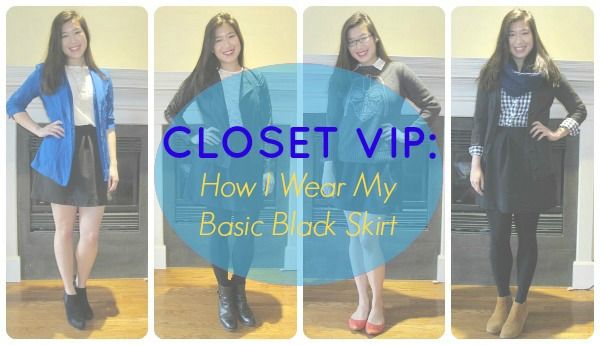 Previously on Closet VIP, I've talked about the ways that I wear my favorite navy blazer and denim jacket. This time, I'll be showing you four ways to style a basic black skater skirt.
Before we get to the looks though, I wanted to share a few tips to keep in mind when shopping for a skater skirt. Read on to learn more!
Choosing The Perfect Black Skater Skirt
A skater skirt is one that is fitted at the waist and flares out into an A-line shape, but not all skater skirts are not created equal! I've noticed that there are four main variations on these popular skirts; while they're all quite similar, I thought it'd be worth pointing out some of the differences between them: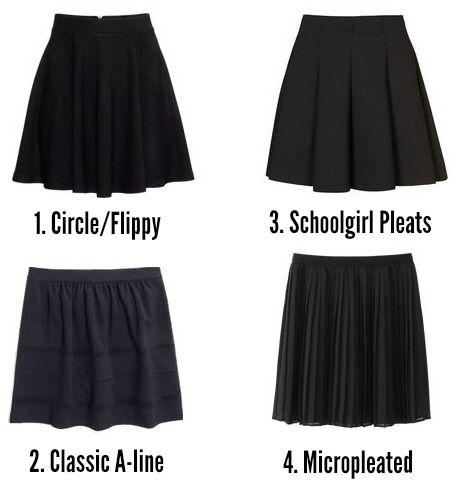 Product Information: 1, 2, 3, 4
Flippy/Circle -These are typically made out of a knit fabric, like jersey or ponte. They don't have pleats and are the most casual of the four types. Go for one in a heavier fabric, as these types of skirts are quite prone to flying up on windy days!
A-Line -This silhouette usually flares out less dramatically than the others, giving a more streamlined look.
Schoolgirl Pleats -These have large knife or box pleats, which are great for those of you with a preppier style.
Micropleated – These skirts are usually chiffon or some other airy fabric, so they don't usually flare out quite as much. Micropleated skirts have a more delicate, feminine feel.
Mini skirts are great for going out and midi/maxi skirts are still trendy, but the most flattering and versatile hemline is mid-thigh to knee-length. It's appropriate for class or work (although you might want to keep the hem closer to the knee for work) but still shows off some leg.
Suggested Retailers:
Skirts usually don't go through as much wear and tear as say, jeans or jackets, since there isn't so much friction and pull at the seams. Fast fashion stores, like H&M, Forever 21, and Zara, all have some great options. If it fits well and the price is right, go for it!
How I Style My Black Skirt
It's still pretty cold here in Boston, which is why the following ensembles read a little more "winter" than "spring".  The accompanying outfit sets are more geared towards springtime, though! The A-line skirt I'm wearing is from Madewell, purchased secondhand at Buffalo Exchange.
Leather and Lace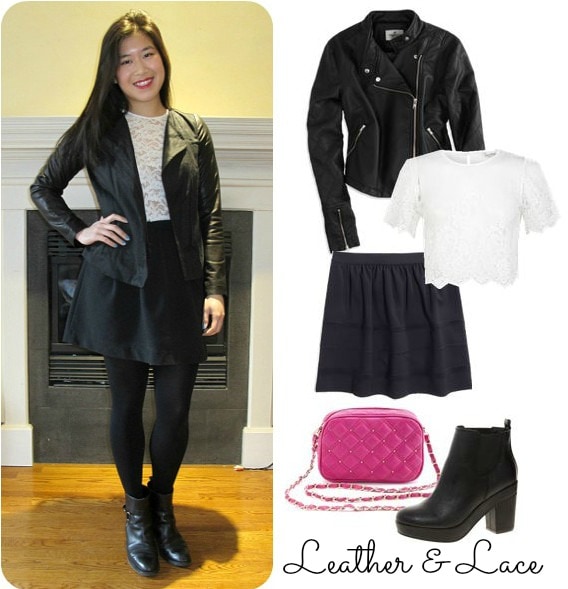 Product Information: Skirt, Top, Jacket, Boots, Bag
Sometimes it's simple that makes a statement! A black-and-white ensemble couldn't be easier to throw together, but the textural contrast of girly lace and tough leather keeps the look fresh. I always like to throw in a pop of color, though, either in the form of a bold lipstick or a punchy handbag.
Geek Chic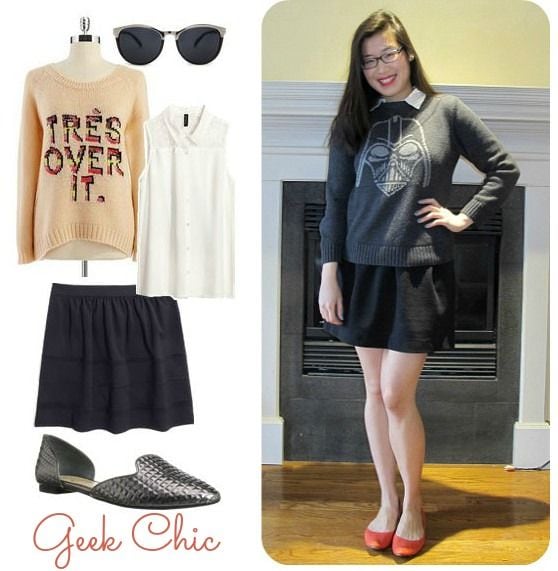 Product Information: Skirt, Sweater, Blouse, Flats, Sunnies
If you've been reading CF for a while, you might know that I also write the Geek Chic column. While I don't normally flaunt my fandom preferences in such an obvious way, I saw this Darth Vader sweater online a couple years ago and had to have it… which led to my lurking in the shadows of Gap Kids trying on various sizes until I confirmed what I've always suspected: I have the body of a twelve-year-old boy.
But I digress. The point here is, a graphic crewneck sweater can be a great foil for a skater skirt! If you want to play up the quirky-prep vibe, layer a collared shirt underneath the sweater.  I don't know if it's just me, but sometimes I feel like my feet look weirdly small when I wear ballet flats with a full skirt, which is why I chose a pair of pointy-toe flats. For full on geek chic regalia, don't forget your glasses! (Mine are authentically thick – I have awful vision!)
Bold Blazer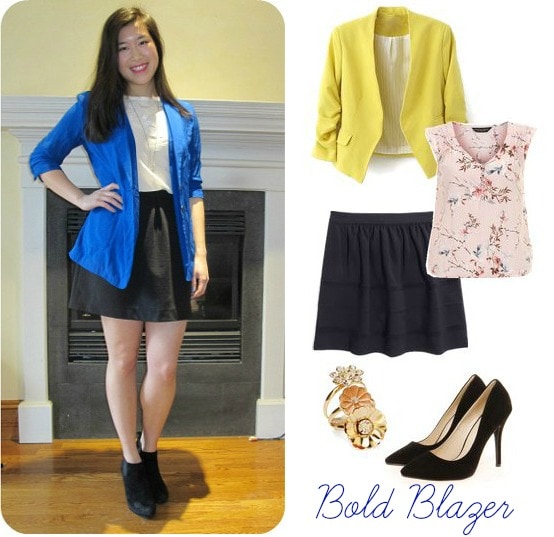 Product Information: Skirt, Blazer, Top, Pumps, Ring
For a fancy dinner or night out, dress up your black skirt with a blazer in a color that packs a punch! I chose a solid colored top, but a patterned blouse that either complements or contains the color of the blazer would also look great. Heeled boots or pumps pull it all together for a fashion-forward ensemble that's a cinch to assemble.
Sweater Weather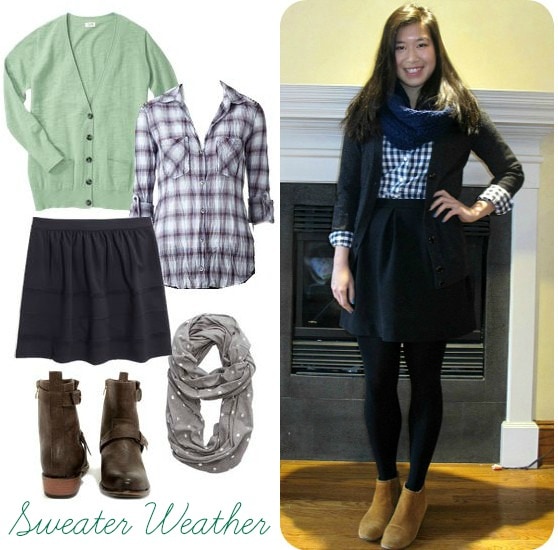 Product Information: Skirt, Shirt, Boots, Cardigan, Scarf
Like they say, April showers bring May flowers! Even though it's officially spring, I'm sure many of you CF readers can't yet venture outside without a heavy coat, or at least several layers of clothing. For those chilly days, try out a cozy combination of a plaid top, cardigan, and ankle boots. (This would also be cute with rain boots!)
What did you think?
Would you wear these outfits? Do you have a go-to black skirt? How do you like to style it? What other closet essentials would you like to see featured? Let me know in the comments!