When responding to comments for my Geek Chic column, I always take note of reader requests for future articles. And though it's not really a "geeky" show, I've received more requests than I can count for a post on the popular sitcom How I Met Your Mother.
So today, your wish is our command: We're breaking down the styles of the NYC BFFs of HIMYM. (Enough acronyms for you?) I hope you'll find it legen — wait for it… DARY!
Challenge Accepted: About How I Met Your Mother
CBS sitcom How I Met Your Mother (or HIMYM, because that's a really long name to keep typing) was created by Craig Thomas and Carter Bays and premiered in 2005. The show is currently in its eighth season and has been renewed for a ninth.
The show is set up as an elaborate flashback where protagonist Ted is telling his two children the story of how he met their mother, along with all the crazy shenanigans he and his friends Barney, Marshall, Robin, and Lily get into along the way.
Ultimately, it's a fun, hilarious show about the lives of five thirty-somethings living in New York City.
Outfits Inspired by HIMYM
Two words: Suit. Up.
Ted
Have you met Ted? Ted Mosby of Shaker Heights, Ohio (played by Josh Radner) is an architect and professor who yearns to meet the woman of his dreams.  Although he's got many desirable qualities — he's intelligent, romantic, and endearingly dorky, plus he loves trivia and Star Wars — Ted keeps getting his heart broken.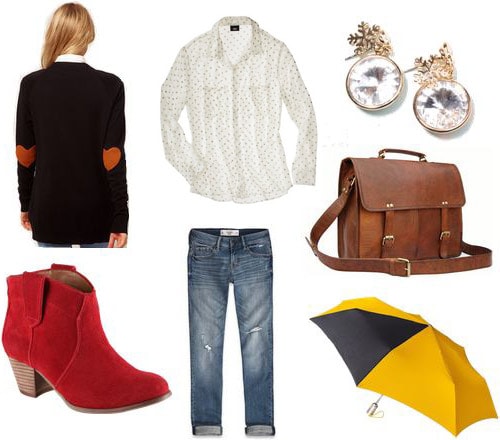 Product Information: Cardigan, Blouse, Jeans, Boots, Satchel, Earrings, Umbrella
Since Ted now teaches at Columbia, his old flannel-and-jeans outfits have evolved into more polished ensembles featuring scholarly blazers and button-downs. Get Ted's style with a cute polka-dot top, worn-in boyfriend jeans, and a roomy leather satchel. Top it off with an elbow patch cardigan that recalls Ted's corduroy blazers without being stuffy; plus, the heart patches allude to his romantic nature.
Add accessories that reference some of Ted's flames: snowflake earrings for Victoria, the baker who moved to Germany, and a yellow umbrella for the mysterious Mother. Finally, slip into a pair of ankle boots that are infinitely more stylish than Ted's beloved red cowboy boots!
Lily
Lily Aldrin, played by Buffy alum Alyson Hannigan, used to be a bit of a punk, but is now a bubbly kindergarten teacher married to Marshall. (They call each other Lilypad and Marshmallow. Awwwww.)  She's a great shoulder to lean on, although she can't keep a secret to save her life. Lily and Marshall recently had a son, Marvin.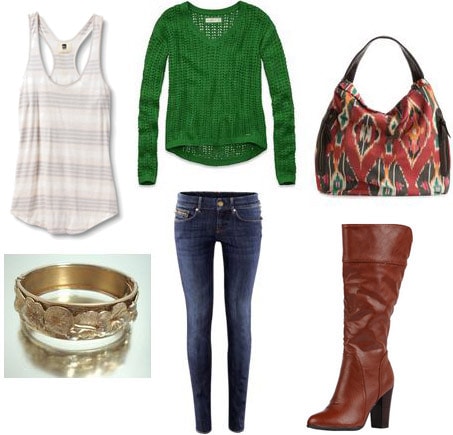 Product Information: Sweater, Tank, Jeans, Boots, Bracelet, Bag
Lily has a bit of a shopping addiction, which seems to mostly manifest in the form of brightly colored or patterned tops and dresses as well as slouchy sweaters and knee-high boots. Get this feisty redhead's style with a kelly green pullover layered over a striped tank. Finish off the look with sexy platform boots and a boldly printed hobo bag.
Robin
Robin Scherbatsky, played by Cobie Smulders, is a tough-as-nails reporter from Canada. (Though she hates to talk about it, she used to be a Canadian teen pop star known as Robin Sparkles.) Her father didn't really want a daughter, so he raised Robin as a son, forcing her to play hockey, go on dangerous wilderness treks, and go hunting with him. Although Robin is bitter about her upbringing, she still retains a passion for hockey, guns, and cigars.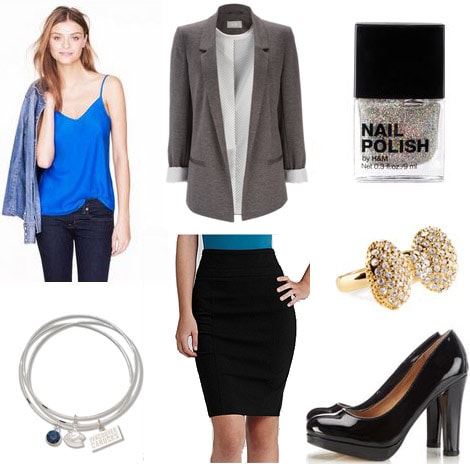 Product Information: Blazer, Top, Skirt, Shoes, Ring, Bracelets, Nail Polish
As an anchorwoman for World Wide News, Robin wears professional outfits, usually with a sexy twist.  She favors slinky camis, fitted skirts, and plunging necklines. Snag her look with a cobalt top, blush blazer, and pencil skirt. Robin would love these pretty bracelets that support her hometown hockey team, the Vancouver Canucks. Finish with fun extras that allude to Robin's pop star past in the form of sparkle nail polish and a pave bow ring. Let's go to the mall!
Barney
Barney Stinson, played by Neil Patrick Harris, is legen-wait for it, and I hope you're not lactose intolerant because the second half of that word is–dary! He's the ultimate womanizer and spends most of his time creating elaborate plots to seduce women: the crazier the plan, the better. Barney also has a bit of an obsession with laser tag. Although Barney has a high-paying job at GNB, we rarely see him do any work. Nevertheless, he's always dressed to the nines–nothing suits him like a suit!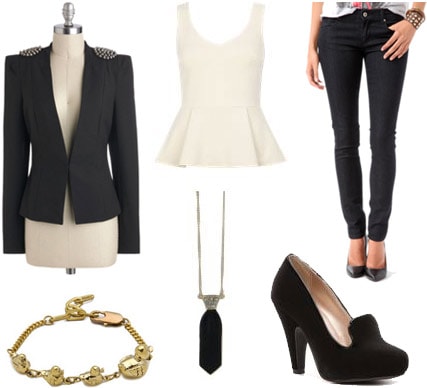 Product Information: Jacket, Top, Jeans, Shoes, Necklace, Bracelet
Follow Barney's "suit up" mantra with this feminine take on a suit. A studded blazer adds a bit of edge to a cute ivory peplum top and classic black skinny jeans.  Finish off the "suit" with a pair of heeled loafers and a tie-shaped necklace. Finally, add a duck bracelet as a reference to the dreaded ducky tie that Barney's forced to wear after losing a bet with Marshall.
Marshall
Marshall Eriksen, played by Jason Segel, is an easygoing environmental lawyer who hails from Minnesota. He's an avid fan of the Vikings and a paranormal enthusiast utterly convinced of Bigfoot and alien existence. Marshall can be a bit of an idealist, but at the end of the day, he's a devoted friend, husband and father.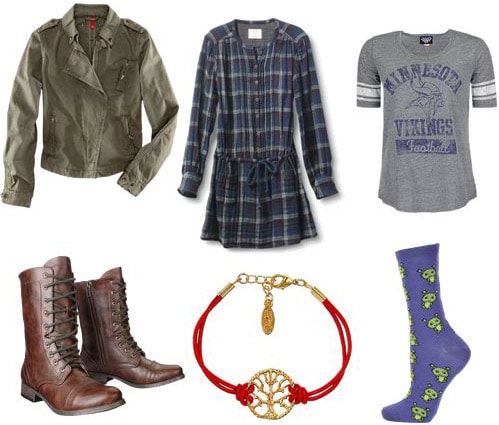 Product Information: Jacket, Dress, Tee, Boots, Socks, Bracelet
Capture Marshall's laid-back look with a comfy plaid shirtdress and cargo jacket;  if it's cold out, layer a Vikings tee under the dress (or substitute the team of your choice).  Slip on a pair of rugged boots along with quirky alien socks as a reference to Marshall's beliefs. Finally, slip on a pretty tree bracelet that alludes to Marshall's devotion to protecting the environment.
What did you think?
Would you wear these outfits? Do you watch HIMYM?  Are you looking forward to finding out the mother's identity?  What other television inspirations would you like to see featured? Let us know in the comments!