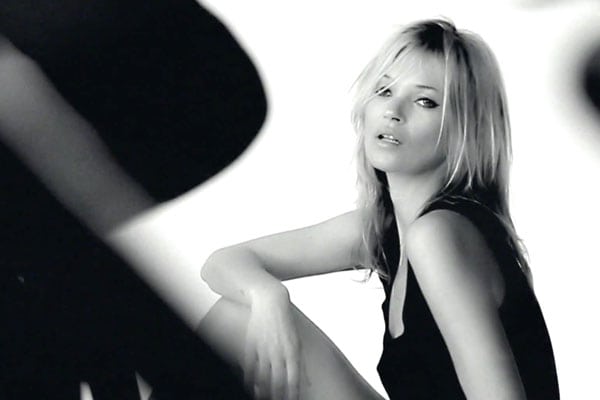 So the Closet Makeovers Series continues on with a blog on how to achieve Kate Moss' style. I threw her in the middle the edgy girl's style guide because she came up so many times in your comments that I just couldn't wait!
Kate's Sense of Style
After looking through countless photos of Ms. Moss' style, there is really only one key to nailing her style: wear whatever you want as long as you are in love with it! People always say she can pull off anything, and I truly believe it's because she has the confidence to do so!
Kate's style definitely has an edge to it, which makes her the perfect style role model if you have an edgy sense of style.
Also, her look is very modern and trendy. So even if you are a little unsure about imitating her style to the letter, there are definitely some pieces you can draw from her style that will make any outfit pop.
Kate's Wardrobe Essentials
Amazing, well cut, black jackets:
Jackets are what I consider an essential in every woman's wardrobe, and Kate has the jacket look down to a science.
From a great boyfriend blazer to a leather bomber, or just a cute wrap, tailoring is everything when it comes to jackets. When looking for a jacket to have tailored, buy one that fits the widest part of you and then have it taken in from there. I realize this is not totally realistic for all of you, but small alterations, like shortening a sleeve, are not too difficult if you know your way around with a needle and thread. Also, a good tailor is your best friend – if you find one, don't let him go!
Alternatively, you can always buy a jacket in your size and hope for the best. Here are a few that I can totally see Kate wearing.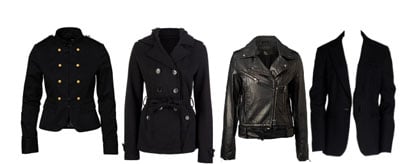 Product Information: Military Jacket – H&M, Trench – tillys.com, leather jacket – newlook.co.uk, boyfriend blazer – piperlime.com
Cuts that show off her legs:
Kate knows that her legs are one of her best assets. Whether she's wearing a flirty hem, tight skinny jeans, black tights, or shorts, she loves to show off her mile-long legs. You can get a similar look by rocking skinny jeans, shorter shorts, or a mini dress.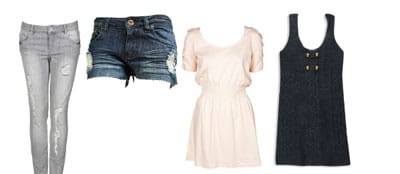 Product Information: Grey Jean – topshop.com, shorts – styleforless.com, cream dress – topshop.com, gray dress- Forever 21
Horizontal stripes:
When going for a print, Kate Moss tends to gravitate to the horizontal stripe. While horizontal stripes can make some figures look wide, Kate can totally pull this off because she has such a small frame. She loves to wear striped shirts and dresses, like the options below.
Product Information: Top – peacocks.co.uk, Tank – Forever 21, cardigan – axparis.co.uk, dress- yesstyle.com.
Vests:
My roommate will love me for this: a whole section on vests. Ms. Moss knows how to work the vest, and hers always have a special detail like white trim or cute little draw strings. Here are some very Kate-esque vests that you can throw on over a tee, tank, or even a dress for an ultra-trendy look.
Product Information: Faux Fur – American Eagle, Black vest – Forever 21, Fringe Vest – Forever 21, gray vest – Wet Seal.
Scarves:
Yes! Who doesn't love scarves? You can never have too many.
Kate is really into scarves, from bulky knits to skinny ones that look like ties. She throws them on over everything for an extra pop of color and to add complexity to any look.

Product Information: Knit scarf – H&M, polka dot scarf – yesstyle.com, purple scarf – forzieri.com, striped scarf – American Eagle.
Motorcycle boots:
Kate loves her go-to black boots for that city-chic look. She wears millions of different styles of boots, but many of them are black and have that rocker edge to them. Here are a few examples of similar rocker-chic boots.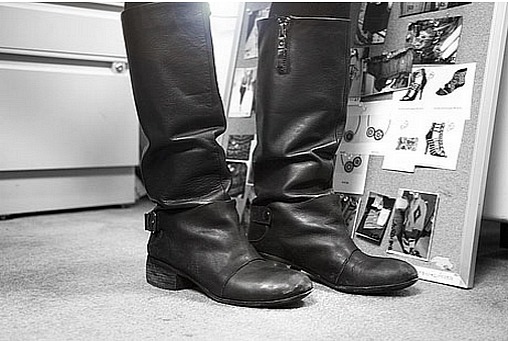 Product Information: Flat boots – cutesygirl.com, Heeled ankle boots – cutesygirl.com, over-the-knee boots – pricelessshoes.co.uk, Mid calf boots – Saks Fifth Avenue.
An oversized bag:
Want to carry your things around the Kate Moss way? Go for the oversized tote! I personally could never use one for class because I lug around way too much stuff, but there's always the weekend! Here are a few oversized bags inspired by Kate's style.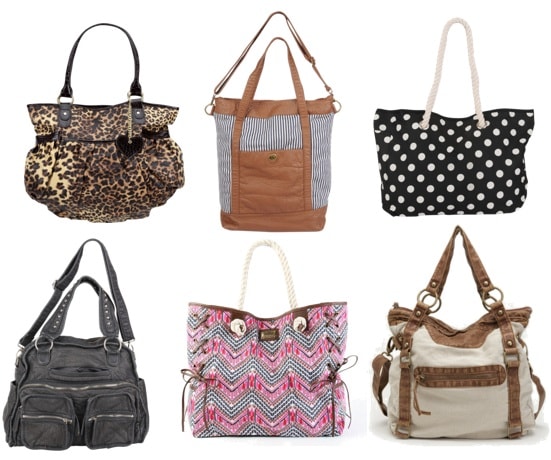 Product Information: Tan tote – Avelle, White bag – yesstyle, Black bag – Aldo Shoes.
What do you think?
Are you inspired by Kate Moss' sense of style? What is your favorite Kate Moss look? Are there any other items you think should be included in the list of Kate Moss basics? Who is your fashion muse?
Leave your thoughts in a comment!