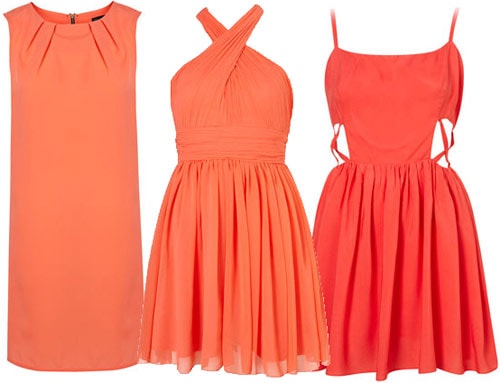 Do you struggle with transforming your outfits from day to night? Don't worry, CF is here to help turn that daily annoyance into a fun challenge. This column will focus on one piece per week, and teach you how to take your look from study sessions in the library to dancing the night away.
As I'm sure you're all aware, tangerine is one of spring's hottest colors. Its gorgeous combination of orange, peach and pink perfectly complements a summer glow, giving you an instant beach goddess glow, even if you (like me) can't stand tanning! A flowing dress in a shade of tangerine is shaping up to be the ultimate spring and summer piece, so I'll be showing you how to create a day-to-night look you can recreate when you find your perfect dress.
Depending on your skin tone, you can go light, dark, warm, or cool when finding your perfect shade of tangerine. (See our guide to finding your perfect colors for tips!) I'm a warm spring, so I chose a dress with more coral in it, but go for your own shade when choosing yours!
Tangerine Dress: Class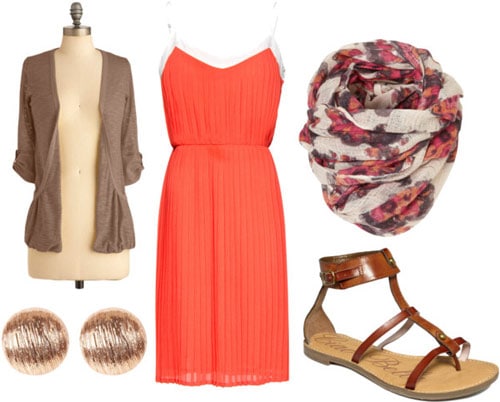 Dress, Cardigan, Scarf, Sandals, Earrings
Pair your dress with a light, fawn-colored cardigan for your daytime look. This will give a flowing, goddess-like dress a little more structure for class. A floral print scarf with complimentary color tones is the perfect accessory for making your look more polished. Create a grecian vibe with brown gladiator style-sandals and highlight your summer glow with round copper stud earrings.
Tangerine Dress: Night Out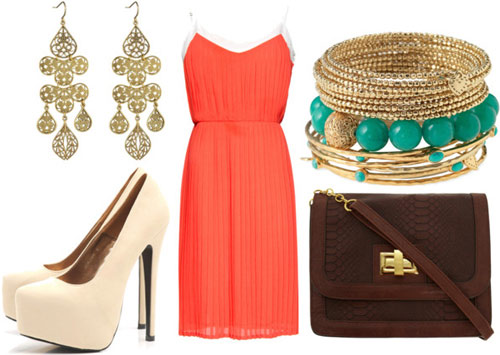 Dress, Pumps, Bag, Bangles, Earrings
Accentuate the golden glow of tangerine by accessorizing with lots of gold jewelry for night. I love these gold bangles with turquoise accents because they give the look a more exotic vibe. Gold drop earrings also serve to accentuate the dress. Keep the rest of your look simple by choosing a plain cross-body bag in a simple, neutral shade like a rich, chocolatey brown. Shoes should also be kept simple – these cream-colored heels look chic yet effortless.
Your thoughts?
What's your favorite color for spring? What do you think of the outfits? Be sure to leave a comment and let me know – I'd love to hear what you think!