This week's Fashion Inspired by Art is based on Mark Rothko's White Center (Yellow, Pink and Lavender on Rose). Mark Rothko is one of America's most famous postwar artists and this painting set the record for the current most expensive postwar piece of art.
Below you'll find three spring outfits inspired by this bright "multiform" painting. You'll also learn more about Mark Rothko. Let's get to it!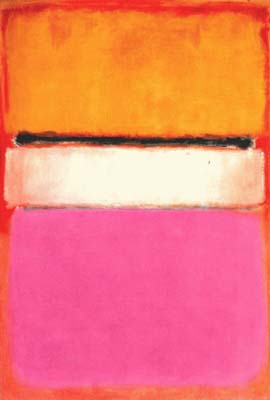 Mark Rothko's "Multiform" Paintings
Mark Rothko did not adhere to any one art movement, but is most well-known for his abstract expressionist "multiform" paintings. The term "multiform" was given to his work by critics and stuck because it is an accurate description. Rothko developed this style in 1946 and described it as containing human expression without adhering to myth and symbol.
Rothko's "multiform" paintings all resemble White Center (Yellow, Pink and Lavender on Rose) above. They are blocks of color, separated horizontally. The fascinating thing about Rothko's color blocks is that, despite their seeming simplicity, they actually pop away from the background with a surprising amount of depth. Additionally, his works' nondescript names and vibrant color palettes let the viewer project a bit of themselves onto the painting.
Color Pop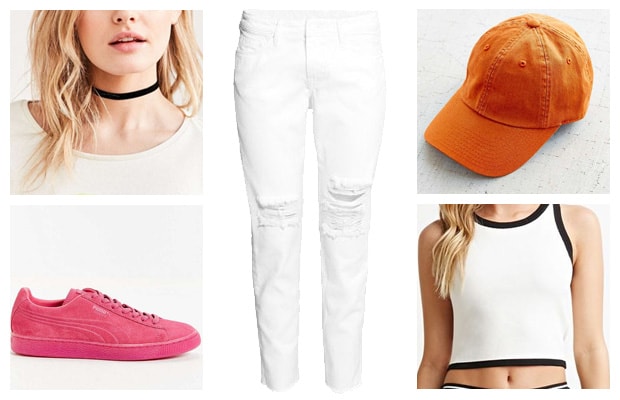 Products: Choker, Sneakers, Jeans, Baseball Hat, Top
This first look is inspired by the bright, bold colors of the painting. One way to look at the painting is to perceive its energy — which this outfit has a lot of! Make a statement with solid-colored bold accessories. To let the colors shine, stick to a monochromatic white outfit that is still edgy without distracting from your statement pieces.
Human Emotion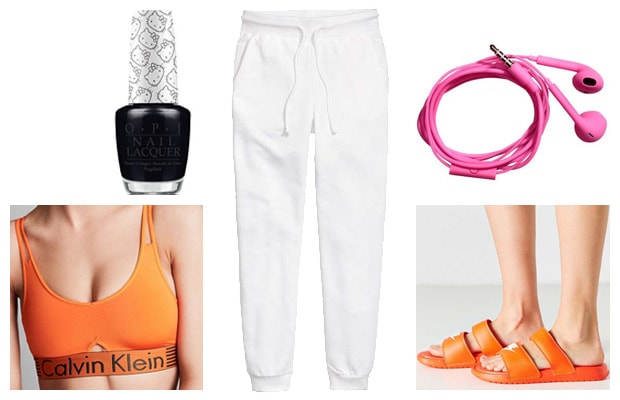 Products: Nail Polish, Bralette, Sweatpants, Headphones, Nike Slides
This outfit is inspired by Rothko's commitment to human emotion, as well as the calm sunset vibes of the painting. Brighten up a chill day inside with a cute orange bralette and matching bold sandals. Relax all day in some sweatpants with some music. And if you're up for it, treat yourself to an at-home manicure!
Pretty in Pink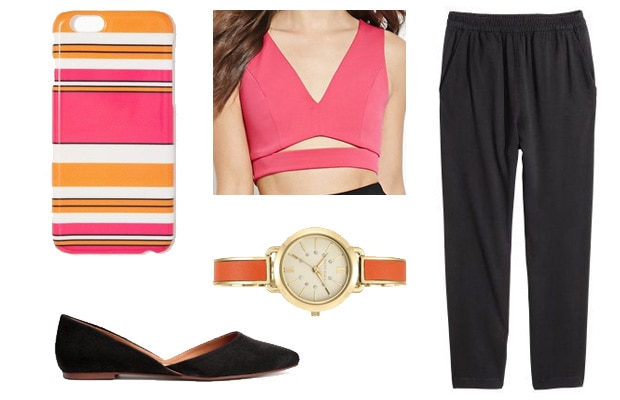 Products: iPhone Case, Flats, Crop Top, Watch, Pants
This last outfit is inspired by the sleek lines of Rothko's paintings. This look is perfect for a night out when you want to wear bright colors in a cool, controlled manner. This crop top has an interesting cut and solid color that makes it the star of the show. Pair it with some plain black pants and some flats. Stick to minimal accessories, like this watch and phone case, to let your outfit shine.
What are your thoughts?
What do you think about Mark Rothko's paintings? What is your interpretation of White Center (Yellow, Pink and Lavender on Rose)? Which of the outfits above is your favorite? Let me know what you think in the comments below! I love reading your feedback.
And if you're interested in more of Rothko's work, check out another Fashion Inspired by Art based on his No. 14 piece!