This week's Fashion Inspired by Art is based on a piece from one of America's most famous postwar artists. Mark Rothko's "No. 14" hangs in the San Francisco Modern of Modern Art and is one of his many color field paintings that depict "basic human emotions."
Eighteen Inches Away: About Mark Rothko's "No. 14"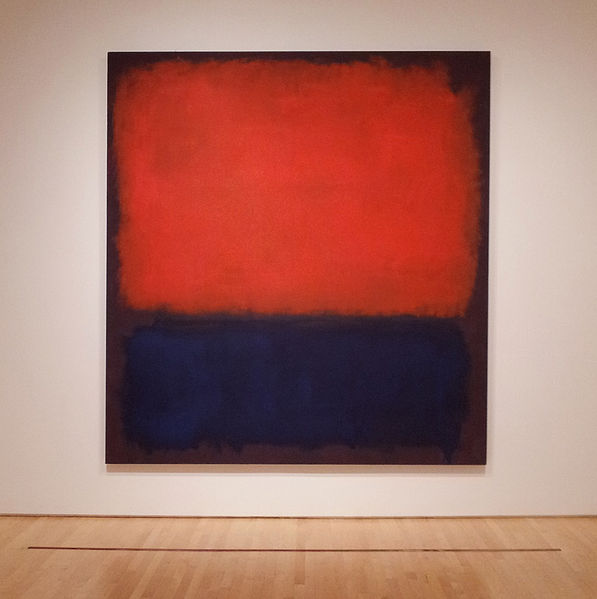 Mark Rothko's "No. 14" (1960) via Wikimedia Commons
Mark Rothko (1903-1970) was an American abstract painter. While he initially studied at Yale, after seeing a group of students sketching a model, Rothko enrolled in the New York School of Design. His early works were mostly portraits and urban scenes heavily influenced by Surrealism.
He didn't start to develop his iconic style until the late 1940s. These paintings started out with bright, vibrant colors, though as time progressed, Rothko began employing darker blues and greens, perhaps a reflection of his increasingly tumultuous personal life.
Rothko worked in a very large scale. "No. 14″ in particular clocks in at about 9'6″ x 8'9". Rothko felt that smaller paintings alienated viewers; a large painting that envelops the viewer creates a more intimate and profound experience (Rothko found the perfect viewing distance to be 18 inches away).
I enjoy Rothko because of his knack for capturing pure, unadulterated emotion. It's up to the viewer to decide what the painting represents. Personally, I've interpreted "No. 14" as a piece indicates an end, a deep sunset ushering the day out and introducing time for introspection. (And even if you don't care for Rothko, this work does make for some delicious toast.)
Outfits inspired by Rothko's "No. 14"
Layers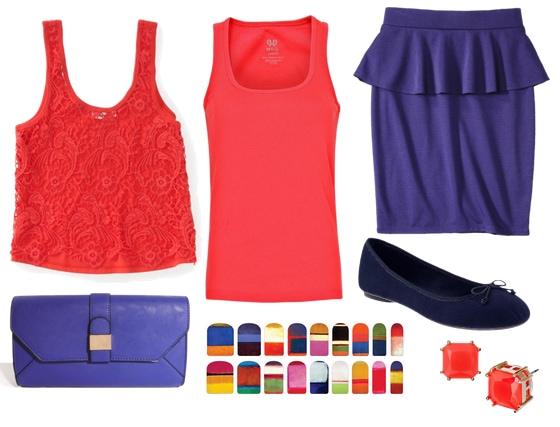 Crop Top, Clutch, Tank, Nail Decals, Skirt, Flats, Earrings
Like many other Rothko works, "No. 14" was painted in thin, semi-transparent layers, giving each block more depth than one would expect. Thanks to unconventional materials like egg and glue, Rothko was able to get oils to have an "opaque watercolor" look.
Add texture to your outfit with a lace crop top (worn over a tank), then add depth and layers with a peplum skirt. A sleek clutch, cute ballet flats, and stud earrings tie together the two hues found throughout the look. Nail decals make it easy to get some Rothko-inspired tips, but you could always try your hand at some nail art – this tutorial does a great job of getting the organic texture of Rothko to translate onto nails!
Color Fields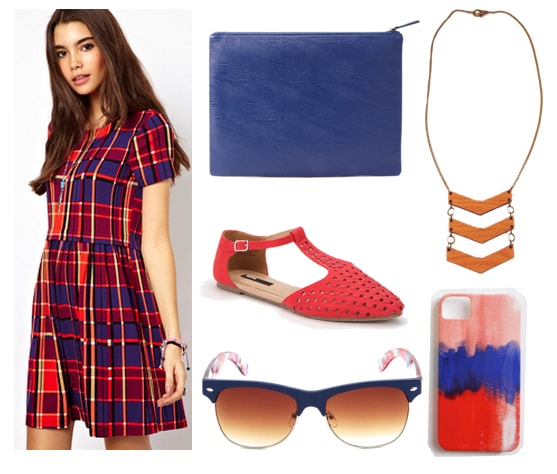 Dress, Clutch, Shoes, Sunglasses, Necklace, iPhone Case
Rothko wasn't the only color field painter, but he's arguably the most famous. In color field painting, focus is put on form and color becomes the subject.
The colors found in "No. 14" make a bold statement both on the canvas and onto this printed dress. A statement necklace adds a stylish touch, while these t-strap flats are a cute and comfy choice. Finish the look off with some blue framed sunnies, a matching clutch, and an artsy phone case.
Burgundy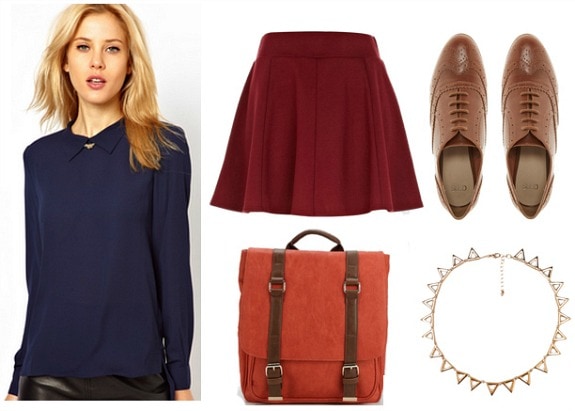 Top, Skirt, Bag, Shoes, Necklace
The burgundy background of "No. 14" is often forgotten and overshadowed by the vibrant orange and moody navy, but it makes for a much more interesting palette. Plus, it helps create a bit of an uneasy mood, which could have been easily lost if Rothko had used a more neutral color.
Pairing burgundy and navy together for fall isn't exactly groundbreaking, but adding in orange creates a new twist. Add some menswear-inspired oxfords and a cool spiked necklace for a trendy, yet chic on-campus outfit.
What Do You Think?
Have you seen Rothko's works in person? How would you interpret his works? What's your favorite era of art? Which outfit is your favorite? Let me know in the comments below, I'd love to hear your opinions!