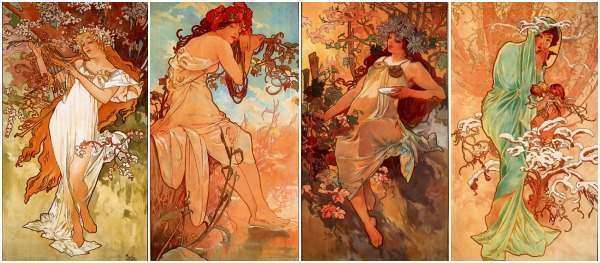 Alphonse Mucha's "The Seasons (1896)"
One of my New Year's resolutions is to wear more color. I wear mostly neutrals and dark colors, like oxblood, army green, and navy, and I struggle to incorporate cheery colors into my moody wardrobe. So I was so excited to see the colors in the Spring 2015 Pantone Fashion Color Report, which brings together pretty pastels, bold brights, and moodier muted tones like Marsala, the 2015 Pantone color of the year.
Together, these colors create a rich, engaging and versatile palette – one that immediately reminded me of the works of Alphonse Mucha, who used beautiful and unconventional color to bring life to his lithographs in the late 19th and early 20th centuries.
So, for this Fashion Inspired by Art post, we explore unexpected color combinations using both the Spring 2015 Pantone Fashion Color Report and Alphonse Mucha's series "The Seasons (1896)".
About Alphonse Mucha and "The Seasons"
Born in 1860 in the Czech Republic, Alphonse Mucha spent much of his childhood as a singer, which earned him several scholarships in his youth, but he found the most fulfillment in drawing. He began working as a commercial artist in his late teens, painting portraits and scenery for theaters.
After living in Vienna for several years, he moved to Paris in 1887, where he volunteered at a lithography shop that would eventually create posters for a play starring the actress Sarah Bernhardt, who loved Mucha's work so much that she commissioned a six year contract with him.
The insane popularity of the poster led to an influx of work for Mucha, whose style became massively in-demand and widely imitated, leading many to dub him as the originator of the Art Nouveau style. "The Seasons" represents one such commission – a set of four decorative panels for a wealthy patron, who loved the work so much that he commissioned two more sets of panels with the sametheme.
Mucha disliked his popularity and began to distance himself from his commercial work later in life, focusing on more fulfilling and esoteric works, such as The Slav Epic. Though Mucha's commercial style was seen as outdated by the end of his life, his work remains hugely recognizable today, with artists like Audrey Kawasaki, Naoko Takeuchi and CLAMP citing his work as influential.
Outfits Inspired by "The Seasons (1896)"
Printemps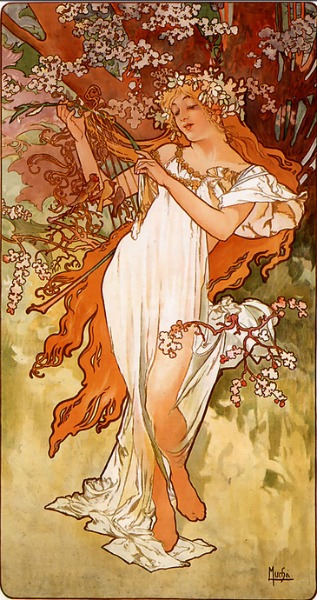 Alphonse Mucha's "Printemps" (From "The Seasons (1896)") (1896) via Wikimedia Commons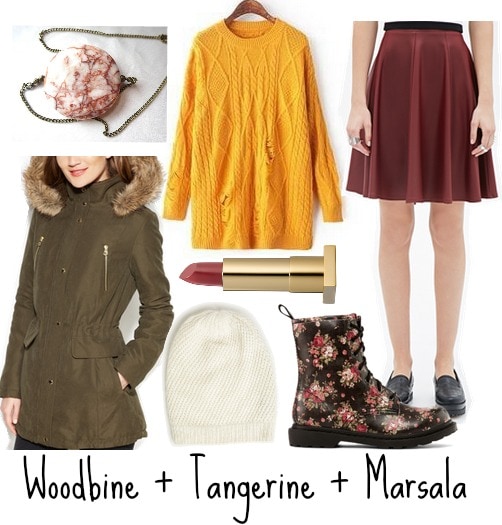 Necklace, Sweater, Skirt, Anorak, Lipstick, Combat Boots
One easy way to add color to your wardrobe is to find unexpected colors that work with the more muted colors you already wear. Woodbine and Marsala already seem very familiar to us, being kissing cousins of the ubiquitous oxblood and army green, and "Printemps" shows us that bright, warm colors like Tangerine bring new life to these muted colors.
An army green anorak and a Marsala-colored faux leather skirt are stylish on their own, but the bold color of the Tangerine sweater adds an unexpected and fashion-forward element. Finish with cutesy accessories, like floral combat boots and a sweet beanie, as well as sophisticated elements, like a marble statement necklace and trendy lipstick, for a well-rounded and accessible look.
Ete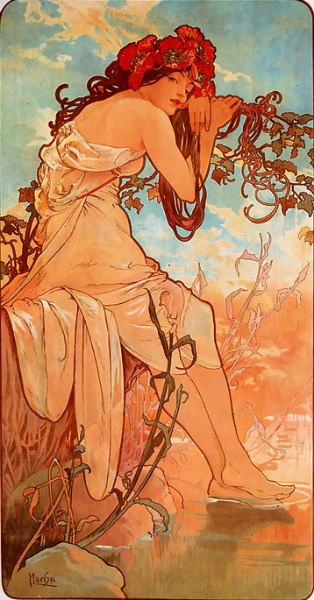 Alphonse Mucha's "Ete" (From "The Seasons (1896)") (1896) via Wikimedia Commons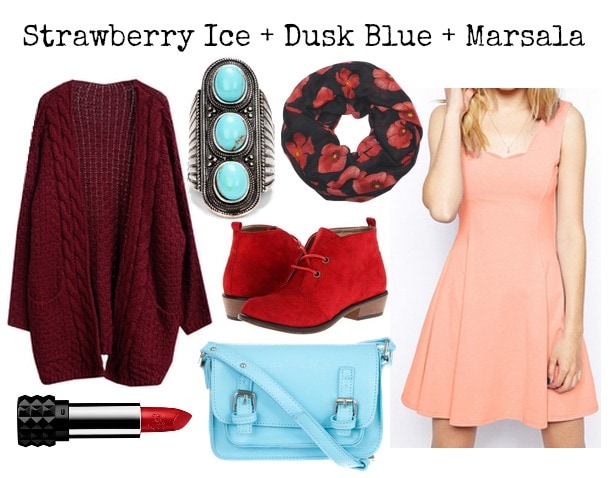 Cardigan, Ring, Scarf, Dress, Lipstick (in "Underage"), Bag
Another good way to incorporate color is to pick pieces in comfortable and familiar silhouettes, like a skater dress, booties, a cardigan or a messenger bag. Bold new colors, like Dusk Blue, Strawberry Ice, and Marsala, become accessible when part of a familiar outfit formula, like this skater dress + booties + cardigan combo.
The comfortable vibe also jibes well with the sultriness of the skater dress and red lipstick, which nods back to the sensuality of "Ete" by creating an outfit that's sexy and youthful but also appropriate and tasteful. It's the perfect outfit to wear on a casual first date or to a study session with a cutie you want to impress.
Automne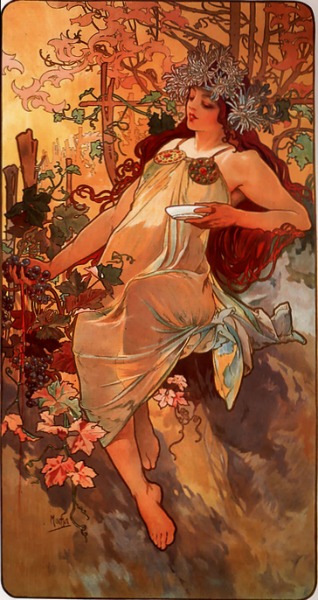 Alphonse Mucha's "Automne" (From "The Seasons (1896)") (1896) via Wikimedia Commons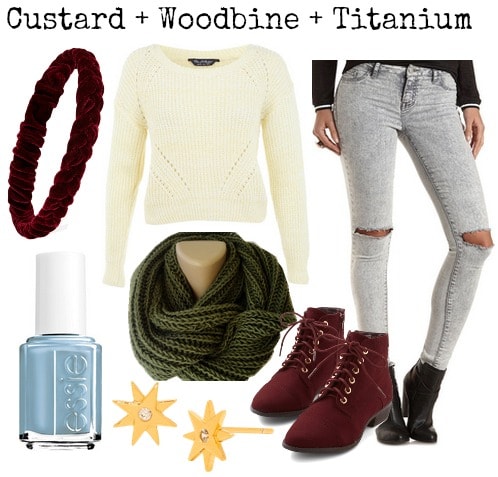 Headband, Sweater, Jeans, Nail Polish, Earrings, Scarf, Booties
Finding colors you can wear similarly to colors you already wear is also a great way to break out of a color rut – this pastel, Custard-colored cropped sweater can be treated like a neutral cream sweater. It works here to create a subtle but colorful outfit with other neutral-behaving colors, like Titanium stonewashed jeans, a Woodbine scarf, and Marsala booties, which effortlessly evoke the muted but colorful "Automne".
Beauty items and accessories are also a great way to incorporate small dashes of color, like an aquamarine nail polish or a Marsala headband. It's okay to start small with color – a baby step is still a step forward.
Hiver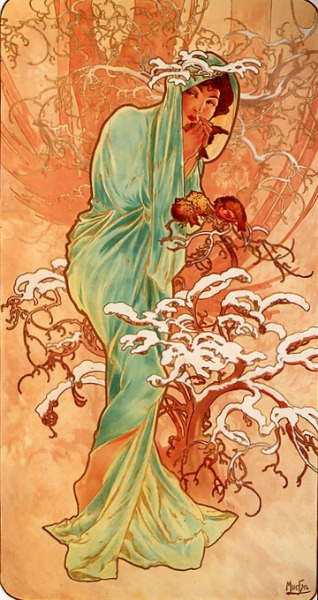 Alphonse Mucha's "Hiver" (From "The Seasons (1896)") (1896) via Wikimedia Commons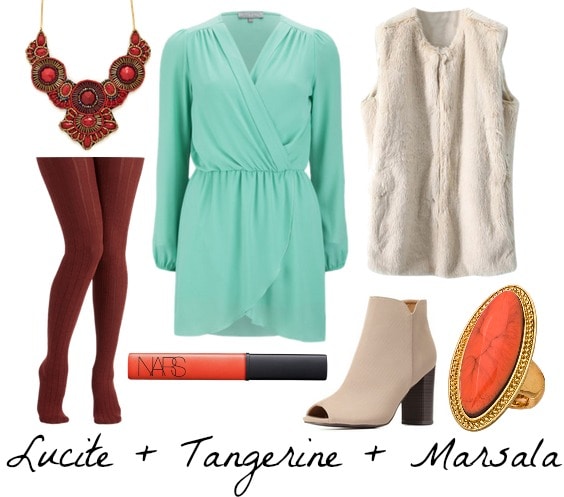 Necklace, Dress, Vest, Tights, Lip Gloss, Booties, Ring
Sometimes, though, the easiest way to incorporate color into your wardrobe is to just jump in and go for it with an item that you love! Like this Lucite wrap dress – could it be any more glamorous? I die.
Paired with a faux fur vest, Marsala-colored tights and neutral booties, this outfit effortlessly evokes the glamour of "Hiver" while pulling off some surprising color combinations. Push the colors even further with bright details, like a coral-hued lip gloss and a Tangerine cocktail ring, which add hints of fun and sophistication.
What do you think?
How do you feel about Alphonse Muchas' "The Seasons (1896)"? Which of the colors from the Spring 2015 Pantone Fashion Color Report is your favorite? How do you incorporate color into your wardrobe? Let me know in the comments below!