This week's Fashion Inspired by Art is focusing on a lesser known piece from a popular artist – Alphonse Mucha's "Slav Epic: Slavs in their Original Homeland". Read on to learn more about the painting and to see three chic outfit ideas inspired by this work of art:
About Alphonse Mucha's "Slav Epic: Slavs in their Original Homeland"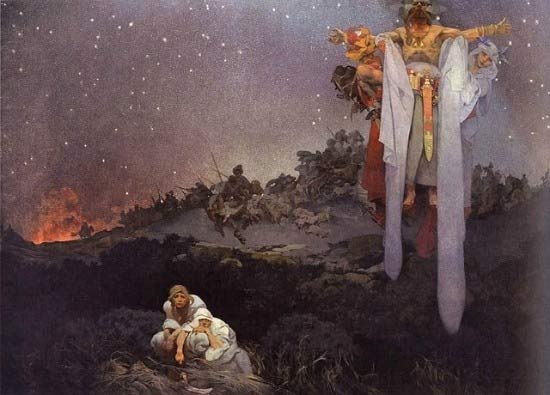 Alphonse Mucha's "Slavs in their Original Homeland" (1912) via Wikimedia Commons
Alphonse Mucha (1860-1939) helped define the Art Nouveau genre of art. He had his big break when he offered to create a poster for a play with Sarah Bernhardt, a famous actress. She loved it so much that Mucha managed to get a six year contract.
While he had large amounts of commercial success with his illustrations, posters and advertisements, Mucha spent much of his life trying to promote his paintings and disassociate himself with from his commercial art. His influence can be seen in many other artists and illustrators' works.
Mucha's masterpiece and crown jewel was The Slav Epic, a series of twenty paintings. He traveled throughout Eastern Europe and met with historians to prepare for the task ahead of him. For 18 years, Mucha worked on the cycle in a castle in Zbiroh. Shortly after completion, the paintings had to be hidden from the Nazis and socialists that categorized Mucha as a bourgeois artist.
This piece in particular, called "Slavs in their Original Homeland," is the first in the cycle of twenty paintings. The cycle starts around 4th century and depicts the Slavic tribes without a real political structure and thus no real protection against the invading Germanic tribes.
Outfits inspired by "Slav Epic: Slavs in their Original Homeland"
War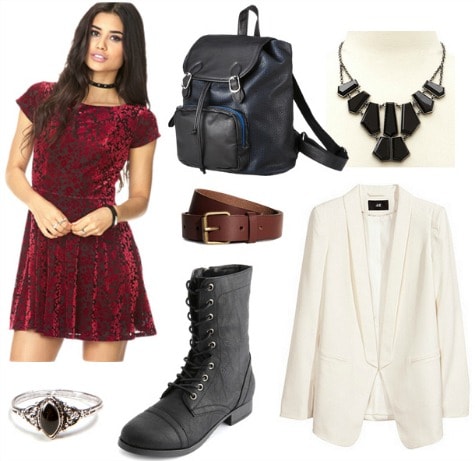 Dress, Ring, Backpack, Belt, Boots, Necklace, Blazer
The figure clothed in red in the upper right hand corner of the painting represents war, the plague of the Slavs. Since promoting violence is never the answer, we can transform this subject by interpreting it into something more positive… power and strength.
A red velvet skater dress is powerful, statement-making, and sure to turn heads. Add a belt and statement necklace for a truly showstopping look. Combat boots and a matching backpack keep the look down to earth, while a clean white blazer adds contrast.
Peace
Sweater, Beanie, Jeans, Earrings, Bangle, Flats
The other figure on the far right represents the promise of peace, once independence is gained through war. Create a look inspired by peace and serenity with a cream sweater and light-wash boyfriend jeans rolled up at the ankle. Wear the stars from the sky as earrings and a bangle with a dove representing peace. A knit beanie and printed flats add the finishing touches to this ensemble.

Promise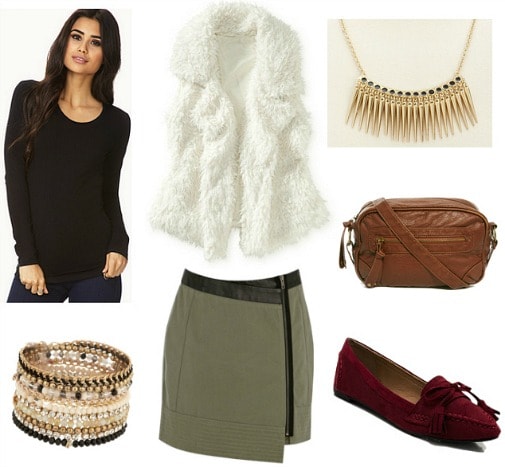 Top, Bangles, Vest, Skirt, Necklace, Bag, Shoes
The figure in the center is a pagan priest. The three figures together bring the promise of peace and freedom, but not without, first, a war. A khaki wrap skirt is practical and on-trend and also matches the priest's bottoms quite well. Again referencing a long road ahead, a basic black long sleeve tee and fur vest will keep you warm as the temperatures drop. Finish off the look with some gold jewelry and rich burgundy loafers.
What do you think?
Are you a fan of Mucha's work? Do you like his illustrations or paintings more? What do you think about the inspired outfits? Which one is your favorite? Let me know in the comments below, I'd love to hear your opinions!