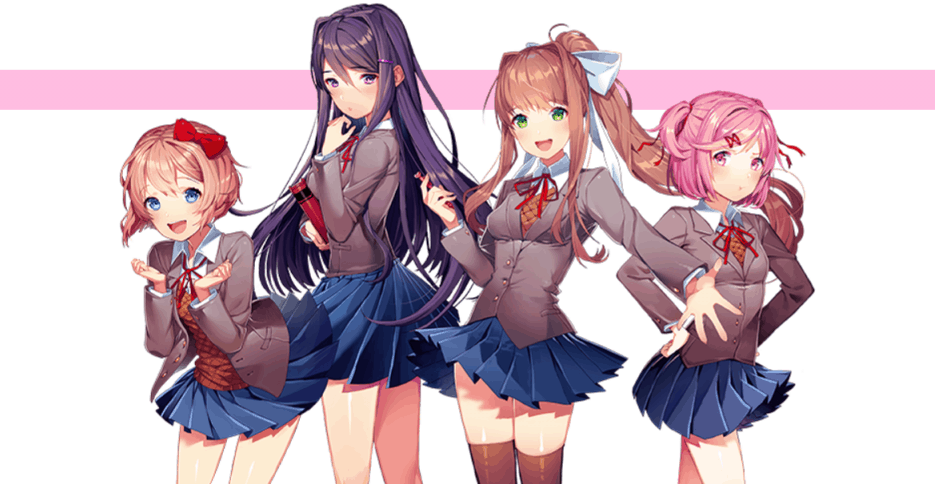 If you've been following Video Game Fashion for the last couple of weeks, this one will probably throw you for a loop.
Doki Doki Literature Club is a game about a group of girls in a high school book club. Your job as the protagonist is to pick one to romance and work your way into her heart. Certain choices will affect your progress in the story as usual, but this game is unlike any visual novel you've ever played before. It's wickedly inventive and it's been downloaded over one million times since it's release in September.
While the game that seems like your run-of-the-mill visual novel, it is not as cute and sweet as it seems up front. If you peek around the game's Steam page, you'll find that it's listed as a psychological horror game and one that's not suitable for children or those that are easily disturbed.
Want to know why? Well, you'll have to play for yourself. The game is free, so go ahead and check it out. This week we'll be breaking down the different personalities of the girls in the club and hashing that out via their style.
Monica
Monica is the self-proclaimed president of the Literature Club. She's funny, super smart and basically everything you would want a President to be. Her outfit, like the rest of the girls in the club, consists of their school uniform.
Channel Monica's cute, can-do attitude by starting off with this denim button-front skirt. It's not uniform attire by any means, but it's a simple skirt that goes with just about everything. Pair it with an oversized orange sweater to keep things cozy. Throw in two classic schoolgirl staple pieces: loafers and white knee-high socks and complete the look with Monica's statement light blue denim bow hair tie.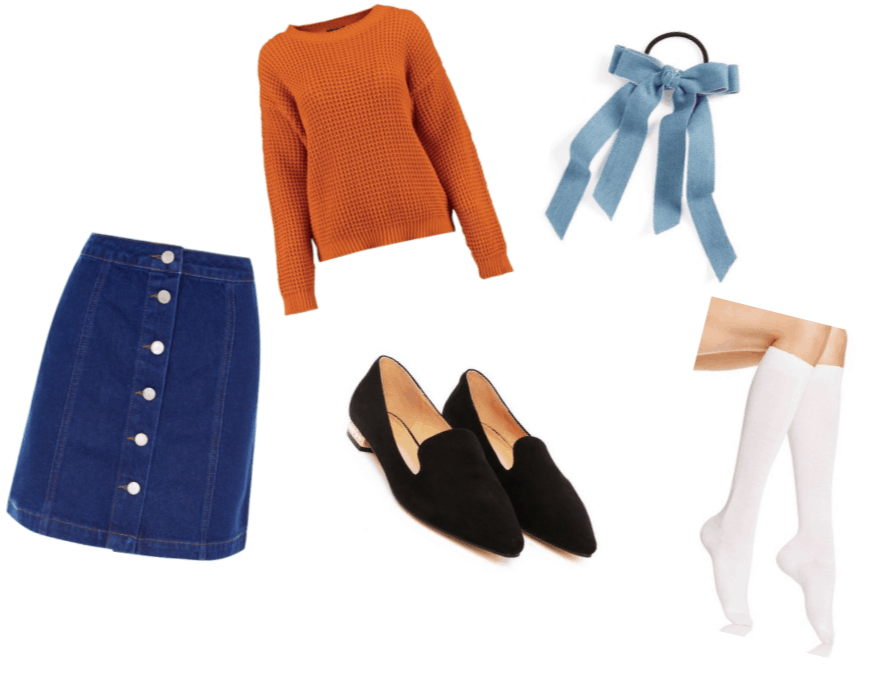 Products: Skirt – Newlook, Sweater – Boohoo, Hair Tie – Nordstrom, Shoes – Nasty Gal, Socks – Bloomingdale's
Sayori
Sayori is our protagonist's childhood friend and the Vice President of the Literature Club. She's bubbly, sweet and tries to keep everyone as happy as possible. She has short, bright pink hair and wears the same uniform as everyone else, but unlike Monica and the others, her collar is crooked and her blazer remains unbuttoned.
This outfit is going to be all about pops of color to reflect Sayori's bubbly, vibrant personality. Begin with a vibrant orange cardigan and a bright blue velvet skirt. Throw in Sayori's bright red bow for another pop of color. Channel your inner schoolgirl further and strut your stuff down the halls in these bright white tights and some suede loafer heels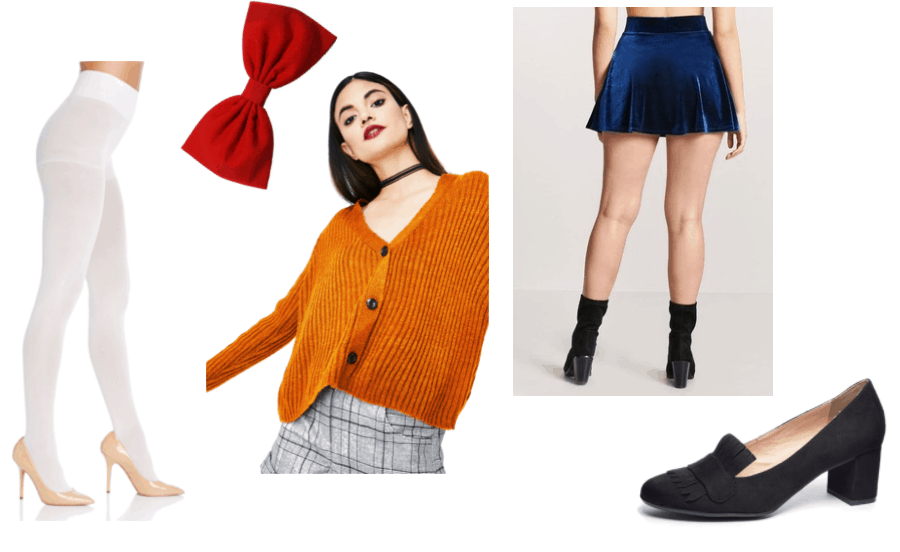 Products: Cardigan – Dollskill, Tights – Bloomingdale's, Shoes – Chinese Laundry, Skirt – Forever 21, Bow – Amazon
Natsuki
Like Sayori, Natsuki also has bright pink hair. She's the youngest member of the club and the shortest. However, while she may be young and adorable, she is also quite brash and blunt when it comes to saying what's on her mind.
Natsuki's childlike personality is what takes center stage in this outfit. Start off with an orange ruffle sleeve top and pair it with a denim overall dress. However, this time, ditch the loafers for a pair of Chucks and some cute, white frilly socks.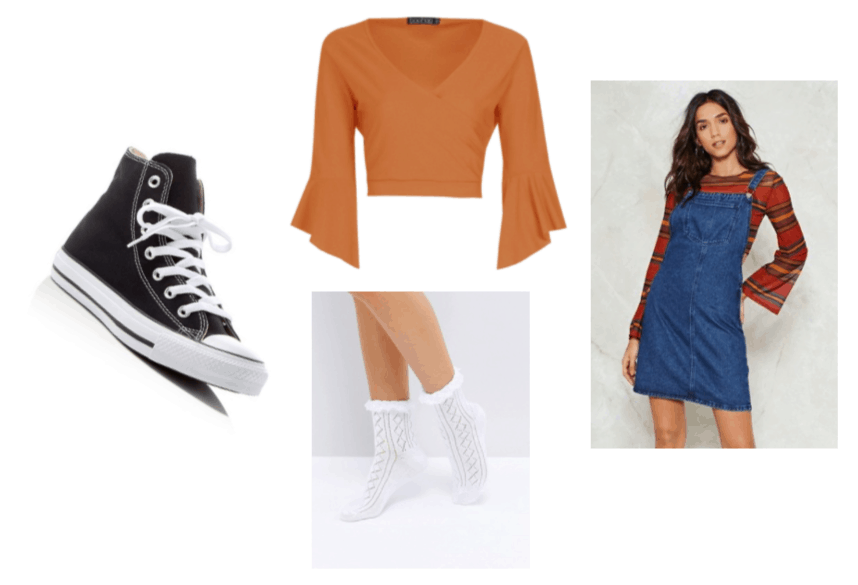 Products: Shoes – Amazon, Socks – ASOS, Dress – Nasty Gal, Top – Boohoo
Yuri
Yuri is the shy one of the group. However, while she may be reclusive and shy on the outside, if you spend more time with her, you'll find she's quite intelligent and talented in regards to literature and writing. Even though she is a bit strange.
For Yuri's look, I've created an outfit that embodies her edgy, exciting side that she strives to hide. For the sake of spoilers, I won't go into too much detail, but let's just say…She gets crazy.
Begin with a navy midi skirt and pair it with a long, ruffle-sleeved, camel colored top. Yuri is notorious for her long sleeves, so the ruffle sleeve is a stylish way to dress up those sleeves. Throw in a pair of matching, camel booties, some fishnets and a beret to top the look off. You've got a look that's just as edgy and "out there" as Yuri is.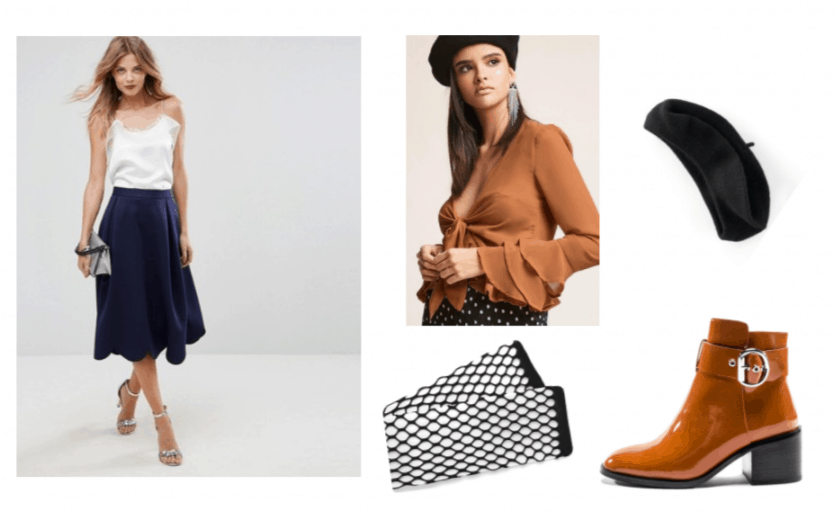 Products: Skirt – ASOS, Tights – Mango, Shirt – Forever 21, Shoes – Revolve, Beret – Kohl's
What do you think?
What's your favorite book? How do you feel about that shocking ending(s) of this game? Who is your favorite Doki Doki Literature gal? Let me know in the comments!